Jump to winners | About the HR Global 100
HR's top decision-makers
Human Resources Director presents its fourth annual Global 100, featuring the best in the sector from across the US, Canada, Australia, New Zealand, Asia-Pacific, and the UK, with competition being fierce for the coveted spots on the list.
All of these HR leaders have risen to the challenge over the past 12 months, showing genuine leadership and taking impactful decisions that have enabled their respective organizations to prosper.
Here, some of the Global 100 share an insight into how they have navigated a complex year.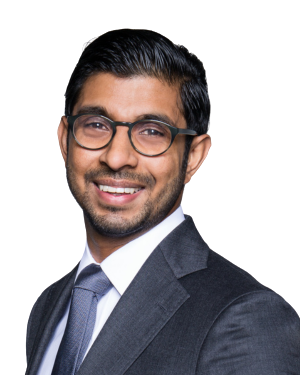 "I believe in the power of being present, and I mean physically present in the organization at all times to connect with the people at all levels to get a true sense of what's going on"
Ashley Sardjoe
Novartis
Ashley Sardjoe - Novartis
VP, Country People & Organization (HR)
Bruising describes the first part of the previous 12 months for Sardjoe, overseeing a 30 percent headcount reduction for the global pharmaceutical company.
Describing his approach, Sardjoe uses the term "courageous leadership". Aware it was an emotional time for the workforce, Sardjoe made his leadership style as transparent as possible.
"We clearly identified the process, then presented which roles will remain the same and which will change, and as a result people will have to reapply – and for those people we followed a very thorough process."
However, he adds, "It doesn't matter how much you try to put in place, there's always people that will be disgruntled either because they don't get the job or they disagree. It was a great learning [experience], as I realized that during a transformation like that, everybody is in a different place on the infamous change curve."
This situation drove Sardjoe to be clinical and operate in the best interests of Novartis going forward.
"Some people are not able to make that change and that is what I mean by courageous leadership," he explains. "These are the times you have to make some tough choices on people that have been extremely successful in the old way of working but for whatever reason are not able to lead themselves and their teams through change."
Sardjoe admits finding it tough as many of the workforce wanted to speak to him privately. In the end, he switched from his default position for the sake of his own performance and admits to having difficulty functioning as a husband and a father during that period.
"It was almost that they were kind of dumping their sorrows and worries on me. It was very hard for me to start saying no to some people asking to have a one-on-one, which I would never decline in the past, but I just had to say 'if I had more clarity, I would love to give it to you'. I had to look after myself to be the leader that the organization needed."
The latter part of 2023 has seen Sardjoe energise the staff to maximise the new structure, split into three pillars:
Workplace – Novartis moved into a new modern office in downtown Montreal.


Choice – Workers are expected to come in three days a week but can be flexible on when, and encouraged to focus on the parts of their job that move the needle.


Personal growth and development – Grassroots employee resource groups are set up around activities such as sports and hobbies, office social events encouraged, and ideas welcomed on boosting wellbeing.
"I can't take full credit because there's probably an overall market element to it but definitely the choices we made have paid off, the organization is flying performance wise."
And while he's glad to have come out the other side, Sarjdoe admits these past 12 months will stay with him.
"Although the learning has been painful at times, I learned a lot about myself as a professional, as a colleague, as a leader, but also as a parent and as a husband."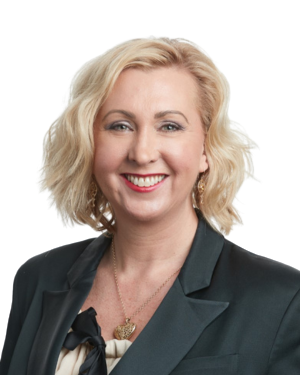 "It's not like you make a decision and you can't ever say that was the wrong one, but you need to make a decision and see how it goes"
Jodette Cleary
hipages Group
Jodette Cleary - hipages Group
Chief People & Culture Officer

It's been a year of discovery in the tech industry as most firms swayed to going fully remote. However, Cleary took a stance that for hipages Group – which connects tradespeople with homeowners – wasn't going to be the best option. She let the workforce know that the firm was doing a non-negotiable 50% hybrid split.
"In this last year what has come together has been my gut instinct on the right thing to do after COVID has played out very well in our favour. One of our secret sources has been our collaboration and my feel was people work better together when they have a chance to develop a social connection."
The success of the initiative has been clear, as hipages Group's internal metrics show:
"The business has continued to go from strength to strength, when you're seeing globally a lot of tech companies doing mass redundancies and now this big push from the CEOs to swing the pendulum completely back the other way to 100 percent in the office," Cleary says.
Nevertheless, while it's worked out, it wasn't an easy call.
"One of the things I remember thinking about when we were juggling with this is where do we go on that spectrum of remote and office. But ultimately, I made the right decision by doing what I needed to do because my responsibility as a C-suite executive is making sure the business does well and that employees are also put in the position to do their best work and also for their wellbeing."
There is flexibility to choose which days make the most sense.
"We're not holding a gun to anyone's head, but you are expected to be in the office regularly with your team," she adds.
Another part of the challenge of this year has been reacting to current affairs.
"The global economy is not great but also what's going on in terms of war and political unrest, anything can come at you," she comments. "It doesn't have to be a business thing, but people do not operate in a vacuum and are subject to the influences of what's going on in the world. I'm always looking ahead and trying to gauge how to handle things for our people."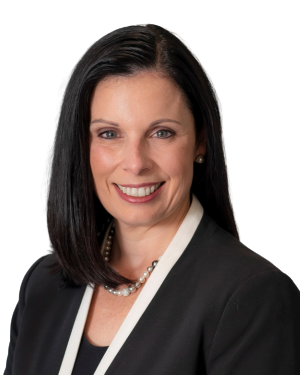 "People say, 'Gillian, why do you say you're a leader first and foremost?' And I say, because I have an equal role, I don't have a diminished role"
Gillian Davie
AMP
Gillian Davie - AMP
Director, People & Culture

It's been a challenging and rewarding time for Davie. AMP suffered reputational damage due to overcharging and employee misconduct, but her role was to oversee a fresh approach.
"In the last 12 months, we have been rebuilding our brand, our culture, and getting a good focus on our customer. Then through that as well financially, as we're very conscious we have to provide value to our shareholders. It did mean we needed to bring the costs in line, which then impacted some of our people."
For Davie, there was never any doubt that no matter how hard it was, she was making the right decision.
"My approach has always been I'm a business leader first and foremost, so I'm equally responsible for the financial results along with the others around the executive table. I happen to wear an HR hat and, I've got to make the right decision on what's in the best interest of the company."
However, AMP focused on letting staff leave with dignity and the appropriate support.
"You don't waver, but you stand in the shoes of the team member who's about to be told their role is being impacted and you go on the journey with them. It's all about looking after them," Davie says.
Part of this strategy involved:
Outplacement program – AMP partners with an organization that supports the people even after they leave


Counselling services for the people and their families
"Then for myself and my team, we're always watching to see if someone needs an extra phone call or maybe the leader of that person actually needs some help because the leaders are not dealing with the fact some of their team have been impacted," Davie adds.
The second part of her task is to ensure that AMP's culture thrives.
"It's like a garden; if you plant things and ignore them, two things are going to happen. One, it will die or two, it will grow out of control. Culture is something you have to attend to every day."
Davie has gained invaluable experience by:
leading a New Zealand organization's HR in the aftermath of the Christchurch earthquake


overseeing the loss of 7,000 jobs at an Australian retail chain
And that has helped her create a new culture at AMP.
"I have to understand why it may be flourishing in one department and get those learnings into other parts of the business that might be struggling. My role is to bring it all to life. The challenge for the HR sector is making sure there are leaders who are commercially astute and can speak in that language with leaders whilst wearing the HR hat," she says.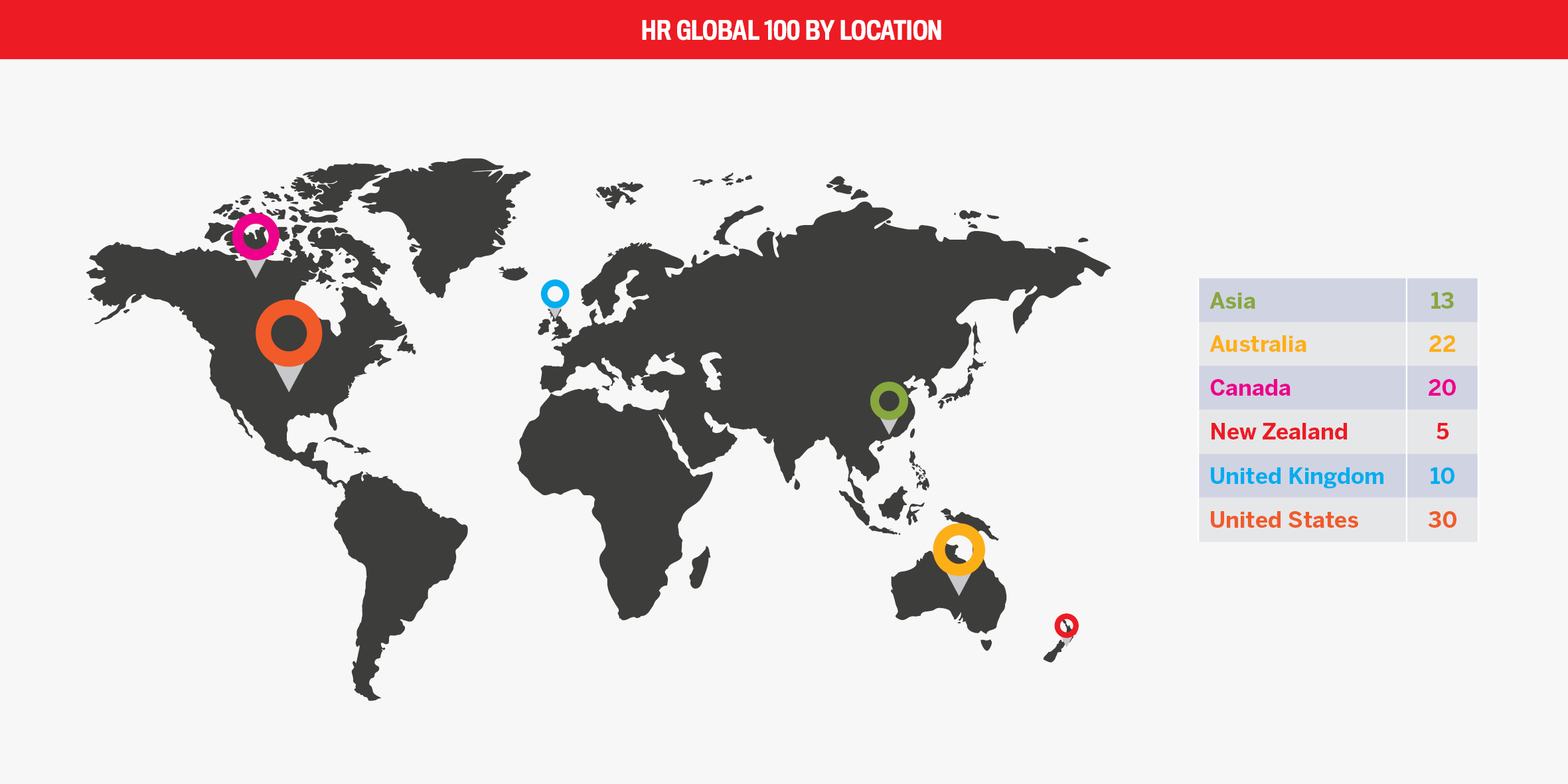 Adéle Pieterse


Loyalty New Zealand (NZ)

Albert Galarza


TELUS International (US)

Alex Hattingh


Employment Hero (AU)

Alex Smith


Oracle (US)

Alicia Devine


Tim Hortons Foundation Camps (CA)

Alissa Bartlett


JCDecaux (AU)

Allison Yang


East West Bank (US)

Andrea Duncan


Kiwibank (NZ)

Andrea Giraldo


Monstarlab (US)

Andrea Wynter


ADP (CA)

Angela Champ


Alpine Building Maintenance (CA)

Anish Lalchandani


Maersk (Asia)

Annaliese van Riet


amplifi HR (AU)

Anna Wenngren


SafetyCulture (AU)

Anne Das Gupta


Sydney Water (AU)

Anya Loh


Watson-Marlow Fluid Technology Solutions (Asia)

Ariel Woo


Allianz SE, Singapore Branch (Asia)

Carolyn Byer


Microsoft Canada (CA)

Cary Shek


Klook (Asia)

Cassie Whitlock


BambooHR (US)

Cat Craven


Mastercard (AU)

Chan Yit Foon


Marina Bay Sands (Asia)

Charlotte Jameson


Corporate Wellbeing Hub (AU)

Chris Taylor


Best Buy (CA)

Christian Meisner


GE Aerospace (US)

Claire Gore


London North West Healthcare (UK)

Claudia Barriga-Larrivière


Sendle (AU)

Colleen Harris


Ramsay Health Care (AU)

Craig Cowdrey


Sonder (AU)

Cyndi Harris


CDI Engineering Solutions (US)

Danielle McMahan


Wiley (US)

Danny Harmer


Aviva (UK)

Danny Speros


Automation Anywhere (US)

David Casey


Tapestry (US)

David Frost


Dole (UK)

Deborah Maynard


Coast Mental Health (CA)

Diane Mohabir


Canadian Appliance Source (CA)

Elizabeth Faber


Deloitte Asia Pacific (Asia)

Emily Zhang


Monoova (AU)

Estelle Hollingsworth


Virgin Atlantic (UK)

Frank Koo


LinkedIn Talent Solutions (Asia)

Geetanjali Gamel


Johnson & Johnson (US)

Gena Restivo


AstraZeneca (CA)

Harvey Francis


Skanska (UK)

Jabbar Sardar


BBC Studios (UK)

Jeff Ostermann


Sweetwater (US)

Jeffrey Housman


Restaurant Brands International (US)

Jodie Wade


Alberta Health Services (CA)

Jose Raphael Ibarra


DHL Global Forwarding (Asia)

Josh Jones


Employ (US)

Juliana Tan


Uniqlo (Asia)

Julie Hudtohan


Unilever (Asia)

Kali Beyah


Evolent Health (US)

Kate Daly


Fonterra (NZ)

Katharine Price-Raas


Canada Post (CA)

Kay Goodman


Accor (AU)

Kerry Smith


British Heart Foundation (UK)

Kim Seymour


Etsy (US)

Laura Salvatore


Centurion Asset Management (CA)

Lauren Nuttall


Boulevard Labs (US)

Lauren Van Duyn


Workhuman (US)

Lisa Chang


The Coca-Cola Company (US)

Lisa Gravelle


Loblaw Companies (CA)

Louise Campbell


Baker McKenzie (AU)

Mary Hogg


Hilton (AU)

Matt Kershaw


Domino's (AU)

Meghan Stettler


OC Tanner Institute (US)

Melonie Parker


Google (US)

Michelle Russell


ANZ (NZ)

Nabeela Ixtabalan


The Marshall Goldsmith Group (CA)

Natalie Nicholson


Optiver (AU)

Pauly Grant


Publicis Groupe (AU)

Reginald Miller


McDonald's (US)

Renato Manuel Jiao


Globe Telecom (Asia)

Rhys Black


Oyster (UK)

Robert Stone


CHEP Network (AU)

Sally McSweeney


Beam Suntory (AU)

Sandy Sharman


CIBC (CA)

Segolene Prot


Heineken (US)

Shereen Daniels


HR rewired (UK)

Shirley Knowles


Progress (US)

Simon Fenwick


Fonterra (NZ)

Simon Gagné


Sobeys (CA)

Sudha Dwivedi


Teranet (CA)

Sylvia Moretti


Sun Life (CA)

Tanie Eio


UPS (Asia)

Tanuj Kapilashrami


Standard Chartered Bank (UK)

Tara Steyn


IAG (AU)

Tiffany Haley


Vanguard (US)

Tracey Jenkins


Sodexo Live! (US)

Traci Wade


Oracle (US)

Tyrone Smith Jr.


University of Southern California (US)

Vineet Gambhir


DataLink Software (US)

Wyn Sheree Ossinger


AT&T (US)

Zabs Luna Tan-Chong


Aboitiz Equity Ventures (Asia)
The HR Global 100 report shines a spotlight on outstanding professionals who are making a positive difference and helping drive change across the industry.
Now in its fourth year, this formidable list of the biggest names in HR was put together by HRD, leveraging its unique position as a true global publication reaching six different markets – the US, Canada, Australia, New Zealand, Asia-Pacific, and the UK.
The leaders featured on this year's Global 100 have been selected for their outstanding commitment to their companies and their people over the past 12 months. Across a myriad of industries and sectors, these HR leaders rose to the challenge, safeguarding their employees and helping the C-suite navigate a constantly changing landscape.
From accomplished academics to thought leaders to industry giants, this list is a tribute to those dedicated and passionate individuals who champion HR every day.