Dan Levy, creator and star of Schitt's Creek, shared his management principles at Workhuman Live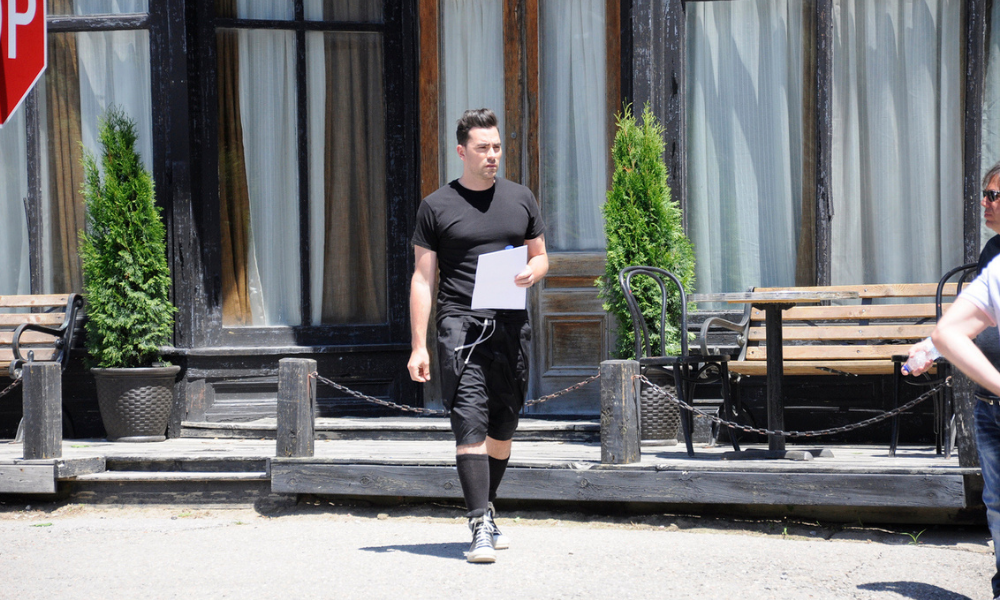 You don't want a boss like David Rose.
The co-owner of Rose Apothecary, a small business selling a variety of goods such as lotions, beverages and even toilet plungers, can be a bit of a control freak. He's nitpicky, demanding, barely willing to compromise and not necessarily fond of his customers. Thankfully, his business partner (and spoiler alert: husband) Patrick is friendly, accommodating and keeps a cool head most of the time.
Dan Levy, the actor who portrays the hilariously snooty Rose, is a completely different boss. As the creator, writer, producer and director of the critically acclaimed sitcom Schitt's Creek, Levy was in charge of the small, but mighty operation for six seasons. Beloved by his coworkers almost as much as his diehard fans, the son of comedy legend Eugene Levy shared his managerial expertise to close out the Workhuman Live conference in Atlanta on Thursday.
Read more: Simone Biles: 'I knew I wasn't in a good headspace'
If you've binged the hit series during the COVID-19 pandemic, you won't be surprised at the thunderous ovation the Canadian superstar received while strolling on stage. Attendees, primarily HR professionals of the highest rank in some of the biggest companies in the United States and around the world, paid tribute to the show by cosplaying as some of its characters. Even Cy Wakeman, best-selling author, distinguished speaker and host of the No Ego Podcast, admittedly fan-girled while interviewing the most popular man in the Georgia World Congress Center.
Just hanging out with my friend @danjlevy #WHLive2022 pic.twitter.com/8XO35E6W6j

— John Friend (@JohnFriends4) May 19, 2022
"All we can do is learn from our experiences," said Levy, who in 2020 (the final season of Schitt's Creek) became the first person to win a Primetime Emmy Award in all four major disciplines in a single year.
He broke into show business as a host on MTV Canada, but it wasn't the environment he wanted to spend his career in. "I've come from a work experience previous to [Schitt's Creek] that didn't make me feel comfortable, safe or appreciated," Levy said. "When you feel that, you don't go above and beyond because you feel you're simply executing something someone is paying you to do. When I was given the privilege of being somebody's boss – 147 people every season – it was fundamental that nobody on my team feel that sense of displacement or discomfort.
"It was important that I correct all the things I hadn't been exposed to in my previous workplace," he added.
Before the first episode was filmed, Levy sat down with every cast member to gauge their reactions to the script, asking if any words felt out of character or if they had anything to add. That collaboration was immediately embedded into the foundation of the show, fueling a culture built on teamwork.
"It was pre-programming, making people aware their thoughts were important," Levy said. "I still ran the show and was thinking big picture, but I warmed the space. The work is a group effort and at the end of this experience when we won those Emmys, it was a group win. Everybody from our grips to the casting to people who normally wouldn't feel a stake in that situation, emailed saying, 'we did it.' It was a fairytale ending to this experience, but it wasn't all mine."
Levy credits his father and Catherine O'Hara, who play his formerly wealthy parents Johnny and Moira Rose, for another lesson he learned early on. As the stars of the show, he says, they set the tone for the atmosphere on set and during the creative process.
"They were so collaborative, respectful and appreciative that nobody underneath them could exercise their egos," Levy said. "If the top sets the example, the ripple effect goes deep. When someone does be difficult in a way that's unwarranted, it stands out because it's not the norm."
At a time when employee recognition and appreciation is desperately sought out, perhaps Levy's next act will serve as inspiration for HR leaders, managers and all those in the C-suite. Levy says he emailed his crew every couple of weeks or months depending on what was happening in the show. For example, when the production design team spent all night building the sets, it was important to him to recognize the work being put in and not take their dedication for granted.
"I was surprised by the number of responses I had gotten from people who said they had never been thanked before," Levy said. "There are workplaces where nobody thinks about the employee and that's f****** insane. People are showing up for me – I'm the one that had the idea. If I'm not appreciative or grateful or ecstatic about this experience than something is fundamentally wrong with me."