TriNet is a cloud-based human resources (HR) and payroll software solution designed to help small and medium-sized businesses manage their HR functions efficiently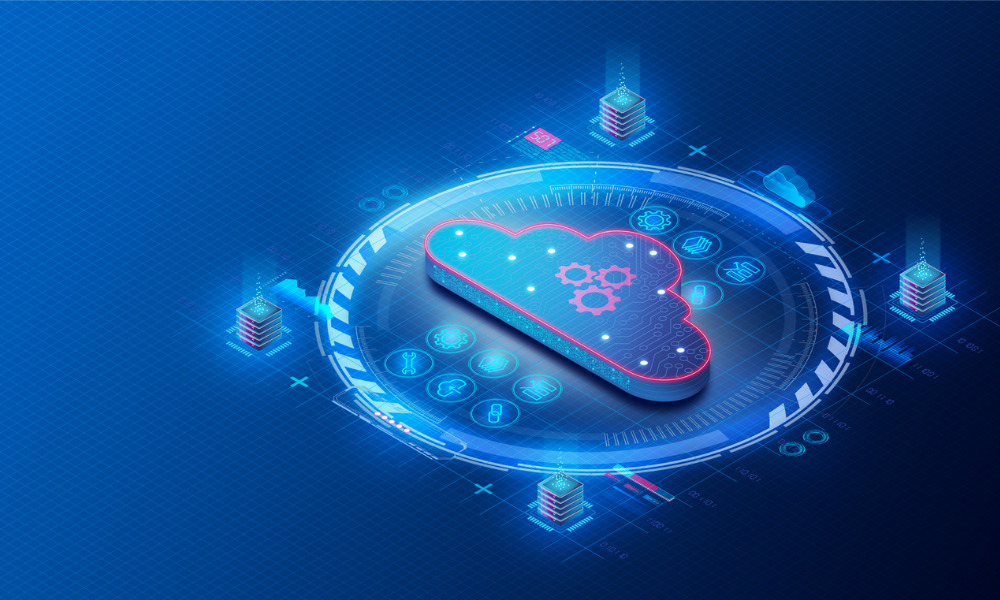 TriNet is a cloud-based human resources (HR) and payroll software solution designed to help small and medium-sized businesses manage their HR functions efficiently. The platform provides a suite of services that enable organizations to manage their HR tasks, such as payroll processing, employee benefits administration, compliance management, and risk mitigation, among others.
The software is designed to offer a centralized HR solution that streamlines HR processes, enabling businesses to focus on their core activities. The platform's user-friendly interface and comprehensive feature set make it a popular choice for businesses seeking a reliable and efficient HR and payroll software solution. In this review, we will examine the key features, benefits, and drawbacks of TriNet to help you determine whether it is the right HR software solution for your business.
Using TriNet for its payroll software features offers a number of benefits. You can use it solely for its payroll features and still get a lot out of the platform without touching on its other HR functions. Here's a look at the standout payroll features of TriNet:
Allows Streamlining in Payroll Management: The system offers online payroll processing with auto-deposit and auto-debit functions, making it more convenient since there is no need for the anyone to go to the bank to deposit the salary and other benefits of your employees. This software allows your company to have 100% paperless payroll transactions, including electronic W-2 document preparations and e-payment stub issuance.
Offers Employee Self-Service: The platform allows employees to make necessary changes to their employment data or information and enroll themselves to direct deposit in any other bank, aside from the company-designated bank, for their pay. They can also view their pay stubs, track paid time off, change their status, and print their W-2s for their reference through the TriNet online payroll platform.
Easy Tax Processing and Risk Mitigation: Using the platform will allow employers to compute tax deductions and manage risk regarding tax compliance. This PEO (professional employer organization) will help you calculate—and withhold—necessary taxes (local payroll, state, and federal) and remit them electronically to the local tax agencies and the IRS. TurboTax® powers the tax processing capability of this software.
Complete Payroll for Employee Lifecycle: TriNet enables the HR department to manage payroll from when the employee was hired, to promotion, until they leave the company.
Time and Absence Management: The software allows easy time and absence management through its time and attendance tools. These tools automatically track total work hours, overtime, and project expenses. On the side of the employees, they can clock in, clock out, and request holidays through these tools.
Extensive Workforce Analytics: The system offers customizable dashboards for easy data gathering, analytics, and reporting. The system also allows managers to customize reports and easily export these reports into Excel, CSV, and PDF formats.
You are getting everything that your payroll needs, along with some useful analytics and tax processing that makes your HR department run as efficiently as it can.
TriNet is more than just payroll though. The company offers complete HR solutions for small and medium-sized businesses and organizations. Not only can it handle your payroll, but it can also handle these four functions:
1: HR Expertise with Connect 360
Through Connect 360, the company offers professional legal advice to HR practitioners, helping them understand the fundamentals of labor laws, especially regarding benefits, legal compliance, and compensation.
In addition, HR Expertise also provides professional legal advice regarding talent acquisition and retention development of pertinent HR policies to govern the company's day-to-day operations, performance, and employee relations.
Talent retention and growth
This service specifically focuses on developing your employees into pillars of the company by providing them with training and opportunities to further their careers within the organization. Through this program, your company will be provided with tools and support to create your own:
Learning Management System: Develop your own syllabi and learning materials and programs to ensure fun, flexible, and effective learning for your employees.
Performance Management: The company provides custom-built performance management tools for monitoring key performance indicators (KPIs) set by the company and even objective and key results (OKRs) on specific projects and programs the company implements. Meanwhile, these customized performance management tools are developed in consultation with their pool of organizational development consultants to ensure that the strategies and performance gauges applied are totally aligned with the company's values, goals, and vision.
Leadership Training: They also give specialized leadership training for those in supervisory or management positions, making them effective leaders and strong pillars of the organization. The workshops that they offer are:

Embracing Leadership – This training enables employees to align their career objectives with the company and build a positive leadership culture within the organization.
HR 101 – This prepares HR managers/personnel to understand the best practices in employee evaluation guidelines, performance coaching, employee termination procedures, and HR compliance, among others.
Respect in the Workplace – This seminar/workshop focuses on how to avoid the adverse effects of harassment and discrimination on the organization and how to cultivate a culture of inclusiveness and respect in the company. Seminars tackling these sensitive issues are separate for employees and managers.
2: Benefit Options
The company also offers consultations on designing employee benefits, including an attractive retirement plan. TriNet can introduce you to their product partners to create a benefits package for your employees to ensure better performance and talent retention.
3: Risk Mitigation
This service offers advice on workers compensation, employment practices risk management, and Affordable Care Act solutions.
Workers' Compensation
TriNet offers workers' compensation solutions that benefit both employees and the company during workplace-related mishaps. This service follows a predictable pay-to-go billing process, making it cost-efficient and allowing simple budgeting to allocate work-related accident compensation payments.
However, please note that this service does not only focus on paying employees for work-related injuries but a comprehensive workers' compensation program compliant with the existing labor laws and best HR practices in the industry today.
This service also includes risk mitigation, management, and workplace safety compliance to ensure health and safety within the workplace, thus avoiding injury-related costs.
Employment Practices Risk Management
This service focuses on claims and loss mitigation, especially monetary claims concerning allegations of discrimination, unjust work termination, retaliation from current and former employees, and other work-related issues. The organization offers comprehensive education and training on handling possible cases of money claims involving alleged unfair labor practices and discrimination in the workplace.
Affordable Care Act solutions
They also offer help in understanding how the Affordable Care Act works and how your company will become compliant with the law. You can use their Applicable Large Employer Calculator to determine if your company falls into this category and how you can be compliant with the ACA.
4: Technology Platform
This will help your company get all the tools you need for your HR management in just one platform. To know more about this, you can watch the YouTube video below:
As software, TriNet has the following core strengths:
Seamless integration: Integrating other account software such as TurboTax®, NetSuite, and QuickBooks™, to name a few, is easy with the current platform. This makes tax computations, salary deductions, and other pay-related processes easier and faster.
User-friendly and highly intuitive system: The online and mobile applications are easy to navigate and use, enabling users to work faster and more efficiently with payroll and other HR work.
Strong technical support: Great technical support is also a plus for this payroll software. Based on customer reviews we've read, and our own reaching out to test it, their customer support has been very responsive to queries and assists users quickly whenever they need technical help with the software.
There are three main drawbacks that we feel they need to look at:
Benefits offering isn't straightforward: Some customers find the benefits offering information slightly ambiguous, and this feature is sometimes hard to find on the dashboard. It would be helpful if the developers made the necessary adjustments to this interface part.
Aetna benefits ambiguity: We have read about issues regarding their health benefit offering under Aetna. this could be an issue with the administration or the software interface, but developer should address this.
Security features: As a piece of software which deals with both people's money and personal information, there was a frustrating lack of security features discussed on their website. Those of us here at HRD reached out to their live chat customer support agent and ask for more information, giving specific examples of what we were looking for, and that information was still not readily available. We understand that TriNet is end to end encrypted, but could not find any data on what encryption was used, how information was protected at rest, and any other security features they are used to protect this vital information.
The company also developed its own mobile application, enabling employees to access their pay slips and other salaries/benefits-related documents through mobile devices. Their mobile app can be downloaded from Google Play and the Apps Store.
Free for active users, the app allows the user to:
Access their pay slips with the complete information about their earnings, taxes and other deductions, and benefits
See their benefits like health and life insurance coverage. They can also enroll their family members in insurance coverage.
Check their available time off and even make a holiday request
Access their Flexible Spending Accounts to review their transaction status and details or submit receipts and claims
Access and purchase from the marketplace
Access the team directory and contact them through email, chat, and call
Access My Team and To Do's
Here's an explainer video on the app from the company:
Headquarters: One Park Place Suite 600 Dublin, CA 94568
Year Founded: 1988
Number of Employees: 348,500 (as of Dec. 31, 2022)
Key People: Burton M. Goldfield (President & CEO), Alex Warren (Chief Revenue Officer), Catherine Wragg (Chief People Officer), Jay Venkat (Chief Digital and Innovation Officer), Jeff Hayward (Chief Technology Officer), Kelly Tuminelli (Executive Vice President and Chief Financial Officer), Michael Mendenhall (SVP and Chief Marketing Officer / Chief Communications Officer), Samantha Wellington (Executive Vice President, Business Affairs, Chief Legal Officer and Secretary), Thomas Rose (SVP, Customer Success, and Operations)
The company was founded in 1988 by Martin Babinec, and he served as its CEO for 20 years. As a PEO, the company provides complete HR support to small and medium-sized companies—from hiring to payroll, from training to tax and labor standards compliance, eliminating the burden of administrative work from these enterprises and having them focused on their core operations and business expansion.
It has been ESAC accredited since 1995 and certified as a PEO by the Internal Revenue Service (IRS). It is also a publicly registered company on the New York Stock Exchange (NYSE: TNET) since 2014.
What companies use TriNet?
Since the company's inception in 1988, the company has been able to serve more than 22,000 clients as of December 31st, 2022. Here are some of the companies that use their services for their HR needs: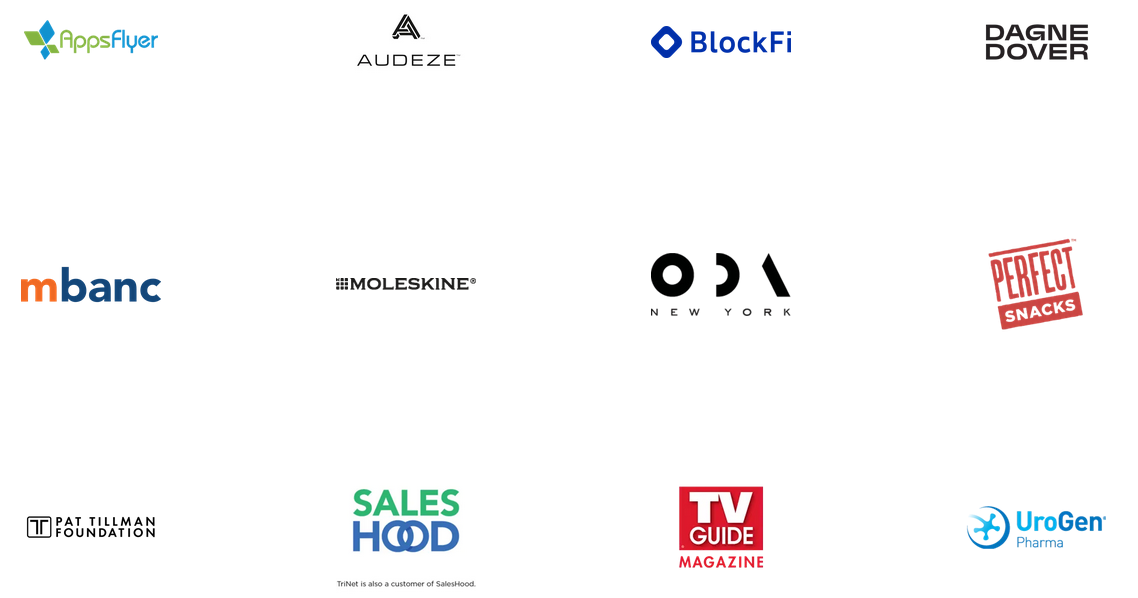 This shows that a wide variety of companies can successfully use their payroll software platform.
TriNet Review: Company Competitors
TriNet is not the only company that offers payroll services and software. If you think this is not the right payroll software for you, you may check the other payroll software listed below:
For small and medium-sized companies, the payroll and other HR services offered by TriNet can ease the burden of HR work, which are basic table stakes in HR today. It has all of the basic features that you would expect in a piece of payroll software, with no areas where it is lagging.
The company was built on the need for compliance with various labor and tax regulations implemented by local and federal institutions, and this is an area where it excels. This payroll software is a reliable HR and tax companion for businesses classified as small and medium-scale enterprises (SMEs). If this software meets all of your expectations, it is a perfectly acceptable piece of payroll software for your company. We would highly advise that you have your IT team go over it and really drill down on its security features. Should we get more information from them, we will update this review.
If you would like to explore your payroll and HR software choices further, you may find our other HR software reviews helpful in gaining deeper insight into HR and payroll software and how they can help your business operations.
Do you use TriNet as your payroll or HR software? Share your insights with us below: