Payroll automation is one of the things that a company should consider adopting since it makes payouts, tax computations, and deductions easier without too much paperwork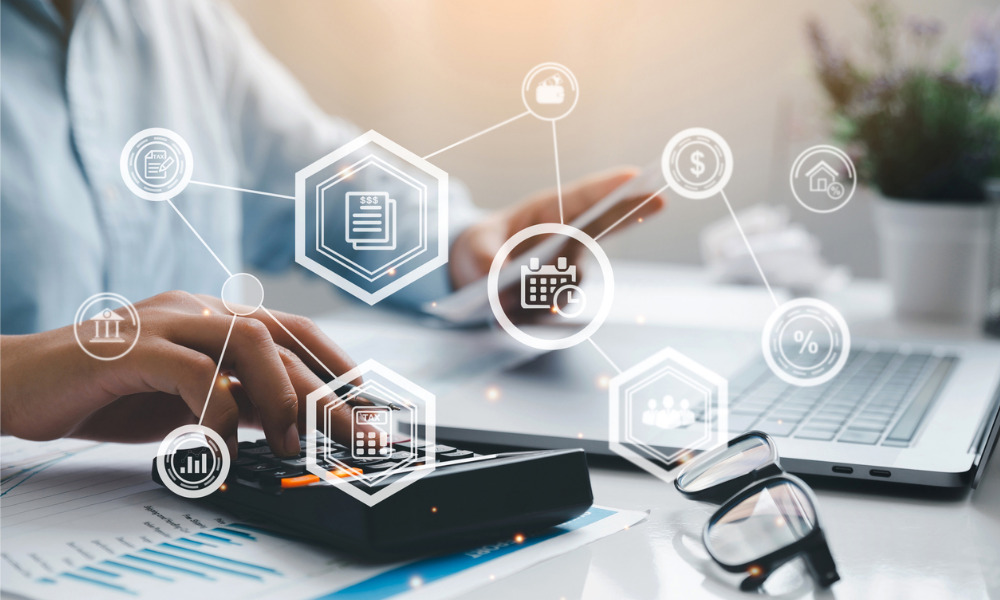 Payroll automation is one of the things that a company should consider adopting since it makes payouts, tax computations, and deductions easier without too much paperwork. greytHR, a payroll software developed by Greytip Software Private Limited, is an easy-to-use and highly customizable payroll software that can help businesses with their payroll needs. The company developed this software to cater to small to medium-sized companies' payroll and other HR needs, particularly in India, the United Arab Emirates (UAE), and other Middle Eastern countries.
Through this greytHR review, we will provide an overview of this payroll solution's core strengths and weaknesses and how this payroll tool can help your company with payroll automation.
Developed and distributed by India-based company Greytip Software Pvt. Ltd., it is a payroll software that uses cloud computing technology, allowing end-users to access, process, and store employee data in remote servers using the Internet. Its centralized dashboard allows payroll officers to process salaries, taxes, and other deductions using a single platform. Meanwhile, since the system uses the cloud, salary adjustments and corrections can reflect on the employee's dashboard in real time without too much paperwork.
Aside from automated payroll solutions, the developer also offers a comprehensive human resource management system that includes the following:
Leave and Attendance Management
Manpower Planning
Automated Recruitment and Onboarding Process
Employee Information Management
Salary Adjustments
Communication and Basic Employee Services
Offboarding and Separation Process
Here's a short video on what you can see inside the platform:
As a payroll solution, it has the following strengths:
Comprehensive functionality: This is one of the significant advantages of this payroll software. The program has many features to manage payroll, attendance, leaves, reimbursements, compliance, and employee data.
Highly customizable: Its functions can be tailored to fit individual organizations' needs. For example, the attendance module allows organizations to track employee attendance, late comings, early goings, and leaves. Meanwhile, the payroll module can be configured to handle various salary structures, deductions, taxes, and other statutory compliances.
Easy, comprehensive report generation: The system also provides comprehensive reports on all aspects of payroll and HR management. These reports can be downloaded through the platform or saved as a PDF.
User-friendly interface: Another significant advantage of this program is its user-friendly interface. Since the program is intuitive, it is easy to use, even for non-technical users. The dashboard provides a quick overview of key HR metrics, such as employee headcount, attendance, and payroll data. The navigation is easy, and the menus are logically organized, making it easy to find the required functionality. The system also provides ample documentation and training resources to help users to learn about the software quickly and effectively.
Statutory Compliance: For users from India and the Middle East, the software complies with all the laws and regulations about salaries and wages, separation pay, taxes, and other deductions in both countries. There is no need to worry about impending penalties due to violations of tax and salary regulations. The company also updates the system regularly, ensuring it stays updated with the latest statutory regulations and compliance requirements.
Integrations: The program also allows integration with other HR tools such as Digital Wallet (for instant salary payments), Reimbursement, and Accounts Payable, to name a few, enabling quick payroll automation for your organization.
However, the strengths mentioned above are on the HR side. Employees can also benefit from this through its self-service feature using the greytHR app. The mobile application can be downloaded via Google Play Store for Android users and iTunes for iOS users.
The following screenshot shows what an employee can accomplish using the mobile application: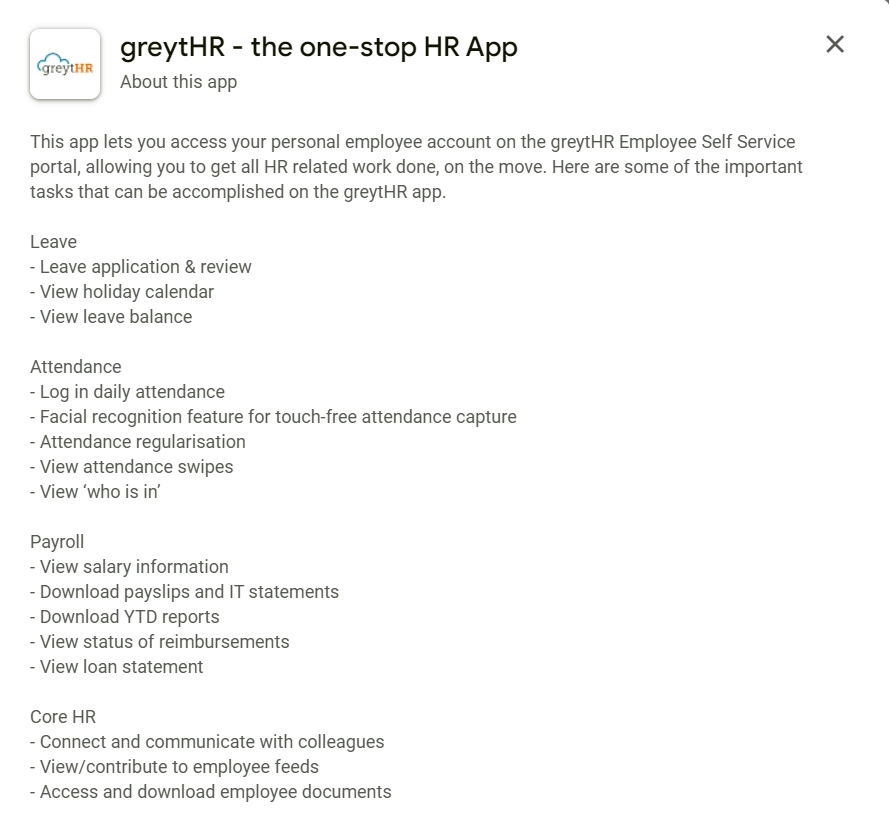 This application is only compatible with Android OS 8.0 (Oreo) or higher for Android users. When upgrading to version 4.0 of the app, the developers highly suggest having app data and the cache cleared for a smooth transition.
The developer offers excellent customer service, with a dedicated support team available via phone, email, and chat. Based on actual customer reviews about greytHR, the support team is knowledgeable and responsive, and they go the extra mile to resolve any issues that users may encounter.
Here's a webinar from the greytHR team showing how to process payroll using the tool:
We only came across two drawbacks for greytHR in this review:
Limited language support: It only supports the English language. That will, of course, work for a lot of people, but that proves to be a problem for a company that is based in India where many people speak Hindi. We have read reports that the developer is working on this issue.
Reports customization: There are some issues regarding report generation since it needs to be customizable based on the company's requirements. This limits the ways the report could be presented on paper or in meetings. We have read reports that the developer is working on this issue.
As payroll software, it provides a wide range of security features to ensure data safety and security. It uses industry-standard SSL encryption to protect data transmitted between the user's browser and the server, ensuring that all sensitive data is encrypted and secure during its transmission, thus, disallowing data interception and tampering by hackers.
Web administrators can also set up IP restrictions to limit system access from specific IP addresses or ranges. With the restrictions, only users can access the system, preventing unauthorized access from outside the organization.
The developers also ensured that the software had a robust backup system, using multiple data storage, to prevent data loss, especially during system breakdown. Because of this, data restoration is easy.
The developers ensure that the program complies with data privacy laws and regulations. This tool is GDPR-compliant, meaning all employee data is collected and processed following GDPR guidelines. Additionally, the tool provides a range of reports that allow administrators to audit system activity and track changes to employee data. This feature ensures that any changes to employee data can be tracked, and any unauthorized changes can be quickly detected and resolved.
Role-based access control
Another vital security feature of this payroll management tool is its role-based access control. System administrators can grant access to particular parts of the system based on an employee's role in the organization. To illustrate, a junior employee may only have access to their own data, while a manager may have access to data for their team members.
This form of data gatekeeping ensures that employees can only access data needed to do their job efficiently, preventing data breaches, especially with classified or sensitive information.
Moreover, it allows administrators to set up two-factor authentication for added security. This feature alerts users regarding unauthorized access to their payroll and if their password has been compromised.
Depending on the company's size and budget, the developer offers affordable packages for businesses and other organizations. Since most Greytip Software Pvt. Ltd. clients are in India, the UAE, and other parts of the Middle East, their pricing is Rupees (₹) and US dollars. Here are the packages to choose from:
Starter – Organizations with 25 employees or less can use the greytHR bundle for free but with limited features. The payroll feature, for example, only 13 months of payroll history, can be accessed through the platform.
Essential - ₹3495/month in India ($50 in the Middle East/ME) for 50 employees (10 employees in ME), but with limited Employee Workflows for Process Automation. Additional ₹30 (US$2 per employee in ME) per month.
Growth - ₹5,495.00/month in India for 50 employees (US$60 in ME for 10 employees), an additional ₹60 per employee in India, while US$3 per month, per employee, in ME. Add-ons are also available for purchase.
Enterprise - ₹7495/month for 50 employees in India and ₹100 for the add-ons (per employee). Cost in ME: US$80/month, including ten employees; US$5 for additional employees for this bundle. Add-ons are also available for this bundle.
The developer offers free trials for the paid bundles. Before the trial period expires, the company will notify the client through email, reminding them about the impending expiration of their trial period. Unlike other companies, the customer will not automatically be charged when the trial period ends.
A 7-day grace period is given to customers, and they can still enjoy the software's full features within the grace period. If the grace period lapses, this is the only time the regular rates will apply to your subscription. There is no lock-in period or cancellation fee for this software.
There are other companies that offer payroll solutions, not only for customers in India and the Middle East but also globally. If you are a company in the said regions, and think that this is not the payroll software for you, you may also check on greytHR's competitors and see what software fits your payroll needs:
Year Founded: 2009
Headquarters: GRAPE GARDEN, 29/30, 17th H Main Rd, 6th Block, Koramangala, Bengaluru, Karnataka 560095, India
Other Locations: Chennai, Mumbai, Delhi NCR, Hyderabad, Pune (all in India), and Dubai, UAE|
Number of Employees: 700+
Key People: Girish Rowjee (Co-Founder & CEO), Sayeed Anjum (Co-Founder & CTO), Mohammed Azhar
(Chief Sales Officer), Unnikrishnan Raghavan (Chief Knowledge Officer)
Founded in 1994, Greytip Software Pvt. Ltd. states that it is the first-ever Indian software development company that used cloud-based technology in developing human resource management (HRMS) and payroll software in 2009.
In its more than two decades of existence, Greytip Software boasts of having processed the payroll and other HR needs of more than 2 million employees, serving more than 20,000 known brands, and helping small and medium-scale enterprises with their payroll and other HR needs with their affordable software bundle in India and 18 other countries globally. This includes nonprofits and big businesses such as Volvo and Norwegian People's Aid.
Greytip, as a company, focuses on helping start-ups and medium-sized companies, and non-profits (institutions with a maximum of 50,000 employees) with their payroll and HR needs. Based on their company profile, here are a few of the companies that use this software for their payroll and HR needs:

An affordable, intuitive, and user-friendly payroll software, greytHR can help a company, regardless of its size, with its payroll automation. Aside from being safe and secure and being compliant with the existing laws and regulations governing data privacy protection, pay, deductions, and taxes, this software can lessen the company's worries regarding penalties that may occur due to data breach and other violations.
Are you still trying to decide what payroll software to choose? You may check our other HR software reviews to determine the perfect software that suits your budget and will help you automate your payroll.
Meanwhile, are you a company or institution using this software? We want to hear your thoughts about it. Please leave your comments below: