A new study suggests dads are reluctant to make the most of time off for fear of repercussions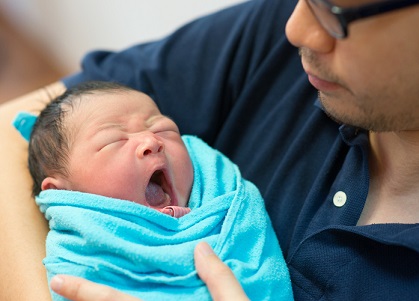 Employers are being called on to address their company culture after a new study suggested men aren't using parental leave for fear of career repercussions.
According to research from recruitment firm
Hays
, some 53 per cent of Kiwis believe new fathers don't take the full parental leave they are entitled to because they're afraid they'll be viewed as less committed to their job.
The same survey found that just 22 per cent of organisations offer parental leave for male employees on equal terms to female employees.
Thirty per cent of respondents also said men in their organisation rarely take parental leave they're entitled to and 37 per cent said they only take a portion of what they are permitted.
Karen Gately is a leading HR advisor – she says organisations are making important steps to improving work life balance for mothers but says many companies still overlook dads.
"I think it's overdue for us to shift the conversation to it being about parents, not just mums," says Gately, author of The People Manager's Toolkit.
"This may be a generalisation but most dads want to be spending time with their kids, they don't want to miss them every single night because they're in bed before they get home," she tells HRD.
"If we're denying that flexibility and opportunity then chances are they're going to be drained of energy, not feeling that they can really thrive and certainly not feeling engaged in their workplace."
While providing decent work life balance to all parents is undoubtedly the right thing to do, Gately says there are also countless business benefits on offer.
"This should be a strategic priority around attracting, retaining and leveraging the best talent in the market and if you're not thinking about how to provide balance that this workforce is demanding, then you're not going to be able to compete," she warns.
However, offering balance is about more than just putting programs in place – Gately says organisations must actively work to reduce any stigma for dads who take time off.
"Senior leaders are sometimes perplexed at requests they get from men but they wouldn't be surprised to get something similar from women," she says. "For example, it's often harder for a man to get approval to go part time when they have a child, compared to a woman."
Similarly, most employers will be able to imagine a scenario in which a male employee is teased by his co-workers for taking a year off following the birth of a child.
"It's down to this stereotype that we have in our minds, these unconscious biases around what men and women should respectively do," says Gately.
"We need everyone to be better educated, we need employees to know what is okay to ask for and we need to communicate why it's an important part of our workplace culture," she continues.
Related stories:
National makes parental leave pledge
Can you fire someone on parental leave?