The mine's general manager said the fatality is the first in the company's 25-year-history.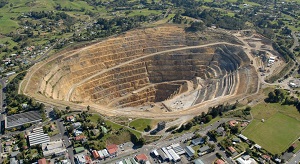 Operations have been suspended at Waihi goldmine after workplace accident claimed the life of a 29-year-old employee.
The worker was approximately 200 metres underground and about 2 kilometres into the mine when the front-end loader he was operating overturned.
"Right now our thoughts are with the family and his workmates," said the mine's general manager Bernie O'Leary. "We are supporting them as much as we can in this very difficult time as we know the Waihi community will also."
The incident happened at around 6.30pm last night but an underground rescue team were unable to reach the man until about 11pm when he was confirmed dead.
Both
WorkSafe
and Waikato Police are at the scene, investigating the circumstances.
"I would also like to mention the fantastic job that our mine's rescue team did in very difficult circumstances," said O'Leary, who confirmed the death as the first fatality for the company in its 25-years of operating in New Zealand.
"We're very proud of our safety record here at Waihi," he added.
Recent stories:
Prince George insult puts senior employee in firing line
Highest-paid CEOs run worst-performing companies
Retail tycoon 'responsible' for $1B pension-pot deficit