New research shows that the productivity effects of superstar employees stretch beyond their own work results.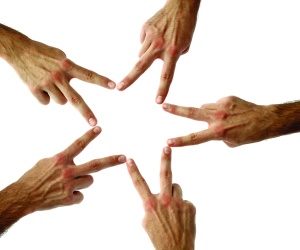 Superstar employees not only bring a shine to an underperforming office they also bring out the potential in their colleagues – that's the conclusion from a recent paper from the National Bureau of Economic research.
The research, Why Stars Matter, examined university academic departments and measured productivity in terms of papers published and citations in other academic literature.
It defined superstars as those who ranked in the 90
th
percentile based on citation-weighted publications and examined three ways these top performers impacted on the overall improvement in their departments: their direct increase in output, their effect on improving the performance of their colleagues, and their influence on recruiting other superstars into the organisation.
The research found that department-level output increased by an average of 54% after the arrival of a star and after removing the direct contribution of the star the department level output still increased by 48%.
Additionally a year after the superstar joined the team the average quality of new hires improved.
"The effect does not seem to diminish even by the end of our sample period, eight years after the arrival of a star," the report states.
Walter Frick, associate editor at the Harvard Business Review, in a
blog
on the research commented that it provides framework for firms to consider when hiring top talent.
"The direct benefits of a superstar can be substantial, but it's also important to consider how the hire will affect other employees' productivity. Not all superstars are equal in this regard, so look for someone who's likely to up the game of those around her. Finally, it's critical to consider the impact the hire might have on recruitment," he wrote. "In at least some cases, the biggest effect of hiring a superstar is who it allows you to hire next."
Tips for recruiting a 'star' employee
Determine exactly what that star looks like. You need to know clearly what they look like and skills they possess so when the job is advertised it will be impossible for them to resist applying
Talk with someone who is considered by others to be a superstar in their industry and ask them how you can better attract higher quality employees into your organisation
Ask your network if they can recommend someone, but don't overlook those in your team – there may be a star in your midst waiting for the right opportunity.
Related article:
What to do when your star resigns