A Northland company was fined after an investigation by WorkSafe revealed that an employee's death in the workplace could have been prevented.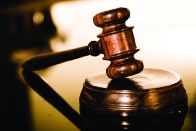 A Northland-based company has been fined and ordered to pay reparations of $60,000 after one of its employees was killed by a forklift which had faulty brakes.
Kiwi Timber Protection was criticised yesterday by
WorkSafe
, which claimed that it is likely Mark Blincoe would still be alive if the company had better safety practices in place.
The organisation was sentenced in the Whangerei District Court this week, pleading guilty to failing to take all practicable steps to ensure the safety of an employee.
The authority ordered the company to pay $45,000 in fines and $60,000 in reparation in addition to the $34,040 that had already been paid as voluntary repayments.
Blincoe died in February this year when the forklift he was driving rolled backwards into a pile of steel and collapsed, landing on top of him.
An investigation by WorkSafe showed that the vehicle's defective handbrake had indicated to the driver that the brake was on when the accident occurred.
According to WorkSafe, there had been two reports from employees of poor performance in the month before Briscoe's death which indicated that the forklift was not safe for use – but these were ignored.
Chief investigator Keith Stewart said that the forklift lacked a seatbelt and Blincoe had not been formally trained to operate the vehicle.
He added that Blincoe's life could have been spared if his employers had sufficient checking and maintenance systems for their forklifts, saying that there is "no excuse for ignoring the reports of problems with the vehicle."
"Mark Blincoe's death was needless and is a sad reminder that forklifts are a serious workplace hazard," she said. "They need to be treated with due caution and care."