The popularity of e-cigarettes is growing, but with the devices not classified as "smoking" they fall outside the scope of the smoke-free act. What stance can organisations take on their use in the workplace?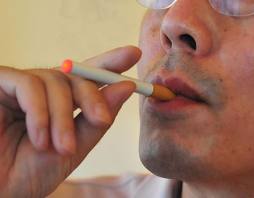 It could be only a matter of time before you come across someone powering up an electronic cigarette (e-cigarette) in the workplace. The battery-powered devices give users a similar sensation to smoking by inhaling a nicotine mist. No smoke is emitted, only vapour.
But can they be with used in the work environment?
Internationally the debate has long been raging over where e-cigarettes can be used. Airlines, including Air New Zealand, were among the first to ban their use on planes for travellers and staff. Earlier this year some pub chains in England banned them from inside the premises, citing it was hard to tell them apart from real cigarettes. While France has indicated it may become the first country to include e-cigarettes in the public smoking ban.
Ministry of Health spokesman, Brendon Baker, explains that as the definition of smoking under Smoke Free Environments Act 1990 is defined as "to hold, or otherwise have control over an ignited tobacco product, weed, or plant" e-cigarettes are not deemed to smoking and therefore not prohibited by the law. This also means legally there is nothing stopping someone using the device at their office desk.
Baker said it is up to the workplace to make the call on whether to ban the devices or not. Employment Law Specialist, Barrister Catherine Stewart, agrees the decision will be at the employer's discretion provided "that such prohibition is pursued in a fair way".
"An employer could ban the use of electronic cigarettes among their staff by the express terms of an individual or collective employment agreement preventing the employee from using an e-cigarette in the workplace or by the implementation of a smoke-free workplace policy that extends to the use of electronic cigarettes," Stewart said. "Provided that any such policy is implemented subject to appropriate consultation in good faith, it will likely be considered reasonable and enforceable. In my view an employer policy is the best way to deal with this issue."
If there is no contractual clause or relevant policy, Stewart said it may also be possible to ban their use among staff by issuing an instruction.
"Instructions to staff must be lawful and reasonable. In the case of Wellington, Taranaki and Marlborough Clerical Administrative & Related Workers Industrial Union of Workers v College Group Ltd [1984] ACJ 316, 324 the issue of what amounts to lawful and reasonable instructions was considered. The Court considered that the following points may be relevant:
Does the instruction require the employee to perform an illegal act?
Is the instruction within the employee's contractual obligations?
Does the instruction require the performance of an impossible task or a dangerous task?
As instructing employees not to use electronic cigarettes within their workplace does not amount to an impossible, dangerous or illegal task, and is arguably within the employee's contractual obligations, an instruction to staff prohibiting their use may be lawful and reasonable."
Furthermore, Stewart adds, because the Ministry does not endorse the use of e-cigarettes citing lack of evidence of their benefits as a quitting device and unknown long-term health effects, there could be health and safety reasons an employer could rely on when issuing an instruction to staff.
"Overall, while not expressly prohibited under the current law, I consider that the employer's discretion to define acceptable behaviour and practices in the workplace – through contract or policy, or possibly lawful and reasonable instruction – would allow them to prohibit the use of e-cigarettes in their workplaces if they choose to do so, " Stewart said.