A Christchurch court has heard that multiple failings contributed to the death of a port worker.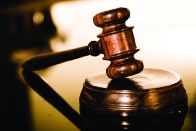 The Lyttelton Port Company was found guilty on Thursday for failing to ensure the safety of a worker who died using a scissor-lift. The company was fined $63,000 and ordered to pay reparation of $75,000 following the death of 40-year-old Brad Fletcher last August.
Judge John Strettell heard that problems with the lift, which toppled over, were known by Lyttelton employees but that they had not communicated those concerns to management. Procedures have since been put in place in a bid to avoid a similar communication failure in future.
This was not the main issue however.
WorkSafe
New Zealand said that there was "poor maintenance, poor training, not proper cleaning or testing of machinery". Brett Murray told Radio New Zealand's Checkpoint that these and other systemic failures by the employer resulted in the accident that led to Fletcher.
Fletcher had fallen from the scissor lift when it toppled and hit a shipping container on the way to the ground. He was using the lift to reach a straddle carrier in a bid to jump start it from batteries. WorkSafe said that in other ports a second straddle carrier is used alongside the first when situations like this one occur. That, it says, reduces the risk of working at height.
Lyttelton Port Company admitted the charge brought under the Health and Safety in Employment Act of failing to take all practicable steps to ensure Mr Fletcher's safety while at work and made an apology. Chairman Trevor Burt told TVNZ: "We are responsible for what happened to Brad and the circumstances that led to his tragic death. On behalf of the company, I sincerely apologise."
The tragedy highlights the necessity for ongoing and regular risk assessments for all employers. It is also clear from this case that if a policy to enable workers to communicate concerns easily to management had been in place, the issue would have been addressed to avoid an accident.
Although some workplaces present greater risk than others, many seemingly low-risk workplaces allow procedures to continue unchecked. Sadly unsafe work practices are often only changed when accidents happen.