A TV boss appeared before a Judge in the Manakau District Court today, where she faced charges over a bizarre workplace incident.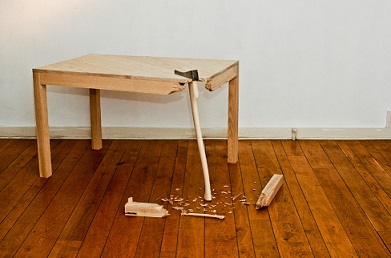 An Aucklander who smashed a glass desk to pieces with a hammer, harming one of her employees in the process, has been discharged without conviction – but she was ordered to financially compensate the victimised worker.

The TV boss, whose name is suppressed, appeared in the Manukau District Court today, where she pleaded guilty to a charge of possessing an offensive weapon.

Judge Ida Malosi described the woman's action of "shattering the desk with a mallet" as "falling at the lower end of the scale" in terms of victimising her colleague Dandi Wang – but the "continued taunting" of her victim had "moved to the medium level".

The woman allegedly posted multiple posts on her social media accounts detailing what she had done.

A year after the incident, the woman posted a comment "commemorating the day of offending".

Judge Malosi conceded that the woman had completed 35 hours of voluntary work, and had also donated $800 to charity. She also attended two psychiatry sessions, where she was taught to better manage stress.

The Judge ruled that a conviction could be detrimental to the woman's business undertakings.

"A conviction will place a stain on your otherwise unblemished record," she said.

"You may not be eligible to travel at short notice as business dealings sometimes demand."

She was ordered, however, to pay $5,000 in emotional harm to Wang.