Find out what are the top sources of quality hires, how talent brand & trends are changing and much more.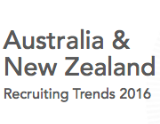 Did you know 36% of employers say employee retention is a top priority over the next 12 months or 40% say utilising social professional networks is an essential and long-lasting trend. Internet job boards and internal hiring are on the decline, while social professional networks grow as an essential source of quality hires. Talent leaders not only see social networks as a long-term trend, but as an effective employer brand channel that build essential relationships with potential candidates.
To truly influence business decisions, you need to understand where the industry is going. Not only do you need to know recruiting trends around the world, you need to understand what's specifically trending in Australia & New Zealand.
Influence business decisions at your organisation with the latest research from
LinkedIn
, which uncovers the talent industry's top priorities, challenges and opportunities ahead. In this year's Australia & New Zealand Recruiting Trends, you'll learn: metrics that matter most to talent leaders, the top sources of quality hires, how the talent brand is changing, emerging trends and more…
Download the full report here!