HC talks to Lee-Martin Seymour about how candidates are exploiting flaws in the hiring process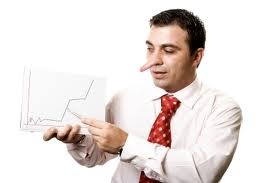 There is a staggering number of Australians who are lying to HR managers, according to recent research released by
Xref
.
Among the key findings were that 71% of respondents admitted to exploiting flaws in the reference checking process, while 42% of young Australians admitted to deliberately lying to a potential employer.
Moreover, 23% said they had actively encouraged a referee to lie on their behalf.
As a HR professional, you know that there is a risk that people change their work dates, they change their job title, they omit things from their CV and they push the boundaries on their references, said
Lee-Martin Seymour
, founder of Xref.
"This could include asking friends or family to be a reference for them," he told HC.
"I think the most alarming thing about the report is that we were asking people to admit to having lied, so I think the stats we actually got back could be considered the lowest amount."
The research also highlights inefficiencies in reference checking, meaning employers are wasting resources, making poor hiring decisions and missing out on the best talent.
For example, two in five candidates (42%) have abandoned an application specifically because of delays in the reference checking process.
Seymour said the employers that are winning are the ones that are reducing the time to hire.
"Candidates are aborting their application because they are going to one that has a better candidate experience," he said.
"So I think employers need to think hard about what experience candidates have from applications right through to starting at that company."
The research has also uncovered a completely unregulated reference checking process.
Almost one third (29%) of referees were asked inappropriate or illegal questions about a candidate, with questions including the candidate's age (15%), marital status (10%) and sexual orientation (7%).
"We found through the report that an awful lot of discriminatory questions are being asked around sex, gender, sexual orientation and whether or not they have or are about to have children," said Lee.
"Around 11% of the time they were asking whether the candidate has children or not."
The burden of reference checking is on the employer, as well as the recruiter as 88% of applicants made at least one application directly to an employer
The findings are based on a survey of 1,000 Australians aged between 18 and 39, who have applied for a new job in the last two years.
Related stories:
How SAP is helping women re-enter the workforce
Starbucks makes political recruitment promise
Why trust is important in the workplace