Range of speakers at HRD's Wellbeing summit offer plenty of insights, tips for HR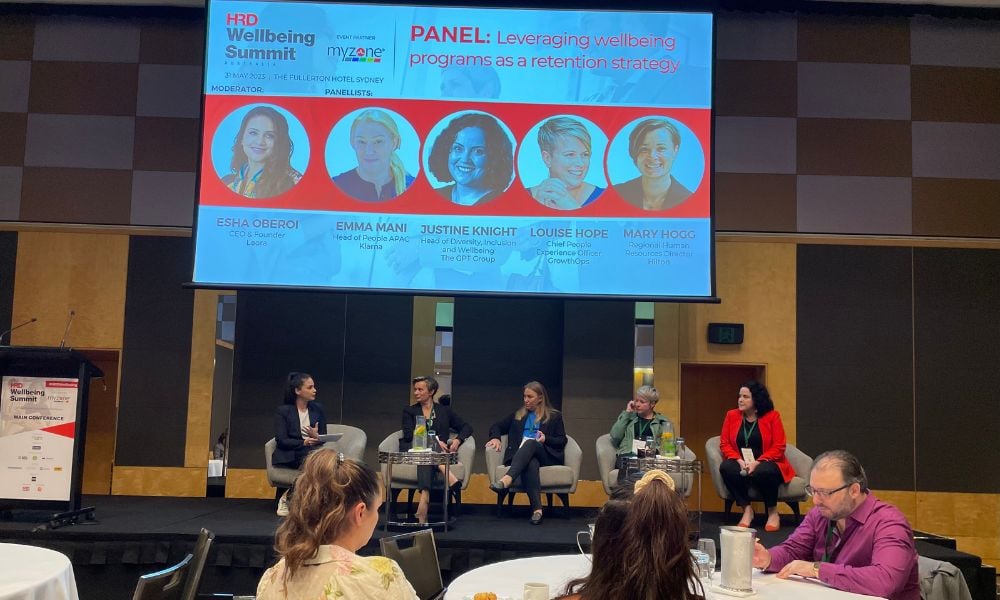 HRD Australia held its annual Wellbeing Summit on Wednesday 30 May, where human resources leaders shared their insights on ways to create and maintain healthier and happier workplaces.
The conference's discussion topics ranged from how to adopt a more proactive approach to workplace mental health to creating more inclusive wellbeing exercise challenges at work. Attendees could also peruse the booths from organisations such as wearable fitness company Myzone and suicide prevention organisation R U OK?
Opening the summit was a panel discussion about using wellbeing programs as a strategy to retain employees. Emma Mani, Head of People, APAC, at fintech company Klarna, said one wellbeing program isn't going to be a "silver bullet" that will solve all employees' issues. Instead, it's important to look at what program will be most beneficial for your employees.
"For us, it really is about understanding what is going to be of value for your people," she said. "We can all come up with these great ideas as HR professionals, but what I really encourage every organisation that I speak to or that I've ever worked in is actually deep dive into what your people will find of value based on the demographics, based on where they're located. Are they distributed? Are they in the office? And then go from there."
The panel members at the Wellbeing Summit also discussed how a company's expectations of its workers can affect overall wellbeing.
"You can throw as many wellbeing programmes, exercise challenges, massages, and all that lovely stuff. But ultimately, that is only window dressing if you've got an inherent problem within your organisation culturally around expectations of work and workload,"
Justine Knight, Head of Diversity, Inclusion and Wellbeing at The GPT Group said.
"Because if you have a culture of expectation around working every hour… it doesn't matter what little bells and whistles you try and throw over that to try and make it appear better, people will suffer and their wellbeing will suffer."
As a way to manage expectations, Mani suggested that businesses think creatively about ways they operate.
"In distributed teams who are often working across time zones, the expectation is that you're on," she said. "So you need to set up some internal measures or ways of working practices that are going to allow people to switch off. So simple things like no-meeting Wednesday, no-meeting Fridays, or if that doesn't work, no-meeting afternoons."
Creating wellbeing programs that resonate
In addition to the conference discussions were several wellbeing workshops held throughout the day. Greg Stark, Director of Better Being, held a workshop on how to create wellbeing programs that resonate with workers across all levels of business.
He explained that when businesses first embark on creating a wellbeing program, "the best thing is always, just start". And once you start, the next step is to constantly evaluate the program.
"Constantly look at what's resonating, what's working, what's not," he told HRD Australia. "What do people need at certain times of the year? How do we actually connect with them in a way that is really topical at this point in time?"
Will Burkitt, Executive Leader, Care & Living at Mercer, led a workshop that explored the challenges faced by employees who had caregiving responsibilities, particularly those caring for ageing family members. He said these caregiving duties can result "in a lot of absenteeism" and presenteeism as well.
As a result, he suggested that businesses look at wellbeing programs that are proactive rather than reactive to support employees in the future. Mercer's Care and Living service can help people and their families plan ahead for the ageing care process. "The more preventative your programmes can be, you're capturing a potential issue," he said.
Integrating wellbeing by making it relevant
The summit concluded with a panel discussing ways to successfully integrate wellbeing in a company. Nada George, Vice President People and Capability - Australasia at Mastercard, highlighted the importance of reminding employees of wellbeing programs that are available to them. She explained how Mastercard had some services that employees would sometimes miss.
"If it's not relevant to them right now, as they're scrolling through their emails, they're not going to retain it," she explained.
So the company introduced a Priceless Perks roadshow where services such as Mastercard's employee assistance program and superannuation team would gather together, host a lunch and talk to employees about various policies. One of those policies is a four-week 'work from elsewhere' program where employees can choose to work anywhere in the world.
"What we found is that we don't necessarily need to be doing more stuff, but we need people to understand the things that we're doing," she said.
The HRD Wellbeing Summit was sponsored by event partner Myzone, which is an inclusive corporate health and wellness solution that supports and motivates physical activity amongst employees.