What comes to mind when you think of a modern workforce management solution?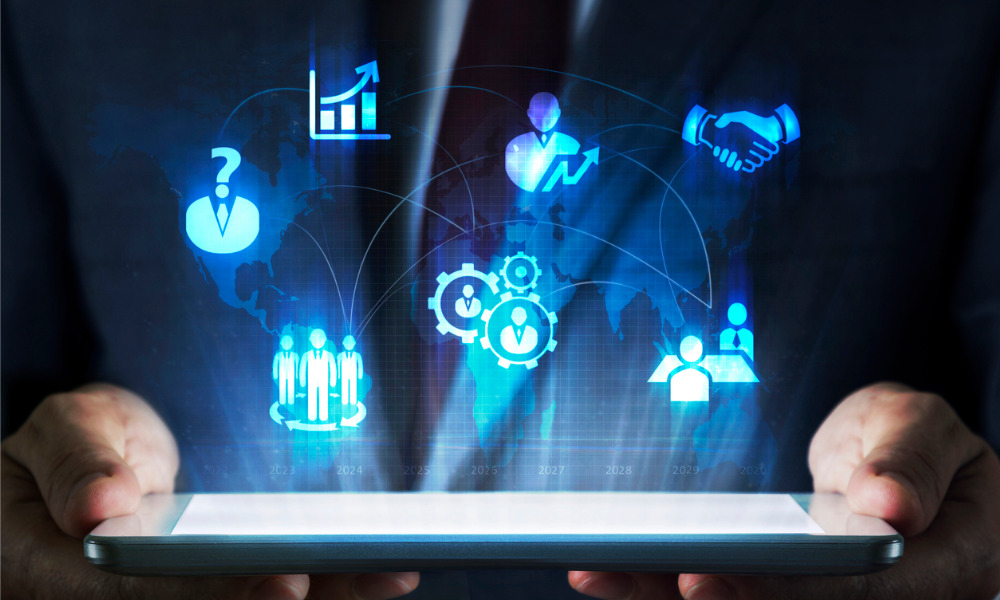 What comes to mind when you think of a modern workforce management solution?
Likely you think of a technology that helps you manage your team easily and effectively, and empowers employees to participate in how they work, which supports better work-life balance and retention.
While those things are still important, the COVID-19 pandemic added the new and significant priorities of employee and workplace safety and business continuity. With many organizations dealing with a shrunken workforce or much more fragmented availability in their workforce, a modern solution is more critical than ever both from both of those standpoints as the technology plays "a key role in assisting the return of employees to work and helping them stay there."
"What were the solutions there for before, and how can they be leveraged even more effectively in the after? We have a lot of these conversations now," Spiros Paleologos, VP, GM, Kronos Canada says. "What's changed in a very short period of time, what everybody is referring to as the new normal."
The question becomes, he says, how do we start using workforce management solution technology for those priorities that didn't exist a couple of months ago?
If a modern workforce management solution was already in place for pre-COVID needs, Paleologos says the good news is a lot of that existing system can be adapted to address what the post-COVID needs are, as another cornerstone of a good solution is that it's easily customizable — business rules and laws change or collective agreements get updated so the goal has always been for the customers to be self-sufficient.
"We give them guidance as we learn from what other customers are doing, but they can actually do the work themselves," Paleologos says. "They can adjust the features to better serve their needs as their workforce returns to a post-COVID company."
For example, if a company has an automated workforce management system chances are employee information is stored in it if they are being scheduled. Companies can easily reach out to employees with a pre-shift wellness questionnaire to ensure they are able to work before they even leave their house to head to the workplace.
"As they come to work, assuming they are, a lot of our customers have now put in additional safety protocols even from a premise access standpoint," Paleologos says, giving the example of restrictions to the number of employees allowed on the premises at once.
He says for many of Kronos' customers, touchless options are now a big deal — the ability to clock in and clock out on mobile devices so there's no physical contact with data collection terminals, for example, or incorporating facial recognition capabilities. Temperature taking technology can also have a positive impact on controlling risk and joins the list of current priorities, from an access standpoint.
The next step for companies is what has to be done differently when employees are at work?
"You can imagine the increase we are seeing in changes to pandemic-related absence policies, pay code changes and so on and so forth," Paleologos says. "We've had customers who have made changes multiple times in the last couple of months as their needs continue to evolve as they figure out how to better manage their employees and their attendance."
He says it's easy to take some aspects of a workforce management solution for granted — unless you don't have one. Some examples are the ability to stagger shifts and break times to minimize crowding in high traffic areas, incorporate flexibility to allow for increased cleaning of common spaces and disinfection of equipment and ensuring enough time between shifts for putting on and taking off more protective wear than employees have ever needed before.
"You've got to be able to accommodate those changes and it's relatively easy to do if you have a system already in place," Paleologos says.
One practice that's evolving is creating scheduling groups by assigning people who continue to test healthy to the same shift, which minimizes exposure in the employee population. Another thing Kronos was asked for was the ability to trace symptomatic employees, which Paleologos calls "a very big, very anticipated request we've had to accommodate from our customers in the last little while."
Paleologos says the good news was the solutions already had the capability to collect this information, and Kronos developed and deployed an automated reporting capability for employee contact tracing to its customers globally at no additional charge.
The new capability leverages data science to analyze labour records and time and attendance data collected by an existing Kronos solution, so if somebody comes down with symptoms organizations will have a lot of information about that employee — when they were scheduled, where they punched in and out and which specific lines or departments they worked in, for example. The data tracing capability can generate a simple report organizations can use to quickly identify and communicate to employees who may have come in contact with the affected coworker, which allows employers to "get much more proactive," Paleologos says.
These changes especially apply to organizations with frontline employees who don't have the option of working from home, such as those in healthcare. Kronos was recently approached by a Toronto-area hospital who had no automation in the scheduling of their nurses and was trying to figure out how to deploy its front-line workers in a never-before-seen scenario. The hospital opted to get a workforce management solution.
"If you were manual before COVID and didn't have these levels of automation like how to effectively schedule, manage and track while people are doing their job, you can imagine how much more challenging it is in a pandemic environment," Paleologos says, noting Kronos worked hard to deploy the hospital's now-essential solution in record time.
The bottom line is, if organizations have a solution in place, "even if you were taking it for granted because you're comfortable with having an automated workforce management system, making these adjustments isn't easy but it's relatively quick and you can be proactive," Paleologos says.
"The technology fundamentally doesn't have to do anything significantly different — the information was always there, it can just now be used more effectively in the new normal."