Employers will get the chance to "try before they buy" interns as part of the Federal government's new youth training initiative.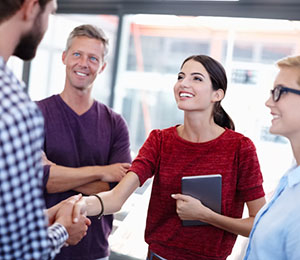 The Federal government's new youth training initiative will give employers the chance to see how interns "fit" their business before committing to employ them.
The training relationship will provide employers with valuable insight into the intern's performance, attitude, and general alignment with their business culture, says employment lawyer Patricia Ryan, noting that young trainees will also benefit from new practical skills and experience.
"The approach is a "try before you buy" approach," Ryan, Principal at The Workplace employment lawyers, told
HC Online
.
"Employers will have an opportunity over 4-12 weeks to see how an intern performs before deciding if they may offer ongoing employment," Ryan says.
In addition, the employer will get a placement fee of $1,000 for taking on young trainees as part of the Federal government's new initiative, Youth Jobs PaTH (Prepare, Trial, Hire), which aims to provide employment opportunities for the country's 120,000 vulnerable young people under the age of 25.
As reported by HC Online last week, the government has committed $840.3 million over four years to its Youth Employment Package, with the bulk of the funding ($751.7 million) going towards the three-stage Youth Jobs PaTH program.
Companies will receive a cash bonus of $1,000 to take an intern between four and 12 weeks, during which the intern will for work for 15 – 25 hours per week, while those who offer ongoing employment opportunities can receive between $6,500 and $10,000 to help with the cost of paying the employee.
Ryan says employers who take on interns as part of this program should be aware of the legal risks that could arise, including the risk of worker exploitation.
"Calling a job an internship and failing to pay is exploitation," Ryan says.
"A common example of worker exploitation are unpaid work trials – such as having a person work a shift in a café, serving customers and not paying them," she says.
"It would be different if a person asked to simply stand beside a barista for an hour to watch and learn for their own benefit, rather than make or serve the coffee.
Employer should also take care that they meet the requirements of the program, such as keeping to the hours of work of the interns (reported as 15-25 per week).
"Otherwise they could be entering into an employment relationship and be liable for underpayment and fines," Ryan says.
She says an employer needs to ensure that an unpaid internship is not in fact in an employment relationship.
Unpaid internships must be:
- For the benefit of the intern as a genuine learning opportunity;
- Not constitute "work" that would generally be paid as part of an employment relationship;
- If the intern is doing work that is required to be performed in the business, then they should be employed and paid.
- Should be for a limited time (a few weeks to a max of 3 months as a guide)
- Not require the intern to perform productive work
Ryan recommends employers request interns and trainees to sign a written Internship Agreement that clearly states the purpose of the internship and the fact that it does not constitute an employment relationship.
Employers also have stringent legal responsibility to provide a safe working environment for their interns, just as if they were a paid member of staff, Ryan says.
WHS legislation states that a student gaining work experience and a volunteer are specifically included in the definition of "worker" and have the same health and safety requirements as for paid workers.
She says the scheme ensures that employers will "earn" the $1000 cash bonus for taking on interns because of the time involved in offering skills training.
"Smart employers will use it as an opportunity to source keen young people to join their businesses," Ryan says.
Similar stories:
Budget: Employers to receive cash incentives for hiring youth
Three generational trends destined to impact HR
Starbucks announces ethical hiring plan
Can PM's "try before you buy" proposal benefit employers?