Are employers legally bound to accommodate for the dietary requirements of their staff?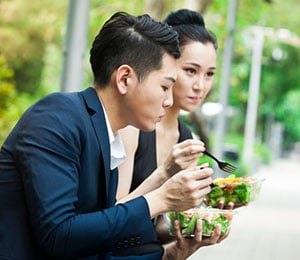 With the increasing diversity of the modern workplace, employers need to be flexible in accommodating the needs of their employees, including their dietary requirements.
Such obligations could turn organising the staff Christmas party into a nightmare as employers juggle with requests for vegetarian, vegan, gluten-free, kosher and halal options.
However, if such dietary requirements are non-religious, such as those of a vegan employee, employers are not bound by law to accommodate these requests – but it is still good workplace practice to try and do so, says employment lawyers Ben Burke and Tim Sissons from Baker & McKenzie.
"It is good practice to accommodate vegan employees, but there is no Australian authority which establishes that there is a specific legal duty to do so," says Burke, Partner at Baker & McKenzie.
Veganism is unlikely to fall within the definition of religion or other protected attributes in Australia, such as race, sex or political opinion, says Sissons, the firm's Senior Associate.
"It may be arguable that veganism is a "political belief or activity", but there are no cases in Australia in which this argument has succeeded," adds Sissons.
"However, the situation will be different if someone's dietary requirements are genuinely religious – e.g. a halal option for a Muslim employee or a kosher option for a Jewish employee," he says.
Burke shares some examples of cases in overseas jurisdictions, such as Chenzira v. Cincinnati Children's Hospital Medical Center, where an Ohio court found that veganism arguably fell within the definition of 'religion', and was therefore protected under anti-discrimination legislation.
"The court refused to dismiss a hospital employee's claim that her termination for refusing a flu vaccination because she was a vegan was religious discrimination (flu vaccines contain egg)," he says.
However, this case was settled without the issue being finally determined.
In another jurisdiction, The Human Rights Commission in Ontario, Canada recently received coverage suggesting that it had included ethical veganism within its policy preventing discrimination based on 'creed'.
But the Commission later released a statement to say that it wasn't deciding the question one way or the other.
So while employers may not be legally bound to accommodate the dietary requirements of vegan or vegetarian employees, taking the needs of such staff members into consideration when booking the office Christmas party at an all-you-can-eat steak house is still good workplace practice.
Similar stories:
Firing staff for the F-word? Think again!
Major airline makes "shockingly sexist" move
Five everyday habits that are killing productivity