The past three years have made employees reassess their priorities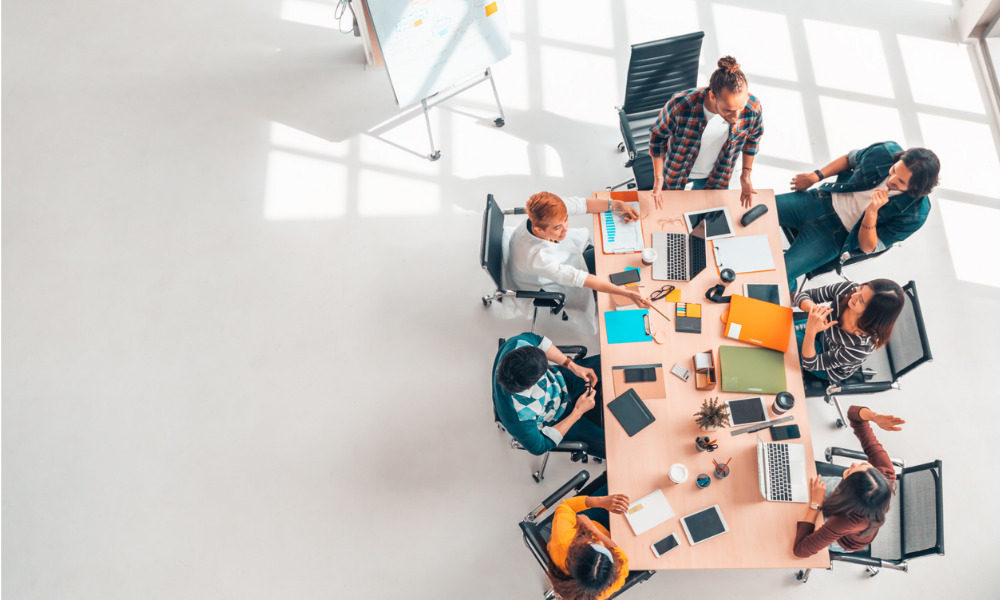 This article was produced in partnership with Indeed.
If there is one thing we can all agree on, it's that the past three years have been an exhausting time for everyone, says psychologist Amanda Gordon, who led a recent HRD roundtable for Indeed on How to Create a Thriving Workplace. The pandemic accelerated trends in the way we work. It popularised and made possible remote and hybrid working models that had existed prior to COVID but are now accessible to a larger proportion of employees.
But what have been the implications? One has been on the relationship between workplace culture and mental health, says Gordon. One of her key takeaways was that people's experiences outside work shape their experience of life at work.
"We have to consider how work is integrated into people's lives and be aware that wellbeing and engagement are reciprocal ideas," says Gordon. If you're engaged in your life and work, then your sense of wellbeing will be heightened but if you are disengaged then the opposite is true. Disengaged employees are around 20% less productive than engaged employees.
"Ensuring that people have a good sense of wellbeing in their workplace means they are going to be more engaged in their work. If employers can help employees feel more engaged, they will enhance their wellbeing as well," Gordon says.
A thriving workplace is characterised by a company that genuinely lives up to its core values and mission statements, rather than just having them on paper. Those that resonate strongly with employees are integrity, collaboration, diversity and inclusion. Of all these, Indeed's data shows that D&I is the area that most organisations struggle with. Having and showing respect to everyone in an organisation has paramount importance for employees and since COVID, there is a greater expectation that employers demonstrate these values.
If those values are not held to, Gordon says there is a possibility that what she calls "the toxic five" creeps into company behaviour.
If there is a lack of respect, even if shown to only one individual, it can very quickly spread to the group as a whole
If individuals or groups are sidelined or excluded
If there is a lack of ethics at the top
If there is a cut-throat culture
If there is abuse within the company
Working in a toxic environment and experiencing injustices in the workplace induces physical and mental illness.
"It's not just the diagnosable illnesses such as anxiety and depression that are depleting people's sense of wellbeing, it's the overwhelming impact of work demands that are leading to people describing feelings of being 'burnt out', Gordon says.
However, the pandemic people has also meant people have reflected more on their lives and prioritised what they want out of life. It has led to some people being more willing to speak out.
There are employees who have become emboldened and more confident in challenging toxic behaviours and excessive work demands, saying they won't put up with these anymore and, in some instances, voting with their feet by leaving the organisation.
At the same time, Gordon says there is evidence of a greater vulnerability among employees as a consequence of the past three years. People seem to be more sensitive and have "lost that top layer of skin", she observes. However, this also presents employers with an opportunity to be more vigilant about damaging psycho-social impacts and to show more care towards their people.
Although greater flexibility has improved many people's ability to achieve a work-life balance, it has also led to a working day that has no fixed limits. This extension of work into our personal lives is contributing to tiredness and burnout. Gordon says that people have to take responsibility for drawing their own borders, closing the computer, and creating a distinction between work and private life. In her case, she has two phones and two email addresses – one for work and one private.
"Ignore work technology when not in work. Have a tech-free evening or day, take back the time that belongs to you. Make technology your friend and not your enemy," Gordon says. Her advice to employers is to ensure that they tell people that 'we don't mind the hours you choose to work but don't have expectations of others to respond outside scheduled hours'. Too often senior executives expect people to respond outside working hours, which isn't reasonable, she adds.
The technology that enables hybrid and remote working can also be a cause of overload and exhaustion when not used wisely, says Gordon. Zoom overload, too many meetings that are too long and involve people who don't need to attend are all things to be aware of.
"Different types of jobs need different approached to hybrid work. The goal is not just to optimise the benefits but understand the trade-offs of hybrid work," Gordon says.
Indeed's research has found that key to keeping people engaged are:
Autonomous motivation
Connection with others
Transparent communication
Sense of efficacy and understanding where a person fits into the organisation
Ability to give input and contribute
Positive environment
Administration responsiveness
"Thriving at work is about optimising the benefits that have come from new ways of working and minimising the downside by helping people adapt and understand the trade-off," says Gordon.