The initiative to help promote mental health and productivity is just around the corner, with global players signing up. Find out how to get involved in Go Home on Time Day.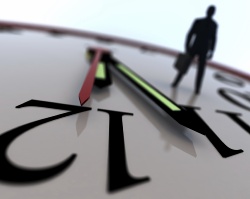 3.8 million Australians don't regularly take a lunch break, with 50% saying they are 'too busy' to do so. In addition,72% of those who do take a lunch break generally eat at their desk, cut their break short, or hold off until mid-afternoon, a survey conducted by The Australia Institute and Beyondblue found.
"It's great that people are committed to getting the job done, but it is sensible to take a break away from your desk or the production line to exercise and think about other things," Kate Carnell AO, CEO of Beyondblue, said.
"A regular walk at lunchtime improves both your physical and mental health and you will resume work feeling refreshed," she added.
The study, which involved 812 currently employed Australians, found one-in-four find work less stressful and more enjoyable if they take a full lunch break.
The study was conducted in lead up to 20 November's Go Home on Time Day, an event conceived to help improve mental health in the workplace and promote the important of a work/life balance.
Workplace activities suggested for organisations on the day include morning or afternoon tea, lunchtime yoga classes, and a set time for all staff to go home.
Organisations participating this year include Adobe, UnitingCare Australia, Murdoch University, Macquarie Regional Radio, Nova and more.
Organisations wishing to get involved can do so here.
Kate Carnell AO will be speaking at the HR Summit in Sydney next year. Register now by clicking here.