What's shaping recruitment in 2018? It might depend on who you ask.
Some 72% of recruiters themselves think that hiring needs will increase in 2018 (compared to 63% last year), and 59% anticipate an increase in tech spending over the next 12 months, compared to 43% last year. Those stats come from Bullhorn, a cloud-based CRM and operations solutions provider for the recruitment industry. According to Bullhorn's 2018 Australian Recruitment Trends Report, 47% of recruiters rank automation in their top three challenges. More than a third (40%) of agencies don't yet automate during the prospecting, client engagement, or account management stages.
Of perhaps greater interest is the fact that candidate-related concerns dominate the results of the survey. Forty-one per cent of respondents say candidate acquisition is a top priority, while the talent shortage is the top challenge listed (at 71%).
It's this focus on the candidate experience that might strike the biggest chord with HRD's readers, for hiring managers and HR genuinely want a great experience for candidates. That much is apparent from the recurring themes of HRD's Top Recruiter Survey. The areas that should be shaping recruitment are the mainstays: quality of hire and sustainability of new hires. More than anything, in 2018, it's relationships that matter the most.
Read on for further insights, and which recruiters are worth their weight in gold.

METHODOLOGY
In March and April 2018, HRD surveyed readers, asking them to rate the performance of recruiters (at company level not individual) they had worked with over the previous 12 months. We received a total of 560 responses. The survey has determined winners (Gold/Silver/Bronze) in nine specialist industry areas, with 'Recruiter of the Year' awarded to one company, which received the most overall votes.
Who wants to make a dud hire? Not only are there the financial costs (up to a quarter of that person's salary) to be considered but also damage to team morale and potentially brands. It's no surprise that, for the second year running, HR professionals ranked 'quality of hire' as the most important element in judging a recruiter's performance.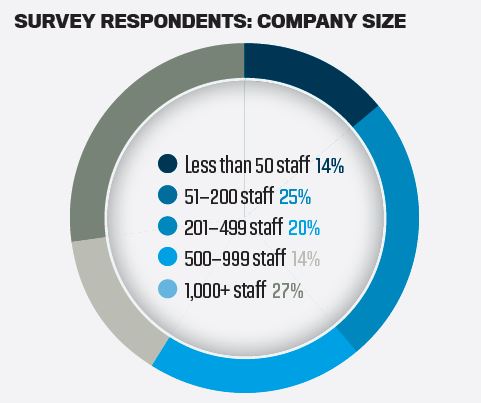 A new addition to the top three this year was 'sustainability of new hires' – perhaps an indication that employers are looking beyond the average three-year tenure of most employees today.
And it goes without saying that 'client service' is a key consideration for most hiring managers when it comes to selecting their recruitment partners. Each recruitment agency interviewed by HRD for this feature reiterates just how critical that service is. Depth of market knowledge is heralded as well. This reader summed up the sentiment:

"Generalist recruitment can usually be done in-house. However, tapping into specialist niches we expand our search to include recruiters, as they generally have a wider knowledge of the market and the 'hidden' talent market."

Another wrote:
"I look for a recruiter that has excellent industry knowledge and a good in-depth knowledge of our company core values, direction and has an excellent understanding of the role as well as the culture of our business."
In some instances, readers were drawn to smaller, niche players in the hope that their industry knowledge would set them apart.
One reader wrote:
"I pretty much never go to big global recruitment agencies as I prefer the care and consistency smaller boutique agencies give in their business dealings. I also don't like how KPI-driven a lot of big recruitment agencies are, driving their people, often (not always) to unethical behaviours."
Interestingly, both time to hire and cost of hire slipped to numbers six and seven on this year's list – perhaps indicating a subtle shift in the KPIs that really matter to hiring managers.
However, the cost of engaging a recruitment agency remains a stumbling block for many, and this is perhaps why many agencies have moved away from the 'filling seats, no matter the ultimate cost' approach, towards a more holistic talent management approach.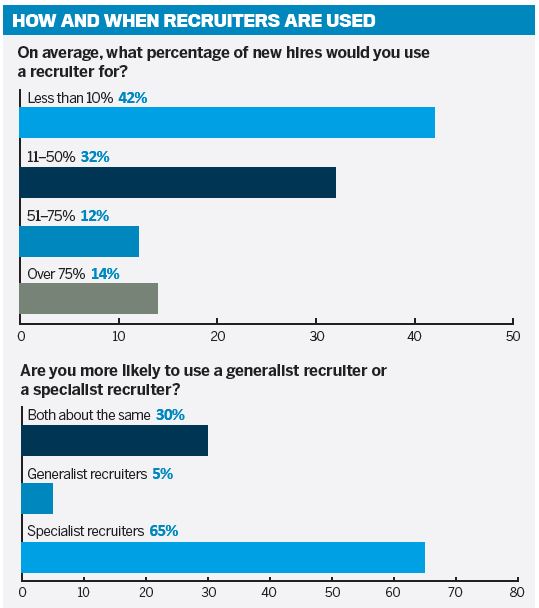 This reader summed up the sentiment of many HR professionals, who today have the tools to do it themselves:
"In this day and age, with tools like LinkedIn and comprehensive websites, the more run-of-the-mill roles can be filled by direct applicants, or direct sourcing through the existing organisation."
Of course, existing relationships with recruiters should not be underestimated. One reader said:
"I tend to go with recruiters who I have a good relationship with and who understand our business, whether or not they are considered a specialist in our industry. If they understand the business they will understand what we need."
From civil construction to physiotherapy and higher education, employers responding to HRD's survey are most likely to use specialist recruiters to fill roles.
One reader simply noted:
"We find industry specialists with strong networks get the best results."
Another hiring manager from Perth wrote:
"I need someone who can tap into markets I can't. I think a generalist will just be executing the same process I would be – just possibly having more time to devote to the task."
From rapidly changing industries like community health to rapidly growing organisations that require roles to be filled with the right people promptly, the perception is that specialist recruiters are the ones who add the most value. This HR manager from Victoria wrote:
"We need a recruiter who can identify skills that will fit our business for roles that are constantly changing, and often within uncharted territory so it isn't just a standard advertise and fill."
There's also a perception that specialists are able to build relationships with candidates, even if they are currently not actively looking for work. This reader suggested:
"I'm looking for specialist recruiters to leverage their network/talent and can access those candidates who are passive in the market rather than a broad generalist approach."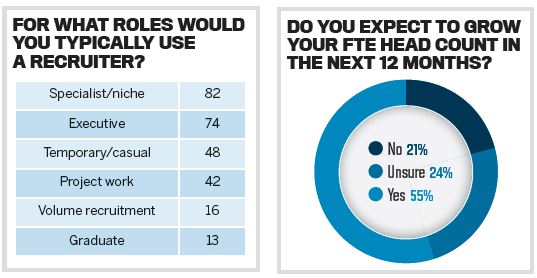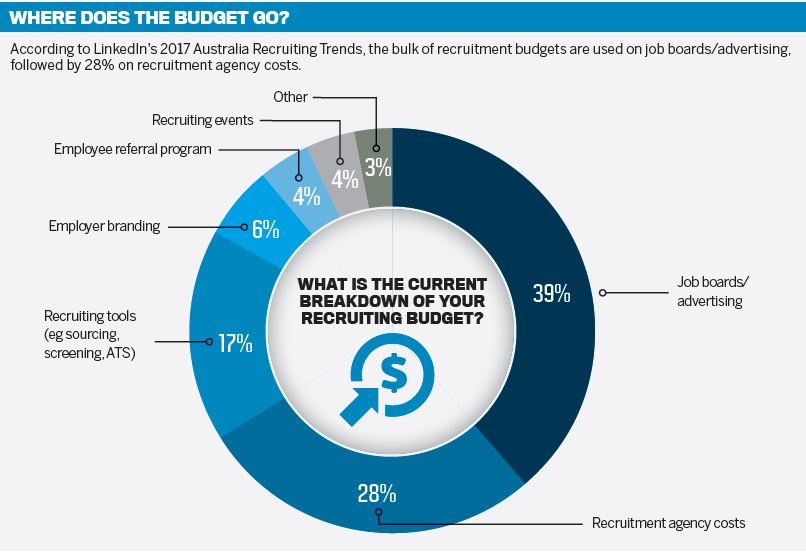 It's no surprise that employers would most readily turn to recruiters for executive and specialist/niche roles. One HR manager from Sydney wrote:
"I prefer a recruiter who has an intimate knowledge of the function, be it Supply Chain, Operations, Commercial, Finance, etc. They will have a greater understanding of the dynamics and challenges of candidates in the function and typically be better networked."
Recruiters are still relied upon to find temporary/casual and project workers. One hiring manager in construction summarised the benefits:
"This industry has a highly mobile, large workforce who are aused to moving from one employer to another as projects are completed. They are tapped into recruiters, so the recruiters often have the quickest access to workers at short notice."