HRD stopped talking about the 'war of talent' some years ago, when it became apparent that this well-worn cliché was losing its power to convey the talent challenges facing employers, but also after recognising the fact that the situation was not going to change any time soon.

All HR professionals know they must remain on their toes when it comes to attracting and retaining talent; the competition is simply too steep to drop the ball. Unfortunately, despite that awareness, it seems Australian employers are struggling. Employee engagement in Australia has declined despite global levels being at an alltime high in 2017. According to Aon's latest analysis of more than five million employees at more than 1,000 organisations around the world, global employee engagement levels rebounded back to 65% in 2017, up from 63% in 2016. The percentage of employees who were highly engaged increased from 24% in 2016 to 27% in 2017.

In Australia, levels have dropped slightly from 61% in 2016 to 60% in 2017.

According to Aon, improving engagement can pay dividends. Its research shows that a five-point increase in employee engagement is linked to a three-point increase in revenue growth in the subsequent year.

Aon's research indicates that rewards and recognition ranked as the strongest engagement opportunity for the second year in a row, with recognition for contributions and fair pay being the most influential factors.

The top three drivers for employee engagement in Australia in 2017 were rewards and recognition, employee value proposition and senior leadership.

In an attempt to dissect that broad topic of engagement, and taking into consideration all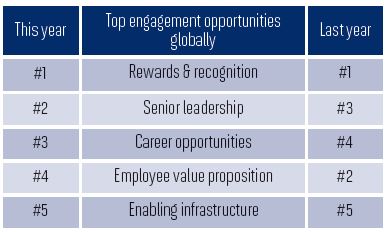 elements of the employee experience, HRD's Employer of Choice survey asked employees themselves about key areas that have been identified as critical to feeling engaged at work. Chief among these are whether their employer provides career paths, offers suitable learning and development opportunities, and rewards and recognises a job well done (see boxout overleaf for the full list of questions asked).
Those companies that achieved the highest average scores from employees across all these questions are acknowledged as 'top performers' in each subcategory. The cream of the crop are the Employer of Choice winners. Gold, Silver and Bronze awards have been given to those employers in our three size categories who are truly going above and beyond. This year it was great to see some return stars from previous years, as well as many new entries to the list. Read on to see why they came out on top.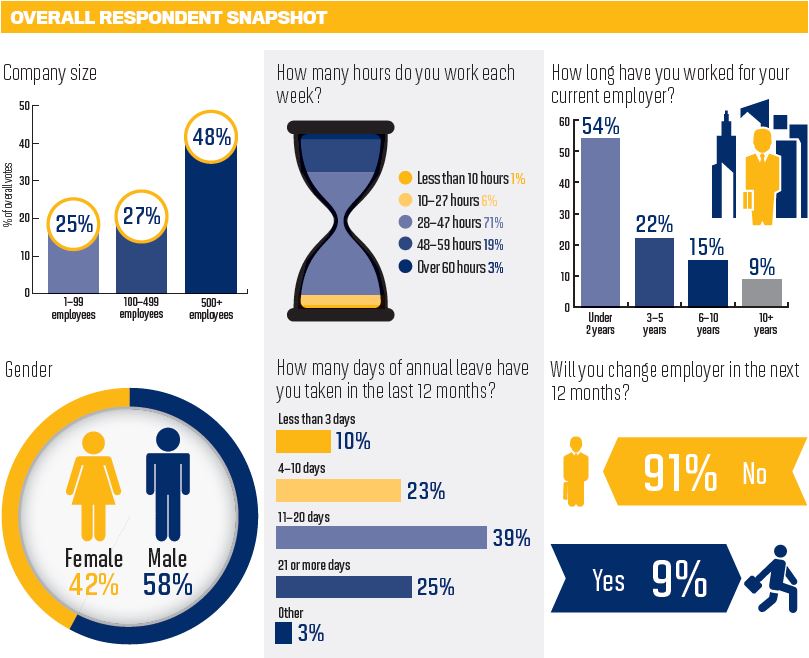 METHODOLOGY
Date of survey: February–March 2018
Method: Online survey
Number of respondents: 2,611 employees from 143 companies

Employer of Choice status was determined by averaging employee scores given to a range of statements. Scores ranged from 1 (strongly
disagree) to 5 (strongly agree) for the following statements:
• My employer provides satisfactory remuneration
• My employer provides sufficient opportunities for training and professional development
• My employer offers a clear career progression path for all employees
• My employer has a strong commitment to promoting diversity and inclusion in the workplace
• My employer provides access to the technology and resources I need to do my job effectively
• My employer encourages effective communication at all levels of the organisation
• My employer demonstrates effective leadership
• My employer offers flexible work practices to help me achieve work-life balance
• My employer supports my health and wellbeing
• My employer offers sufficient reward and recognition initiatives
• My employer has effective recruitment and onboarding strategies to bring the best talent into the organisation