We talk with Westpac's HR expert about their biggest challenges, his strangest HR scenario and his childhood passions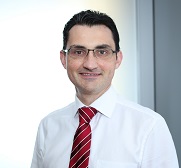 What is your job title and what brought you into this role?
My title is group head of employee relations and special counsel for
Westpac
Group. I love all the people aspects of business. I am privileged in my current role to be able to not just work on the technical employment law issues but also to lead and manage HR functions and projects that I think makes a real difference to employees in the business.
What motivates or excites you the most about your current position?
I am motivated and excited about the dynamic nature of the role and working with an amazing group of colleagues. Looking at the future, there is so much change in the external and internal environment, and there are so many exciting opportunities for HR to really lead and make a difference to business operations.
What makes HR unique at Westpac?
At Westpac there is a really strong commitment to thought leadership in HR and best practice. We have been a leader in a range of diversity and inclusion related initiatives. We have also been introducing flexibility through enterprise agreements this year. We have led a lot of the work in contemporary agile work practices and culture.
What are your biggest HR practices for the coming year?
The changing environment is the biggest challenge and getting organisations to be able to respond in an agile manner. A few examples are digitisation, the changing demographics and regulation in the banking industry. They bring opportunities but also challenges in how we manage employee aspects. We are also focusing on employment policies to make sure they remain relevant in a changing environment.
What has been the strangest HR scenario you have ever experienced?
There was one task to advise whether there would be HR risks associated with a team event. That sounds quite simple but the proposed team event was parachuting. Needless to say that didn't go ahead as a team function. It was supposed to be an extreme teambuilding activity.
If there was one piece of HR-related advice you could give, what would it be?
Try to really listen and really understand what people are asking and the help they need so you can provide great support and advice.
Outside of HR, what hobbies and interests do you have?
I love travelling and I have travelled overseas quite a bit. I really enjoy cooking and reading. I have got two young boys and have been reliving my childhood passions of building lego and all things to do with Star Wars.