Here are a few tips on ways you can build the confidence and performance of managers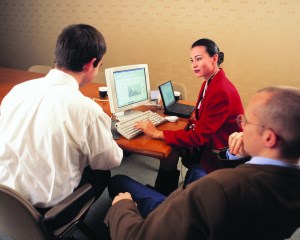 We expect more from our managers today because organisations are starting to see the clear and tangible impact they have on key measures like employee engagement to retention. But many organisations are hiding a dirty little secret – managers are often sent out into the business ill-equipped, without the know-how they need to successfully lead people. In fact, fewer than half of HR pros believe their employers adequately invest in developing managers, according to recent Human Capital Institute research.
1
As the spotlight shines brighter on the employee experience, we know managers play the biggest role in either enhancing or inhibiting it. In some instances, managers account for 70% of the variance in employee engagement – a critical driver of business results that indicates you can't afford to let mediocre supervisors slow people from reaching their potential. This is an exciting time, as we see more organisations putting programs and tools for better equipping managers at the centre of their HR initiatives. If your managers feel like they're on an episode of "Survivor," here are a few tips on ways you can build their confidence and performance and make a positive impact on business results.
Stop considering performance over natural talent
Managing other people effectively requires specific skills, and your first mistake is to assume most of your high performers are blessed with them. We are asking more of our managers – motivate and develop employees, drive informed decisions, coach performance and balance the skills and priorities of employees across teams in ways that benefits the individual, team and organisation. Take these growing expectations, compounded by the shortage of true leadership skills and we have an issue.
Gallup research shows companies that hire managers based on inherent talent – rather than past performance – realise a 48% increase in profitability, a 30% increase in employee engagement and a 19% decrease in employee turnover.
2
So rather than promoting people who have track records of success as individual contributors, look for indicators that show an employee has the potential to manage others effectively, then start developing and cultivating their leadership skills before putting them in charge of teams.
Your managers don't see as much as you think
Managers can't provide effective feedback on what they can't see or measure. Managers today balance their own workload with that of managing others, and more often than not they don't have visibility into their own team's strengths, gaps and needs. Once managers have their leadership skills honed, we need to equip them with insight into what each team member wants to accomplish, a view into their development planning or priorities, progress towards goals and plans for career progression. This gives your managers a leg up when it comes time to delivering meaningful coaching and feedback to guide each employee to improved performance. In addition, insight into people's strengths allows managers to capitalise on those capabilities when assigning work for projects, or serve up relevant learning opportunities to keep staff engaged and inspired.
Don't overlook the benefits of coaching and conversations – they're more important than ever
Coaching in the moment is one of the most significant leadership skill gaps—42% of organisations cited this as an area of weakness in a recent Brandon Hall Group study.
3
With just 12% of employees ranking their managers as excellent at helping staff improve performance, and only 11% reporting that their managers excel at coaching, supporting and developing them, it's clear employees agree this is an area that needs attention.
4
Organisations with coaching cultures are more than twice as likely as their peers to view their performance management programs as effective or very effective, yet only about 1/3 of organisations take advantage of tools that offer coaching tips as part of the performance management process.
5
How do you prepare managers to deliver regular feedback and have an ongoing dialogue with each team member? In addition to offering managers coaching on—well, coaching—leverage performance management tools and 360-degree feedback to let both employees and managers know how they're doing and recommend appropriate next steps.
Investing in developing strong managers has a far-reaching effect—it's one of the greatest ways to increase engagement, productivity and alignment across the business.
By Rosie Cairnes, Regional Director at Skillsoft Australia & New Zealand
1 "Identifying and Developing First-Time People Leaders." Human Capital Institute, August 19, 2016.
2 "State of the American Manager: Analytics and Advice for Leaders." Gallup, 2015.
3 "Why Great Managers Matter." Brandon Hall Group, 2015.
4 "Future-proofing HR: Bridging the Gap Between Employers and Employees." Mercer, 2016.
5 "2016 Performance Management Study: Top Findings." Brandon Hall Group, 2016.