Strong management and a good work-life balance are part and parcel of working with Virgin.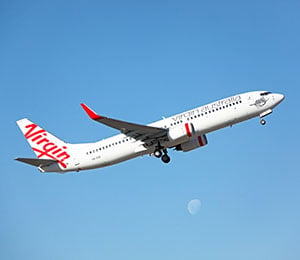 Virgin Australia has been crowned Australia's Most Attractive Employer with recent research showing over half of all Australian employees would like to work for the iconic airline.

Earlier this month Virgin picked up first prize at the annual Randstad Award, hosted by HR and recruitment specialists, Randstad.

It's the second consecutive year that Virgin has topped the list of enviable employers, narrowly beating rival Qantas and defence, security and aerospace company BAE Systems.

Randstad's employer branding research showed that Virgin is particularly attractive to workers for offering a good work-life balance, a pleasant working atmosphere and strong management.

The airline was also recognised as the most attractive employer for women and people in the 25-44 years old age bracket.

Aviation is the Most Attractive Sector to work for in the country, according to 46% of Australians, as workers believe the sector leads for training, interesting job content and working atmosphere.

Other contesters for the country's top three sectors included Fast Moving Consumer Goods (38%) and State and Federal Government (36%).

Reputation and brand play a big part in attracting and retaining quality staff, with 84% of workers saying they would leave their current job to work for a company with a better corporate reputation, according to Randstad's survey of some 10,000 employees.

Frank Ribuot, CEO of Randstad Australia & New Zealand, congratulated Virgin Australia for maintaining its top position once again after winning in 2015 and in the inaugural award in 2011, and for consistently placing in the top three since the Randstad Award's inception.

"Virgin Australia clearly has a winning formula as one in every two people in the country know the Virgin brand, love it and would love to work there. This is a very powerful asset to own," said Ribuot.

Geraldine Chin Moody, Group Executive, People, Culture and Sustainability at Virgin Australia, said, "We are incredibly proud of the lengths to which our people go to bring the Virgin Australia brand to life,"

"It's fantastic to see their passion and commitment recognised with the Randstad Award for the second consecutive year," she said.