The effect work stress has on sleep can form a vicious cycle, according to a leading researcher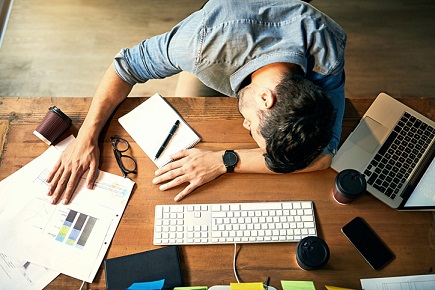 Business leaders often think that the eight hours employees spend working determines their work productivity.
However, new research suggests that the eight hours workers spend sleeping might have just as big of an impact.
Indeed, dissatisfied sleepers are likely to see the detrimental effects in and out of the workplace, according to research from Reventure.
The more than half of Australian workers that are not getting enough quality sleep (54%) have also said that they are likely to look for a job in the next 12 months.
Lead researcher, Dr Lindsay McMillan said the importance of sleep should not be overlooked.
"Sleep is a key part in fostering wellbeing – over half of the Australian workers we surveyed believed that having time for rest and relaxation contributes to high levels of personal wellbeing," said McMillan.
"Thirty-seven per cent of dissatisfied sleepers said they were either extremely or very stressed about work – and that is something business leaders should not ignore."
Workplace Wellbeing, a national survey of over 1,000 Australian workers, shows satisfied sleepers are happier in all areas of their lives including their job (82%) and physical wellbeing (83%).
Dissatisfied sleepers had dramatically lower results, almost half of satisfied sleepers, for their job (55%) and physical wellbeing (44%).
Those not getting enough quality sleep were also more likely to say that they feel as though their life has no sense of meaning.
This is backed up by the latest OECD Better Life Index which found that employees in The Netherlands, ranked as having the best work-life balance, devote around 16 hours per day to eating, sleeping and leisurely pursuits, and are also more satisfied with their lives than most.
McMillan said the effect work stress has on sleep can form a vicious cycle and while some large workplaces have implemented innovations like sleep pods, there are some more basic measures leaders can take.
"Make sure workloads are manageable and that expectations are reasonable, minimise emails after hours and take a look at overtime hours – these may be eating into your workers' rest."