Peter Fasolo, Johnson & Johnson's CHRO, talks to HRD about building a culture of health and wellbeing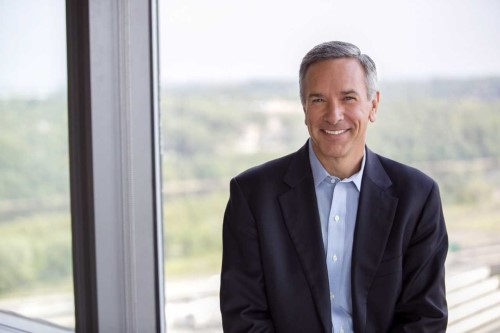 Peter Fasolo's interest in HR has largely been spurred by a true love of psychology and working with people.
HRD caught up with the Johnson & Johnson's (J&J's) CHRO to investigate the inner-most workings of J&J's impressive people strategy.
What sparked your interest in the HR profession?
After completing my Ph.D. in the field, I began consulting for small- and medium-sized businesses, entrepreneurs and CEOs. It was in this role that I started to see the impact that the makeup of top teams could have on optimizing performance both within a specific function, but also more broadly across an organization.
Throughout my more than 25 years working in the healthcare industry and within HR, this continues to be a driving force for me. Being able to do this work at a company like Johnson & Johnson, which is so deeply rooted in its purpose and mission, makes it that much more impactful.
As a function, our work is not only geared toward creating maximum impact for the organization, but also to fostering a culture where our employees feel inspired to change the world for the better, and that is something I hold deeply.
Tell me more about the progress of your People Analytics team
When I became CHRO in 2010, I made it a priority to invest in people and data analytics because I knew it would be a key differentiator to put the organization on a path to making evidence-based workforce decisions.
Our People Analytics team, which was established a few years ago, first focused on using operational and descriptive analytics to understand the impact of changes on our organization. Since then, we've challenged ourselves to continue to look for new and innovative ways to deepen and broaden the insights we're able to draw. For example, we're now leveraging predictive analytics to optimize the workplace and drive decisions.
The outputs from this work span a range of areas, from measuring worker productivity to understanding how we can better retain university hires. It's also been key to developing differentiated talent strategies for emerging markets.
In China, for example, we began to notice a trend of high attrition rates over a 12-month period. Through data and insights, we were able to identify key factors driving the attrition – from lateral moves to receiving a bonus below target or having a lower performance rating – and put strategies in place to alleviate those factors and put us on track to reverse the trend.
As CHRO, it is my job to ensure that we're developing and retaining talent, while also anticipating future needs, and our People Analytics team continues to play an important role in our HR and recruitment strategy.
Explain J&J's Credo
At Johnson & Johnson, Our Credo is at the root of everything that we do. It was created by General Robert Wood Johnson in 1943 in order to help us, in his words, "define better answers for the problems of the day." This year marks the 75th anniversary of Our Credo, and it is just as relevant today as when it was written.
Within the HR function and across the Company, the Credo serves as a set of values to guide all decision making. Each paragraph of the Credo reminds us of a different set of stakeholders that we serve, and this includes our employees who are the heart, mind and soul of the Company.
How is that a driver for your culture of health and Healthforce 2020 goals?
Rooted in the values outlined in Our Credo, we have made a commitment to helping employees, families and communities live well across their whole lives – spiritual, mental, physical and financial. We believe that when our employees are fulfilled in all aspects of their life, they bring them best selves to work, enabling us to deliver products that improve the health of consumers around the globe.
A few years ago, we set a goal to have the world's healthiest workforce by 2020 by empowering and engaging at least 100,000 employees toward a "personal best" in health and well-being via the principles of Energy for Performance®, innovative digital health tools, and advancing a culture of healthy eating and physical activity.
To date, we've seen strong employee engagement around these initiatives. For example, we've trained close to 67,000 employees in the principles of Energy for Performance®, a program developed by the Johnson & Johnson Human Performance Institute that teaches people how to be more spiritually nourished, physically focused and direct their energy towards what is purposeful in life.
At Johnson & Johnson, our culture of health is woven into the fabric of our company, and while we are thrilled with these results, we are proud to say that our investment in health and wellness has a rich history and will continue to be a focus over the long term.
How has AI impacted your people strategy?
The talent acquisition landscape is evolving quickly and we've made it a priority to explore emerging platforms and technologies, including artificial intelligence, that will allow us to continue to attract the world's most exceptional, diverse talent. One of the ways we are implementing AI from a talent acquisition perspective is through key partnerships.
Working with Textio, we're using AI to enhance the quality, diversity and efficiency of our job postings. Based on a 2016 pilot, this has led to an increase in both qualified applications and gender diversity. We're also leveraging Google API to optimize candidate search on our careers site. This has resulted in a 41% increase in high quality job applicants per search.