Off-the-shelf leadership programs have their place in today's workplace, but as DLPA's Karlie Cremin argues, going bespoke can result in more strategically targeted leaders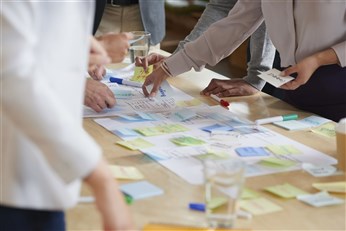 When Karlie Cremin teamed up with business partner Lenore Miller to found Dynamic Leadership Programs Australia (DLPA), it was a combination of two different world views. On one side was Miller, with the necessary background in people and culture, but on the other was Cremin, with a more bottom-line focus on business strategy and finance.
It's a combination of disciplines that HR managers may do well to heed when it comes to implementing leadership development programs. "Our whole service offering was formulated on the basis of bringing those two vantage points – strategy and the people within an organisation – into leadership development programs," Cremin explains.
"What we noticed is that, when profit drivers in particular were clearly identified, interrogated and used to inform the formulation of a leadership development program, organisations were seeing changes not only in terms of team dynamic and capability of staff, but also in the bottom line and other performance metrics."
A road less travelled
There is little quality research data available to back up the use of bespoke programs over off-the-shelf alternatives, primarily because of the difficulty in measuring success with all of the variables involved. However, academics like Richard Bolden at the University of the West of England have hypothesized what could be seen as common sense to most HR professionals: that leadership development programs are likely to have a higher impact when contextual and organisational factors are considered in their design. Martha Gephart and Victoria Marsick at Columbia University in New York have also noted higher levels of success in leadership development when learning tools have been adjusted after the collection and analysis of data, thus creating enhanced strategic leverage points in the organisation.
There's just one problem. While DLPA's assumptions have been borne out by practical experience since 1999, businesses typically start by wanting off-the-shelf options. "Most businesses don't actively seek a bespoke option," Cremin says. "The current economic environment means that cost is front of mind for businesses, and bespoke sounds expensive. For this reason, very few actually seek bespoke options."
It is the quest for ROI that often encourages a shift towards bespoke programs. "Ultimately, businesses pick bespoke options because they are looking for higher returns, and they see how these programs would work for them." In the end, Cremin says bespoke leadership development options only work if there is a real and genuine commitment from a business to critically assess what makes it profitable. "If they aren't willing to do that, bespoke options won't yield anything significantly higher than an off-the-shelf option. Bespoke programs require an open and honest appraisal of the business as it currently is and a willingness to change your point of view."
An uncomfortable truth
If there is a common theme to what businesses seek from bespoke programs, Cremin says it is about getting their leadership teams comfortable with being uncomfortable. "Ultimately, I think businesses want to go through a process with their leadership team that allows them to sit in discomfort and take the required action anyway, so that they can act as a positive change agent within the organisation," Cremin says.
This applies to the business as well. The creation of a bespoke program can involve workshops with key stakeholders determining current circumstances, aspirations and the overall business strategy, as well as workforce assessments, which can include interviews, cultural and employee engagement surveys, and 360 assessments. The business is asked to open itself to scrutiny, so the program supports the overall strategy.
The result is often a mix of both hard and soft leadership training, delivered through workshops, team building, coaching, mentoring and even retreats. With an expanding pool of capacities required of leaders today – from staples like time management, conflict resolution and communication to the increasingly important harnessing of discretionary effort, unconscious bias, and having the hard conversations – Cremin says constant improvement is required in both technical and non-technical skill areas.
NOT HITTING THE MARK
The 2014 Aon Hewitt Top Companies for Leaders study indicated that the average organisation annually spent US$1.1m on leadership development and US$400,000 on high-potential development. Is this investment hitting the mark? A 2015 Korn Ferry survey of 7,500 respondents, more than 80% of whom were at the C-suite or director level, revealed the following:

40% of respondents didn't regularly review leadership needs against their business strategy

62% examined their organisation's leadership capabilities and saw gaps that needed filling

17% of survey respondents said they were confident they had the talent needed to deliver on strategic priorities
A strategic tool
For those that choose a bespoke program, DLPA's Cremin says there can be a big difference in the way it works within a business.
Two scenarios illustrate this point:
Strategy 1: Seeking customer service excellence
A business may identify a strategy of excellence in customer service to gain a larger market share, as well as the fact that their leaders are poor at convincing others to buy in to change.
Rather than clipping together preset parts, like a general communication workshop, a persuasion workshop and a necessary customer service workshop, a bespoke program will first assess whether the customer service strategy is appropriate to the business, and then involve staff in the formulation of the program that will support them through implementation. With staff enrolled in the strategy from the outset, they are likely to be committed to doing what is required to be successful.
In some cases leaders undergoing training may – after the communication workshop for example – become aloof and disgruntled. Though an off-the-shelf program would either stop entirely or keep on going regardless, a bespoke option would seek to collect data and locate the root cause of the change in attitude, and the subsequent program activities would be altered to mitigate the change. This might mean a revised order, changing the style of coaching or even completely changing the content, to ensure that the program continues to align with the strategy and assists with implementation.
Strategy 2: Seeking aggressive growth
Many companies want to capture strong growth through better leadership. In a bespoke program, this would mean drilling down through the detail of the strategy to identify capacity issues, planning issues, skills gaps and any other issues that may reduce the effectiveness of the implementation of that strategy in that particular organisation. Through the use of this data, the organisation can develop a program that ensures staff are equipped to deliver the strategic outcomes for the business, which will in turn result in a more responsive and agile business or business unit that is better equipped to respond to changing market conditions while keeping an eye on the ultimate goal.
A bespoke future
When DLPA first began, Cremin says only 5% of new clients would come through the door asking for a bespoke program. That has now risen to 20% of the market, though Cremin says the bulk of the remaining 80% quickly convert to a bespoke option.
This may increase in a future where program outcomes are likely to be the primary measure of returns, as the economy rewards more strategically focused businesses.
"I believe the organisations that will thrive in future will be agile, responsive and lean," Cremin says. "Part of this model has to be leveraging the power of people to closely serve the strategy. HR managers will need to keep this in mind when selecting development programs to ensure they select products that produce the best results.
"For programs to be effective you need to be very outcomes-focused. When you then couple that with using the overall strategy of the business to inform the outcomes you are seeking, you significantly increase your return.
Why would you do anything else?"
CHANGING ON THE GO
Bespoke programs have the ability to flex midstream to address any unforeseen 'surprises', as these two DLPA case studies show.

Leadership success
While working with a medium-sized construction company, DLPA helped HR switch from standard development modules to a bespoke solution after it was established that staff were all at radically different stages of development. After developing individual programs to sit alongside the off-the-shelf product, the company was able to ensure each person reached the necessary point of development.

30% growth
A private business without any training systems in place asked DLPA to design and implement them, but it was soon established that staff weren't sure what the strategy even was, or how to implement it. Because of the long-term lack of systems, the people with 'power' were also not the people with 'position'. A custom program upskilled managers, while the business strategy changed after suggestions from staff, leading to 30% growth in the last 12 months.
DLPA
Dynamic Leadership Programs Australia (DLPA) is a bespoke leadership and business development program provider that drives strategic objectives and unlocks the potential of current and emerging leaders. With corporate strategy at the heart of DLPA's programs, our team works hand in hand with each client to identify key barriers to their success, develop leadership skills, align organisational values, and empower people to reach higher levels of performance.
For further information on DLPA, click here