HRD discovers how the insights gleaned from time and attendance data are the foundation of efficient and cost-effective workforce management strategies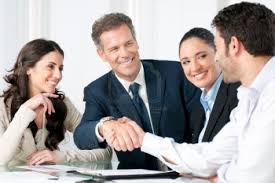 Does your CEO (or CFO) still believe that labour force optimisation is simply about operational matters such as knowing who shows up for work and how many hours they do? The retail sector – specifically the case of Boost Juice Bars – might provide food for thought. Boost uses RITEQ workforce management technology to look at the weather forecast for the coming week and will then look at historical sales data going back 240 weeks. A complex set of algorithms can then determine how many people need to be rostered in each store at half-hourly intervals each day in order to meet the probable demand for the company's products.
Boost Juice provides just one example of how time and attendance data can form the foundations of more sophisticated workforce management strategies.
"Workforce planning is very much a strategic HR function requiring the analysis of data in order to plan your workforce of the future," says David Kroser, Managing Director of RITEQ. "It makes absolute sense that in order to plan effectively, you must have a foundation of accurate data to work with that relates to your current workforce position."
For Kroser it's about more than simply gaining insight from data; it's a way for C-level executives to identify and continuously improve workforce performance and business contribution by actively engaging with their HR teams in building and delivering effective intervention strategies. "When properly developed and executed, people analytics provide the opportunity for every HR department to transform itself from an operational support role to that of valueadded business partner," he says.
RITEQ maintains that it is in the interests of both parties to recognise the value of the data that can be extracted from workforce management systems. This data can provide insights into issues such as labour force productivity and optimisation, absenteeism rates, and the deployment of the workforce.
Workforce management planning
The workforce planning process can be broken into three key areas. It all starts with the labour demand planning: what is required based on the business plan? The second area is workforce labour supply planning, and the third is labour sustainability planning.
"Where time and attendance fits in is primarily with labour demand planning," Kroser says. "For example, the sort of data that becomes really important is your employee mix – FTEs, casuals, part-timers – and how optimised that mix is. How much overtime are you incurring? For example, could you have three FTEs replace a handful of casuals working overtime? You'll also be looking at absence trends. It's all the metrics that feed into the demand process and thinking about what you'll need for the future."
Effective workforce management planning also consists of several essential operational elements:
Labour planning:
How many people will need to be rostered in X location to meet a certain level of demand at a certain time of day? "This is labour demand in the context of having the right people in the right place at the right time," says Kroser.
Labour optimisation:
Referring back to the Boost Juice example, what are the impacting factors that will determine how many people are needed to run a store, for example?
Labour scheduling:
Scheduling staff based on the above demands and ensuring employees are notified of their schedules or rosters. "Technology has allowed for greater mobility," says Kroser. "You can now notify employees of their shifts and allow them to bid for shifts. That extends into what we call dynamic rostering, whereby the system can automatically build a roster for you based on the best fit to meet a particular cost, or remain compliant with EBA or Award rules."
Day-to-day operations:
This covers what actually happens every day. Do employees clock on/off, or do they fill in a timesheet that goes to their manager? In an automated system this can be referenced against the shift the employee was rostered to work. The system will then approve the shift ready for payment, or use its Award interpretation engine to determine the correct rates of pay – for example, David worked seven hours of normal time, two hours at time and a half, and three hours of double time. It will then move it into the payroll system. Alternatively, if it falls outside the threshold and exceptions range – for example if the employee was late for work – a manager is notified and they will deal with the exception. In the RITEQ system this occurs in real time.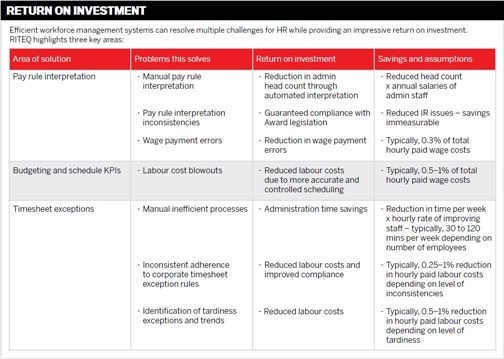 Technology integration
Kroser reiterates that incorrect foundations at the demand-planning stage will result in incorrect long-term outcomes for the business. For this reason, he believes that workforce management system/application integration is critical to success. Each disparate system needs to be able to 'talk' to the others. "It must be integrated as part of an ecosystem because application integration is really business integration; with the amount of data being processed by various systems you cannot operate without having really strong integration. In this day and age it's not practical or feasible to manage data in Excel spreadsheets," Kroser says. He adds that having workforce management data fully integrated into workforce planning analytics eliminates a significant amount of manual intervention, and ensures accuracy.
Analytics and workforce planning
With HR today more prepared to embrace data and analytics as an essential part of decision-making and planning, it's no surprise that RITEQ has taken steps to add analytical tools to its technology suite. "We already had a fantastic transactional tool in RITEQ WFM, but it was operational in nature; we wanted to build its reporting capabilities and offer analytical tools for more effective workforce management," Kroser says.
"Clients increasingly want to go beyond just the workforce management metrics relating to time and attendance or rostering systems. They want to see more information around workforce efficiency, effectiveness, capability and engagement. We hold a lot of data within our workforce management system and we were looking to obtain more effective insights from that data."
To that end, in September 2015 the company acquired SeeMoreData, the creators of business intelligence and analytics platform BI Plus. The RITEQ Analytics solution was integrated into RITEQ Workforce Manager as a module in early 2016. It offers out-ofthe- box dashboard analytics on all workforce management data within RITEQ. Clients are also able to feed other data sources into the analytics tool to combine workforce data with data from other key sources such as point of sale, payroll, HR, financial, traffic counting and other relevant systems.
RITEQ further added to its people analytics capabilities in October this year with the acquisition of Optimum Performance. The company's founder, Stephen Moore, will add valuable knowledge to the RITEQ team.
"It's been a long-standing mission to use our existing workforce management platform as the foundation for future growth," says Kroser. "The acquisition of Optimum Performance brings with it unique and comprehensive knowledge and understanding of human capital metrics and analysis."
With the annual labour bill in most organisations meeting or exceeding 60% of total operating expenditure, Kroser says this level of insight will be vital to HR's ongoing evolution as a strategic business partner. He cites just one example of how data analytics can help move HR from being reactive to proactive. "When you're managing labour costs, looking at the data after the fact is too late," he says. "A system like ours is able to alert you in real time when an employee is about to go into overtime hours. It allows you to then be proactive in making a decision about clocking off that employee because otherwise they'll cost you money. The return on investment is significant. It's not just about improved efficiencies, more accurate data and better compliance; it's about proactive labour management where you can make decisions on things before they happen, because you have the insights to do so."
DAVID KROSER'S TOP TECH TIPS
1. Ease of use and flexibility: "Each industry has vastly different requirements in the way they manage employees. Compare, for example, retail to hospitality. At the core they all need to be able to do the same things but in different ways. If you don't make it as simple as an Excel spreadsheet to use, managers won't use it."

2. Accessibility: "Cloud-based centralised systems that are accessible to employees via mobile devices are critical. There's a lot of older technology still around where the vendor has prettied up the front end to make it look good, but deep down it's old technology. Cloud-based technology can provide real-time insights and a single point of truth."

3. Analytical functionality: "Once our clients get beyond the transactional part of implementation, it comes down to the analysis of the data being generated. You need strong data science that is able to take that data and present it in a format that is actionable. Data for the sake of data is a waste; actionable data is really important."
RITEQ
RITEQ exists to inform and enable optimum workforce performance across all industries. From humble beginnings in Sydney in 2001, RITEQ has established itself as a significant force in the world of human capital management. With more than 350 clients and 15,000 locations globally using its solutions, RITEQ's offering includes workforce management and people analytics software coupled with education and consulting.
For further information on RITEQ, click here