Digital transformation is not new and it's having an impact on all areas of business, including recruitment; however, while some people are fully engaged in this disruption, others are not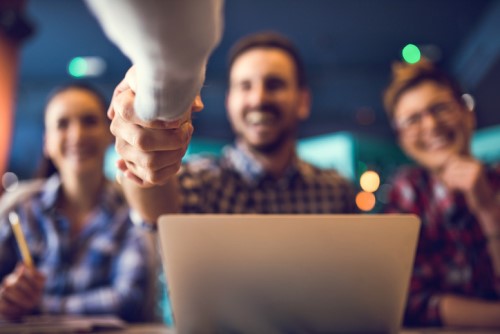 By Marlon Herft
Digital transformation is not new and it's having an impact on all areas of business, including recruitment; however, while some people are fully engaged in this disruption, others are not. Some organisations continue to think about talent acquisition as filling an open position rather than recognising it as a tool to engage with top talent and attract future employees and leaders.
To ensure your organisation is fully engaged, and is not falling victim to this mindset, let's break down the six ways digital transformation is shaping the modern workforce.
1. Data security is king
The majority of organisations conduct at least the initial stages of the recruitment process almost exclusively online. Online applications are straightforward for candidates to share resumés and for businesses to store information. However, since the PageUp data breach in particular, storage of that information is key. Businesses need to ensure they have the correct solutions and processes in place to secure personal data.
2. Social is here to stay
Social networks changed the way companies recruit and employees search for jobs. Social media sites Facebook, Instagram and LinkedIn are now mainstays of recruitment and according to the latest CareerBuilder survey, over 70% of employers now use social media to screen candidates before hiring.
The drawback to using social media for hiring is obvious. A profile picture can reveal race, gender, age and other attributes of individuals that can potentially influence the sourcing process, leaving candidates exposed to a recruiter's bias. Granted these same biases will appear in a face-to-face interview, but at least in that scenario, the candidate was selected for an interview; in the other situation, they never make it past stage one. If your organisation is going to engage in social media screening, ensure the relevant employees have received unconscious bias training.
3. Consider your digital footprint
While some companies are reconsidering their use of social media information in candidate screening due to legal concerns, other companies refuse to hire people without an online presence – less likely to call someone in for an interview if they can't find that job candidate online. For job seekers, this means the personal is no longer private and you must be constantly aware of ensuring the image projected is the image you want the world to see. Your data is being captured for all to see and it's never going away, even if you think it was deleted. If you think something could be questionable or inappropriate to post, it probably is. A good rule of thumb is only to post materials you'd be happy for your grandmother to read.
4. Let employees do the talking for you
While job seekers need to be considerate of their personal brand on social media, likewise, organisations also need to be mindful of their corporate reputation on social. Savvy recruiters already know that building their employer brand is an integral part of a highly effective recruiting process, but imagine the potential of harnessing current employees spreading their positive experiences with your organisation across their social networks. A review, positive or negative, shared by an employee can reach thousands of people in an instant.
To tap into this invaluable resource, begin by encouraging your employees to spread the word about company openings, offer employee incentives for referrals, and, importantly, build a positive culture that will attract people and inspire positive reviews.
5. Mobile application drop-off rates
Job seekers today live on their smartphones, barely breaking eye contact with their screens long enough to interact with other humans. They are technology natives who communicate via apps all day long. Global strategy consultancy Kelton, reports that 86% of all active job searches begin with smartphones. Perhaps as a result of this, there appears to be a direct correlation between the amount of information requested from candidates in the application process and the applicant abandonment rate.
You need to collect information, so what can you do? The trick is finding the balance of sharing enough about the company and role to keep people engaged, while capturing the candidate data needed to have a follow-up – all without driving them away. You need just the right amount of information to get the job done and the sweet spot tends to be only two to three clicks for an online application and providing between 300 – 1500 words of company/role information for most jobs. Much more than that tends to increase the drop off rate too early in the exchange.
6. Data analytics should shape your strategy
Too many companies still have recruitment processes that evolved around traditional recruitment processes (think time-to-fill metrics) or are constrained by technological limitations of outdated HR systems. Using data analytics to learn what path job seekers take to find your company's site and where they abandon the online application process provides invaluable user-experience insights. These can then shape a better roadmap to attract, engage and retain potential future employees.
Digital transformation is disruptive, and it is radically changing not only the way people look for jobs, but also how companies recruit to fill open positions. As technology further evolves, we shall continue to see the way we hire shift. The only concern is what are you doing to ensure your hiring process continues similarly?
Marlon Herft, Regional Vice President, SumTotal Systems, Australia and New Zealand.