With 2018 more than halfway behind us and 2019 fast approaching, HRD takes a look at the latest trends in HR careers and compensation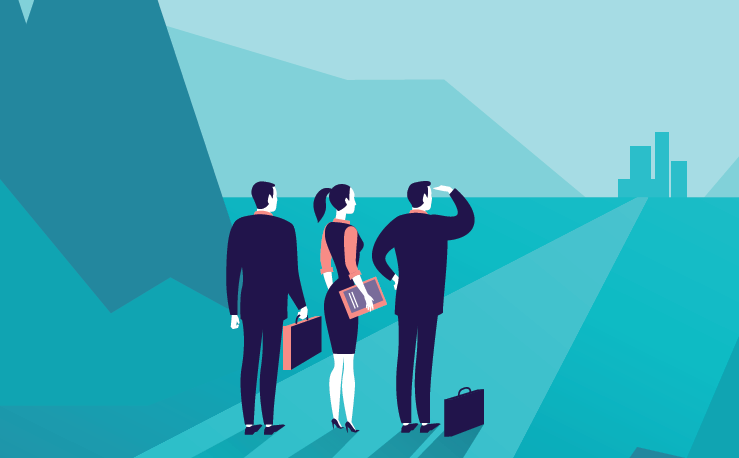 With 2018 more than halfway behind us and 2019 fast approaching, HRD takes a look at the latest trends in HR careers and compensation
Looking back over the last 12 months and ahead to the year to come, it's clear that HR is still very much an industry evolving. Public – and perhaps more crucially managerial – confusion around the nature of HR continues to dissipate, and its function in the modern workplace is arguably better understood than ever before. Salaries remain relatively static, but there have been spikes.
Ultimately, at a macro level the HR department should be driving positive cultural change within its home organisation. At a micro level, this is achieved by empowering and equipping employees to perform to the best of their abilities, and by encouraging a positive workplace culture.
Easier said than done, of course – this is something that will look different for every organisation, depending on the individual workplace. Additionally, it will continue to shift as roles ebb in and out of vogue, according to changes in the wider marketplace.
There is other cause for celebration, too: after several of years of redundancies, restructures and offshoring throughout the industry, the 2017/18 financial year marked a return to growth for HR departments. However, that doesn't mean that HR professionals can simply rest on their laurels and expect to cruise by for the next 12 months.
"HR as a function is an enabler," says John Baker, joint group managing director of The Next Group. "HR professionals need to consistently demonstrate that the work they do is adding to the performance of the business."
Competition for top talent is also becoming tougher as more organisations seek to expand their internal departments. The big names in the business can potentially have their pick of roles – and that's if they can be encouraged to leave their current positions at all.
"I believe the market is demonstrating some signs of being moderately talent-short, at a time when demand is probably over the midline," says David Owens of HR Partners. "Supply is somewhat constrained, so it's a competitive market for talent."

Generalist roles
HR generalists remain highly sought after, with employers seeking staff who can perform across a range of areas while also providing support to organisations that are undergoing rapid growth.
Charlotte Perkins, manager at Frazer Jones, says there has been an increased interest in junior positions, particularly as many HR departments continue to upgrade the nature of their roles.
"There's an increase in clients looking for HR junior staff to support them with the hands-on, operational frontline work," she says. "HR managers are looking for HR coordinators and HR advisers to free them up from day-to-day details, in order to get more involved in large-scale strategy and projects."
One of this year's standout roles is that of HR business partner. They're increasingly sought after as organisations favour strategic multiskilled generalists over consultants or advisers. And with highly skilled professionals in short supply, employers have o­ffered more competitive packages.
That said, Baker cautions against employers that use job titles "creatively" to attract talent.
"HR business partner is one job title we often see abused," he says. "In principle, HR business partner is meant to be a senior strategic and commercial role, partnering with a leadership team. However, we often see it being used for more junior HR advisor-equivalent roles – some employers try to leverage the prestige of the title without remunerating accordingly."
It's a cautionary note for those looking to climb the HR ladder: seize opportunities, but make sure you pay close attention to what is actually being o­ffered to you before accepting a role.
Lisa Morris, director of SA and NT at Hays, says different states face their own unique challenges. Many Western Australian businesses, for example, are attempting to attract back top HR professionals who moved interstate during the downturn. "We've also seen the market in SA shift heavily towards temporary roles, due to the change in government," she says. "There have also been a number of our key defence organisations appointing HR professionals."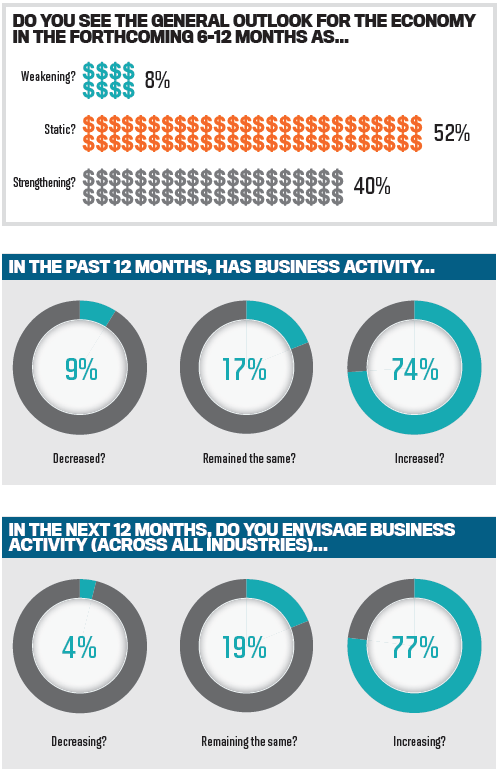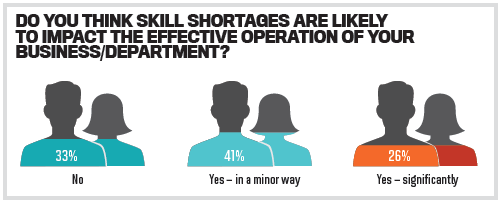 Specialist roles
Salaries remain relatively static for the industry as a whole, but there have been upward spikes in a number of specialist areas. Among specialists, talent acquisition has emerged as a particularly hot market. Many larger companies are looking to internalise functions that may have traditionally been carried out by agencies or specialists in the past. This seems largely driven by cost saving, as well as the desire to exercise greater autonomy over the recruitment process.
A recurring theme is that, ironically, it can be di­ cult to attract top talent for talent acquisition roles. This is due to the wider staff shortage in the domestic market and the fact that many top names are content in their current roles.
There has also been concern in the industry about the reduced possibility of attracting overseas HR staff in general, due to the changes to 457 visa legislation. Staff arriving from overseas must now be paid a minimum of A$90,000, receive a two-year visa, and are no longer provided with a pathway to permanent residence or citizenship. It's a less attractive package for employers and employees alike. Longterm planning is made considerably more di­ cult for businesses, and there is far less incentive for prospective overseas employees to relocate.
Nonetheless, Owens is sceptical that this will have a significant impact on the industry, saying there is simply a wider appreciation of the benefits of HR, which accordingly drives demand for talent.

"I don't really think that the 457 discussion is applicable to HR in a significant way," he says. "I do think the value proposition for HR practitioners, their skills and the benefits they provide are simply more widely accepted, which means there's more competition for talent."
Larger external factors may also come into play over the next few months. Though preliminary findings will not be released until September, the royal commission into banking and financial services has already caused blowback across a number of industries. A number of HR professionals seem eager to dissociate from banking and finance roles due to the current controversy. However, it is likely this will eventually stabilise; with the commission's final report due in February 2019, finance and associated industries may make more attractive offers to lure staff back to the field.
On a similar note, remuneration specialists have also seen an increase in advertised roles. This is likely due to wider business growth necessitating HR expansion.
"As they expand, organisations eventually need to put in place structured remuneration frameworks," says Perkins. "Previously, HR business partners or external consultants may have been carrying out these tasks, but there's been a push to bring remuneration specialists back in-house."

Senior roles
Movement has been more minimal at the senior staff level. Given the comparatively small size of the Australian market in relation to the international industry, there is accordingly a smaller pool of roles available, so this is not a total surprise.
Nonetheless, it's created a number of interesting challenges for senior staff­ who have been working overseas for a number of years and are now looking to return home. Prospective employees who have gained valuable experience from working in major international markets such as London, Dubai or the US may still find it difficult to lock in an equivalent role in Australia.
There's also less movement at the senior level because many senior staff­ appear to be satisfied with their current roles. Recruitment is often relatively discreet, with roles not always openly advertised; a senior employee looking to move on may reach out, or a recruiter may get in touch at the right time.
But eager recruiters should be aware that senior staff­ can rarely be tempted away from a comfortable role by the simple promise of more dollars in their pocket.
"HR executives move roles in order to expose themselves to business improvement activities," says Morris. "They look for roles where they can have an impact, and as a result, remuneration is not always the key driver of a career move."
More employers are also looking at means of restructuring, to save on overheads. This potentially eliminates a number of senior roles when they attempt to get more junior HR staff to fulfil similar functions. Still, there are positions to be had for those who demonstrate the right qualities.
"I think CEOs and business leaders are much more astute about what they need from their HR leaders these days," says Owens. "They value experienced players, and they don't really think that their expectations for quality professional HR people should be any di­fferent from any other category of senior executive."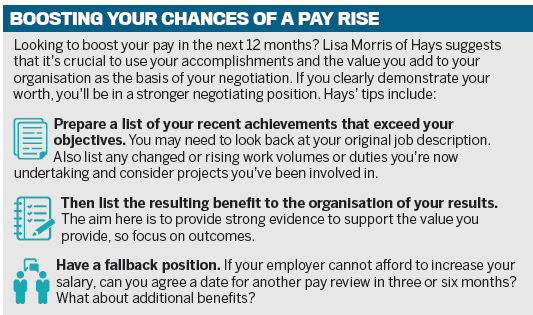 Remuneration
The FY18/19 Hays Salary Guide: Salary & Recruitment Trends suggests that 89% of employers are planning to give their employees a pay rise in the next 12 months, while only 48% of employees definitely intend to ask for a pay rise at their next review. Nonetheless, 67% see it as the biggest priority for their career over the next 12 months.
Whether or not they're happy with their pay rise remains to be seen, though; 65% of employees intend to give their employees an average pay rise of 3%, which is theoretically comparable with cost-of-living increases. Given the increasingly competitive nature of the HR industry – particularly in specialist and senior roles – employers need to look at what else they can o­ffer if they can't necessarily stump up the cash.
"Organisations need to take a holistic view of their remuneration programs and ensure they have clear objectives and deliver value to both employer and employee alike," says Nidhi Malik, senior consultant in Willis Tower Watson's talent and rewards team.
The form this takes will vary depending on the organisation, but examples include increased flexibility around working hours, reduced days in the office, working from home, increased training prospects, and improved prospects of upward mobility in the organisation. Some staff­ will place greater emphasis on this than take-home pay. Sixty-seven per cent of employers are now offering flexible working conditions, so if your business isn't already o­ffering it, then it's in the minority.
"I'm very much an advocate of hiring someone on a four-day-a-week basis if they're still able to perform the same tasks as someone else in five days," says Claire Hunt, manager of the HR recruitment team at Robert Walters. "Often people will work more smartly and efficiently with their time, which will always be better for a business."
On a similar note, the wider employee population is also changing; with greater casualisation comes a more diverse array of sta­ff, and companies need to make sure they're treating all of those categories equitably.
"Companies need to be mindful of fairness and ensure the incentive spread reflects the diversity of their workforce," says Malik. "This isn't just in relation to gender – it's also about incentivising mature-age workers, flexible workers and contingent workers."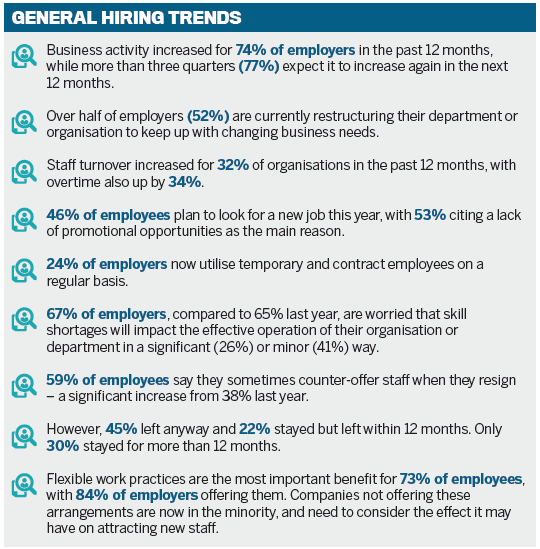 Other trends
There's a public perception that the wider Australian workforce has seen an increased move towards casualisation, with both short-and long-term contracts becoming the norm, rather than full-time employment. This hasn't just affected HR; it's a widespread phenomenon. Accordingly, it breeds concerns about long-term job security. However, there may be a shift towards more permanent roles in HR and other industries by the end of 2019, after the next federal election is finalised.
The full impact of the royal commission also remains to be seen. While it has theoretically been centred around the banking and finance industry, it's entirely likely there will be a flow-on effect to other fields of business.
"Everything is being audited far more closely now, with companies going through everything with a fine-tooth comb," says Hunt. "From an HR perspective, this will affect internal processes, because they'll have to be so much tighter on making sure everything is well documented for compliance purposes."
Though the push for digital records over paper is already well underway, the legislative changes that follow in the royal commission's wake are likely to increase the drive for better compliance procedures, not least to ensure future ease of access and greater transparency.
On a more positive note, employers have indicated greater interest in developing a positive company culture. Qualifications and experience both remain crucial edges in workplace success, but a 'hire for attitude, train for skill' approach is also becoming increasingly common.
Overall, things look promising for the wider HR industry. Talent shortages will likely continue to present challenges, but with better public recognition of the skills required and the increasing necessity of utilising them, the outlook for the next 12 months is encouraging.