The federal government is rolling out the new SuperStream standard from tomorrow, which will change the way in which employers make superannuation contributions.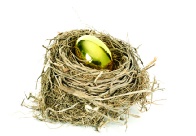 The future of superannuation payments is coming.
From tomorrow, employers will be able to start opting in to using SuperStream, the federal government's new standard which involves making superannuation contributions electronically with linked data and payments.
All contributions will be treated the same way, whether they are sent to a default or choice of fund, an APRA fund or a self-managed super fund.
Businesses will have to use a gateway system to electronically submit contributions.
Employers with more than 20 employees will need to be using the new standard by 1 July, 2015, while those with 19 or fewer staff have until 30 June, 2016 to comply.
Employers who miss the deadline will face penalties from the Australian Tax Office.
Shaun Flannery, CTO of HR and payroll consultancy firm
Presence of IT
, and Robin Beauchamp, CEO of gateway ClickSuper, said the new, purely electronic system would be like the banking system.
"Each bank communicates using a standard scheme and acts as a clearing house for payments. As it is for the banking system, so it will be for the super system, with every organisation using the same XBRL [extensible business reporting language] standard for payments and communications," they said.
"The start reality for many employers is that they may be underestimating the amount of work needed to ensure that their systems will be compliant by July 2015."
The move to an electronic system is expected to save about $1 billion in costs associated with the current paper-based system.