'With Synchrony joining Rizing HCM, we are excited to deliver Synchrony's award-winning solutions on a global scale to organisations of all sizes'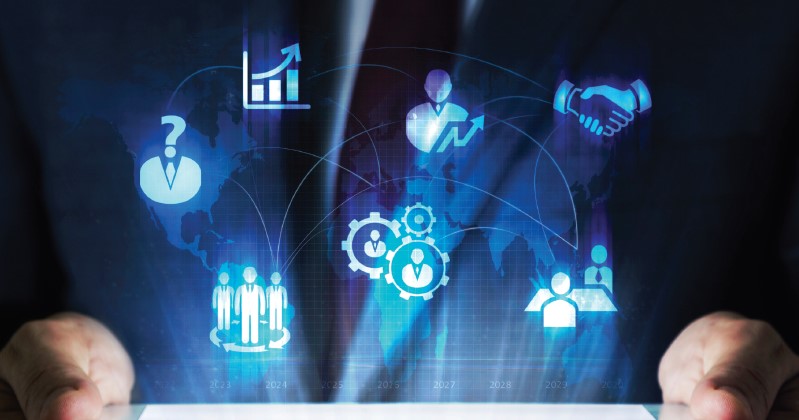 Since its foundation in 2015, Synchrony Global had marked itself out as an innovative organisation on the HR landscape. With a focus on solutions that aimed to provide best practice cloud processes, innovative technology and robust operational services, it was a company that catered for the entire employee life cycle – from attract to hire to retire.
Traditionally, Synchrony's 360-degree approach to cloud HR and payroll services and solutions had been provided through three main divisions: Business Consulting, System Integration and Operate and Improve services. In addition to being recognised as an SAP and Cloud Innovator for developing accelerated SAP SuccessFactors methodologies, Synchrony also created a portfolio of SAP Qualified Partner-Packaged Solutions, o­ffering out-of-the-box, preconfigured cloud HR and payroll solutions that were modular, flexible, scalable and able to be implemented rapidly. It also provided access to SAP SuccessFactors' enterprise-grade HR management capability to organisations of all sizes.
However, January 2019 saw Synchrony Global acquired by Rizing, LLC and join the Rizing HCM business. We will now see the companies' o­fferings brought to an even wider audience, in Australia and 11 other countries around the world. Darcy Lalonde, previously chairman and CEO of Synchrony Global, has been brought across to Rizing HCM as president of Asia-Pacific. With the name currently changed to Synchrony – A Rizing HCM Company, and with a more formal rebranding to occur in April 2019, he's quietly optimistic about the promising future of this new joint organisation.
"With our install base now comprising more than 900 active clients, we can provide a statistically significant sample across many industries" Luc Hédou, CEO, Rizing HCM
"At Synchrony, we set the goal to be a leader and bring world-class human capital solutions across the Asia-Pacific region," says Lalonde. "With Synchrony joining Rizing HCM, we are excited to deliver Synchrony's award-winning solutions on a global scale to organisations of all sizes, while simultaneously providing clients worldwide with our implementation capabilities, product and industry expertise, and a full suite of Ongoing Platform Support and continuous improvement services."
Luc Hédou, CEO of Rizing HCM, is also optimistic about the venture.
"As one of the fastest-growing SAP partners and recipient of the SAP SuccessFactors Partner of the Year award for APJ in 2017, we could not be more thrilled to bring Synchrony into the Rizing HCM family," says Hédou. "By leveraging the broader organisation, we can accelerate the growth both in the region and globally, providing tremendous value for our customers. Coming together under one brand will provide clarity and purpose to our customers, prospects and partners."
Tackling the modern challenges of HR
Cloud implementation has become an increasingly crucial part of many organisations' HR strategies as a growing number of companies look towards reducing reliance on physical storage. Clients deploying cloud HR solutions such as SuccessFactors expect implementations that are fast, affordable, and as minimally disruptive as possible.
This is something that has been at the forefront of the mind of Mike Ellis, EVP of Sales APJ, as Rizing HCM has outlined its new endeavours.
"Increasingly, our clients are seeking measurable, outcome-based implementations that directly align to their business performance objectives," says Ellis. "Understanding, measuring and recording useful data that can drive business outcomes is more important than ever."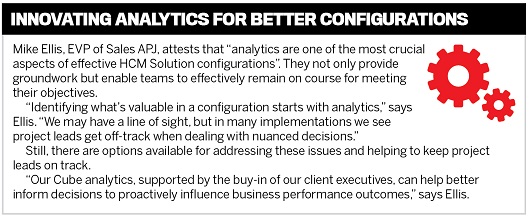 Although simple enough on paper, there are numerous practical challenges involved in designing and implementing a solution to achieve HR transformation and cloud adoption. Rizing HCM sees this as a key area of both current and future innovations for the company.
"Our customers' cloud HR implementations often involve the use of offline spreadsheets to store configuration parameters," says Ellis. "With such a rudimentary tool, requirements are insufficiently documented, the ability to audit does not exist, and there is no comprehension of an overall global template."
Blueline and Cube are new product innovations that fulfil this function at Rizing HCM. Customers receive an implementation template – similar to a Model Company – as a first iteration. Workbooks can be automatically generated, which is a key element of any SAP cloud solution.
"Blueline offers a solution that standardises the methodology, takes approvals online, and provides the ability to store requirements," says Ellis. "If a field changes in the solution configuration, you have immediate visibility to the impact of that change."
Smarter solutions
Ellis also notes that businesses typically have lots of HR data available to them, but what they really need is actionable, 'smart' data. Smart data enables insights, which ultimately lead to business impact. This begins with a successful 'go-live' and continues with the realisation of business outcomes.
"That's our primary driver for building the Cube technology," says Ellis. "We're keen to help our clients elicit transformative data that combines talent insights with business performance and operations information ultimately into one actionable data set."
The adaptability of the program has been a key factor in its success. Its ability to recognise industry-specific statistics plays an important role in its wider appeal to clients.
"As we look at our large SuccessFactors install base, for example, the Cube AI functions can recognise standard practices for capabilities across industries," says Ellis. "For example, we would know that 80% of retail clients have a certain configuration that supports retail needs such as mass hiring and contingent labour. Over time, we can visually present those practices specific to clients and help them accelerate their adoption of SuccessFactors innovations."
It's a sentiment echoed by Hédou. With the organisation's expansion over recent years, Rizing HCM has been able to collect a broad range of data that in turn has a significant role to play in the success of other businesses.
"We are excited to deliver … award-winning solutions on a global scale to organisations of all sizes" Darcy Lalonde, president of Asia-Paci­fic, Rizing HCM
"With our install base now comprising more than 900 active clients, we can provide a statistically significant sample across many industries," says Hédou. "This is real, empirical data. It's not a marketing ploy; it's the foundation of true data-driven decision-making."
Clients are able to go beyond simply assessing data from the install date; historical data is obviously of critical importance too. Every client needs to address its own history, but how this is handled can impact the length of and any risk involved in a SuccessFactors implementation.
"With the Cube archiver for SuccessFactors HR, companies can look at historical records concurrently, and that eliminates the need to load that data into Employee Central," says Ellis. "It also ultimately allows the decommissioning of expensive legacy applications, accelerating the project ROI."
Combining Blueline with the power of Cube analysis of HR operations ensures not only a successful go-live but continued success as the solution is updated and evolves throughout its life cycle. It's an approach that has been a crucial part of Synchrony's past success, and will remain important into the future.
"It's a fine line between transitioning to global specialists while still retaining your roots," says Ellis. "However, we're still bringing our innovative approach to solving client problems. In the long run, it's only going to change client relationships for the better."
ABOUT RIZING HCM Headquartered in Montreal, Quebec, Rizing HCM has become one of the strongest partners in the SAP SuccessFactors ecosystem, through their combined end-to-end experience and leading number of global implementations. With the addition of Synchrony Global, Rizing HCM has over 900 customers, making it one of the largest, and most qualified, SAP SuccessFactors consulting fi rms in the world.