A new study has revealed that 18% of Australian employees don't feel motivated in the workplace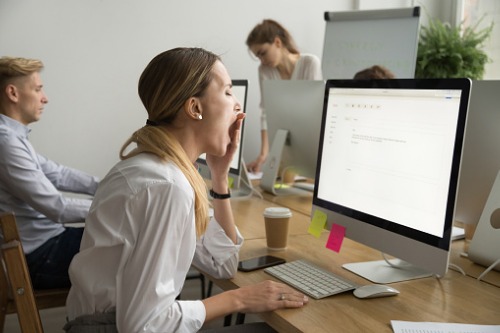 A bad manager and feeling invisible (or undervalued) are the top demotivators in the workplace, according to new research by Reward Gateway.
The study found that 18% of Australian employees don't feel motivated in the workplace and more than seven in 10 (74%) workers say their managers should do more to stimulate and inspire them
The research, which surveyed over 2,000 employees across Australia, has also uncovered the impacts that a lack of motivation has on employees. The top five being bad mood (64%), declining mental health (55%), reduced productivity levels (54%), reduced quality of work (41%) and poor diet (34%).
Moreover, almost a third (29%) say their relationships with family and friends suffer, and almost one in five admit to drinking more alcohol when feeling unmotivated.
Reward Gateway's group director of product & client success, Rob Boland said it's clear that employers can be doing more to motivate and engage their people.
"From our research and our experience with thousands of businesses with whom we've worked, the companies driving the greatest commercial results are the best at addressing employee motivation," said Boland.
"These businesses centre their engagement strategies on strategically recognising their employees to boost visibility for great work, communicating openly and honestly with their employees, and surveying their people regularly to understand how to constantly improve and adapt their strategy."
When asked about their feelings towards their current job, most agreed that it just pays the bills (56%), whereas only 26% agreed they were in a great place with a challenging and exciting role.
The top reasons for employees feeling unmotivated are: a bad manager (46%), feeling invisible or undervalued (43%), boring or unsatisfying work (43%), and a lack of recognition (42%).
The results also found it's the simple things that are making the biggest difference to employee motivation.
The top reason that people were motivated in their current workplace was because of good working relationships with team members (49%), followed by job satisfaction (43%) and then having a purpose (36%).
Further results from the research include:
· More than a quarter of Generation Z (16-24 year-olds) workers don't feel motivated when working for a company with an uninspiring purpose (26%)
· The 'least motivated' age group is 45-55 year-olds, with over one in five (22%) saying that they are not very motivated or not motivated at all in their jobs. Despite this, they're the most likely to 'grin and bear it' the longest, staying in a role when not feeling motivated for 14.32 months – which is three months longer than the national average, and four months longer than those aged 16-24 years old.
· Women are more likely to say they are demotivated when they feel invisible or undervalued
· Men are more likely to be motivated in the long term if they receive a bonus
· Women are more likely to be motivated in the long term if they're shown appreciation for their hard work