Funds towards fertility treatment, twice-monthly house cleaning and lengthy 'career breaks' are just some of the perks offered by these forward-thinking HR leaders.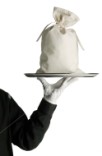 These companies don't just think outside the box when crafting their employee perk packages: they also think around it, under it and through it to conceive incentives from free holiday homes to regular house cleaning, and everything in between.
Zappos
– Some employers think that an employee's family commitment can potentially be disruptive at work. That's not the case at Zappos, an online shoe and clothing retailer based in Las Vegas: in addition to plentiful health and wellness benefits, like Weight Watchers classed and quit smoking programs,
Zappos
offers up to $6,000 annually towards fertility and adoption expenses.
Facebook
– A free on-site ice-cream parlour is offset by the free bikes Facebook provides to help staff navigate the tech giant's 57-acre 'campus'. Their range of staff perks may seem fun and frivolous, but the strategy behind them is anything but: their HR team reportedly tracks detailed metrics related to each perk, and measures their cost against the resulting level of employee productivity.
KPMG
­– Among a whole host of fairly generous yet standard perks, KPMG offers a couple of stand-out options for its Australian staff, including 'career breaks' (which effectively allow you to take 3-12 months off work without losing your job), and full-pay maternity leave of up to 18 weeks.
Thomas Duryea
– This Melbourne technology firm provides pinball machines and foosball tables, but the best perk is their real estate: Thomas Duryea reportedly offers a three-bedroom holiday house where staff can take friends and family for free.
Kogan
– Ruslan Kogan, founder of online retailer Kogan, has a HR philosophy that allows staff to choose their own working hours and schedule performance reviews whenever they feel they've improved the company (one employee had six payrises in six months). What's more, as a Christmas present one year, he flew his employees to Las Vegas for an all-expenses-paid holiday. "We've got a philosophy of work hard, play harder," Kogan says.
Evernote
– A software company valued at $1bn, Evernote has 250 full-time employees, and all of them – from receptionists and cleaners through to top execs – receive the benefit of having their homes cleaned twice monthly on the company's dime. "Happy workers make better products," CEO Phil Libin says of the perk. He also gives employees $1,000 holiday money each per year, saying, "The output we care about has everything to do with your state of mind."