Penelope Cottrill, principal at Nous Group, outlines the key skills required of leaders to succeed in the digital era. How do you shape up?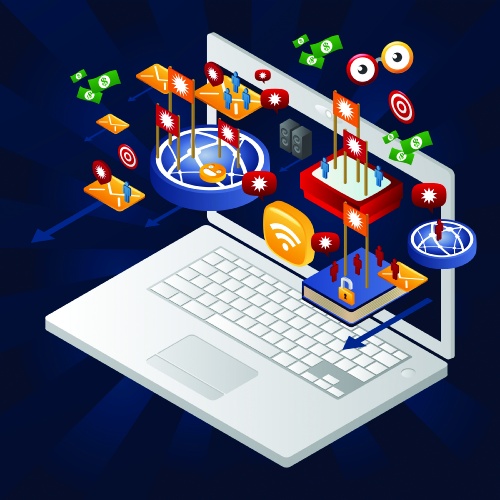 Penelope Cottrill, principal at Nous Group, outlines the key skills required of leaders to succeed in the digital era. How do you shape up?
"Digital business doesn't just disrupt markets; it disrupts tried and true management behaviours as well."1 As the world we live and work in becomes increasingly digital, business leaders are challenged to provide a new kind of leadership – leadership that taps into potential, to meet the challenges of an emergent, uncertain future. Yet when it comes to digital leadership, the facts tell a story of strong demand and constrained supply. While the majority of organisations agree that digital leadership is important, 65% have no significant program in place to drive digital leadership skills.2
Digital leadership is distinctive
Nous defines digital leadership as the ability to engage people to achieve digital business success by creating the conditions that maximise purposeful innovation with pace and discipline.
To meet this challenge, digital leaders:
seek out and entertain possibilities, creating ways for good ideas within the business to get airtime
look outwards across networks and adjacent businesses, as well as major technology trends, to scan for opportunities and possible threats
Seizing the opportunities of the digital age and avoiding the extinction that comes with standing still demands a new type of leadership. This digital leadership challenges many traditional expressions of leadership, such as:
command and control leadership – that can separate decisions from their context and impact
layers of hierarchy – that slow decisions and blur roles
gatekeepers' to leadership – that can keep out new ideas and challenge diverse thinking
extensive reporting – that consumes effort, reduces speed and filters out ideas and information
Meeting the digital leadership challenge
Nous recently collaborated with a selection of digital leaders – CEOs, CIOs and digital executives – from some of Australia's leading businesses to build a framework to help define the leadership that is needed in the digital age and how it can be cultivated: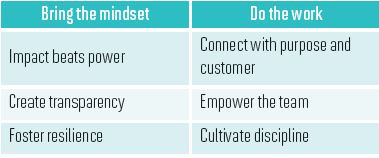 Bring the mindset
How we think about things guides what we do and how we behave. It is important for digital leaders to think about their leadership in ways that produce the right behaviours and drive results. Some habits of mind that Nous has identified in effective digital leaders are:
Impact beats power – Digital leaders are often motivated by meaning and impact rather than traditional power and authority. They will ask themselves, what growth and success have we delivered? What have we built that was not there earlier? What impact have we achieved that we could not have imagined before?
Create transparency – Sharing information broadly enables faster decision-making at scale and better performance. Digital leaders believe in the transparency of business information, and of their own leadership. They are open about their personal limitations and encourage others to be self-aware and use this understanding to improve performance.
Foster resilience – This is particularly important for digital leaders because in digital businesses pivots or failures often signal the end of someone's passion project. Digital leaders must model discipline and encourage others to hold ideas loosely, respect the evidence, manage negative emotions, and find the energy and enthusiasm to move on.
Do the work
Digital leaders do not watch from the sidelines. They are purposeful in modelling themselves and seeking in others certain key characteristics to sense and exploit opportunities; to constantly find new ways to deliver better customer experiences. Ideas are not held back by burdensome layers of oversight, bureaucracy and control mechanisms.
Cultivate discipline – Effective digital leaders understand that discipline is as important as creativity in making innovation work. They know how to focus their attention and balance business improvement with growth and innovation. They only pursue ideas that have tested positively and ensure the business learns from every experiment before moving on.
WORDS INTO ACTION
Here are some tangible actions to help you meet the digital leadership challenge:

• Start every communication with the purpose or vision, to provide the context people need to make sensible, quick decisions.

• Resist the temptation to punish failure,
where it is the outcome of trying hard with good, well-informed intent.

• Bring in digital resources from outside to change the dynamic, disrupt the current system and accelerate adaptation.

•Create time for purposeful reflection to deliver ROI in innovation and experimentation.

• Sponsor hackathons to trigger productive conversations, build relationships and demonstrate the business' willingness to invest in cohesion.
Cultivating digital leadership
Organisations must consider how to cultivate digital leadership at scale. Growing and learning fast demands great leadership across more levels. This is because distributed leadership engages people and motivates them to do their best work. It creates an environment in which answers can be found by many rather than told by a few, and it fosters daily experimentation and innovation closer to customers.
But this positive effect also exacerbates the challenge, because it means digital leadership must be fostered across a broader and often large segment of the workforce, beyond the executive level that is the go-to layer for investment in development.
At the same time, we are operating in a world where traditional training is time-consuming, costly and less helpful to modern learners who are self-directed, digitally savvy and easily distracted.
The ability to grow digital leadership at all levels and at scale can be a differentiator and an accelerator for businesses. Like the world of digital business, the path to great digital leadership is not a question of 'best practice' but requires fresh thinking, experimentation, and adaptation.
Sources:
1 Graham P. Waller, Gartner Global Human Capital Trends 2017;
2 Global Human Capital Trends 2017.
Nous is the largest Australia-founded management consulting firm, with over 250 staff across Australia and the UK. We partner with leaders to shape world-class businesses, effective government and empowered communities.