Traditionally risk-averse HR functions can learn from companies such as HubSpot. We talk to their global VP of culture and experience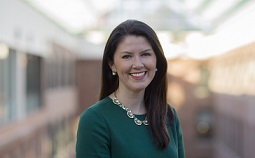 HubSpot
employs more than 1,500 people in six locations around the world: at its headquarters in Cambridge, Massachusetts, and its offices in New Hampshire, Sydney, Dublin, Singapore and Tokyo.
The unconventional nature of HubSpot's approach to HR comes down to its two underlying principles: transparency and autonomy.
On the former, the global VP of culture and experience
Katie Burke
said that anyone who works at HubSpot, from intern to executive, has access to all of the company's documents.
For example, all staff have access to management team meeting minutes, board meeting outcomes, and even the random musings of the CEO answering off-the-cuff questions from employees. Burke said being "radically transparent" allows the company to do two things.
"One, it prevents people from [problem]- solving for themselves or for their team," she said.
"Having to share things and having a bias to share information ensures people are truly 'solving' for the company.
Second, we believe people do better when they know better. For example, if you're working on a data project for the data team, and you're working on something for the marketing team, the bias to share everything prevents people from putting their guard up and saying, 'That's my project or my data'. It encourages collaboration."
She added that the company's "super talented" employees likely have career aspirations beyond HubSpot – they may want to start their own company or become a CEO some day.
"The idea of learning from other parts of the business just by checking with our company wiki, for example, is really important for us."
As for autonomy, Burke said she's never met a talented professional in any division who has wanted to be micromanaged; instead, they want latitude to do great work on their own with the support of management.
"We set our company goals and directives, but we don't give people an exact map on how to get there," she said.
While some business leaders might cringe at the thought of training people to think like entrepreneurs, Burke said this mindset is actually helpful to HubSpot.
"You feel more accountable to other divisions and to the company. You don't get that feeling if you're sitting in the corner with your head down."
If and when 'HubSpotters' do leave, it's not unusual to find the company's founders and executives acting as angel investors for the new ventures. An active alumni program also gives a boost to these start-up companies.
How can traditionally risk-averse HR functions learn from companies such as HubSpot, which appears to be rewriting the HR rulebook? For Burke, who says that often the best opportunities in business emerge from a willingness to think differently, there are two initial steps.
For HR professionals within large organisations who don't know where to start and are unsure of what the appetite for change is, she suggests simply asking people what they think.
"Don't ask via a lengthy survey," she said. "Ask, on a scale of one to 10, how likely you'd be to recommend your company to a friend or colleague. You'll be surprised by what you get back."
As part of this process, it's critical to also ask what the company can do better. "I'm constantly amazed at the number of companies who are unwilling to take that step," Burke said. "Own the accountability coming out of it, and ensure you'll actually take action on it."
The second step is to ask people to write down what matters most to them about work. Burke often finds that leaders assume that people know what a culture stands for because they have company mission statements or values. But if your newest employee can't recite what it means or how they feel about it, you've failed.
Finally, Burke maintains that a culture like HubSpot's depends on trust. "You can't fake trust," she said.
"For example, companies that try to launch unlimited vacation policies without a true commitment to autonomy always fail because it's not about a policy; it's about the dynamic of trusting employees to do their best at work."
Related stories:
Why Johnson & Johnson is guided by a credo
Inside CHEP Australia's award-winning R&R program
SEEK creates a new corporate volunteering portal