Winning support for a business strategy requires three key principles to guarantee success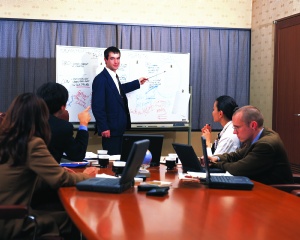 In 2014, global consulting firm A. T. Kearney surveyed over 2000 executives about their experiences of strategy.
The results highlighted a bleak success rate, with 46% of strategies simply not meeting expectations.
"The reasons for this kind of failure – which can be traced to both the formulation and implementation of a strategy – contain a recurring theme: a lack of buy-in from staff," said
Simon Dowling
, professional speaker, facilitator, coach and author of
Work with Me
​.
"This accounts for a variety of problems, from teams that simply don't understand their role in bringing a strategy to life, to groups of people who are outright resistant."
Dowling added that in some cases, the strategy itself may be flawed because it was developed without insight from the people who understand the business at a grassroots level.
"Leaders must create strategy in a way that creates buy-in across the entire organisation," he said.
To quote one respondent from the A. T. Kearney study, "strategy that doesn't make it out of the boardroom isn't really strategy"
.
Dowling said getting this right means following three important principles:
Principle 1: Consult wide and deep
Many leadership teams fail to consult widely or deeply enough.
According to Alexandra Tullio, a senior executive at Bendigo and Adelaide Bank, "Many people make the mistake of only engaging those they perceive as 'important' or 'senior' and assuming they will distil the message from on high.
This is old school thinking - the fact is that change doesn't happen at senior levels."
Before sitting down to decide on a strategy, leaders should be asking: whose buy-in do we need for this to succeed – whether they be decision-makers, influencers or those critical to implementation?
This isn't just a matter of keeping people happy and on board – the input of these stakeholders might actually improve the strategy.
Principle 2: Go slow to go fast
Proper consultation and stakeholder engagement takes time, which is why it's important to start early and go slowly.
Leaders should avoid a "big reveal" – by the time a strategy is launched, stakeholders should have a good idea of what's being presented and feel they've had their input.
While this requires patience upfront, the pay-off is rapid execution and action.
Principle 3: Foster the right feeling
Ultimately, people's willingness to get on board with any strategy is a function of their emotional response to it.
Leaders need to resist the temptation to inundate people with slide decks and data-filled spreadsheets, instead focusing their energies on sharing stories and creating experiences that will help people to
feel
the opportunity or the problem for themselves.
Once people emotionally connect to something, they're prepared to invest in it – and act.