Whether it's small measures or a wholesale transformation of office culture, by implementing mindfulness practices organisations can see leaps in both productivity and morale.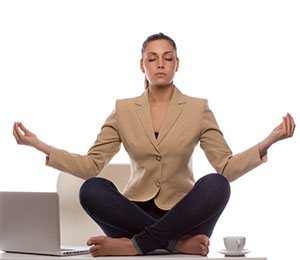 'Mindfulness' is a buzzword increasingly common among today's workplace thought leaders and progressive HR managers. But how can HR professionals approach the concept of mindfulness, and implement meaningful practices in their organisation that will benefit both productivity and workplace harmony?

Mind states of focus, clarity and calm are vital for achieving business success, believes Gillian Coutts, Australian director of The Potential Project, a leading supplier of mindfulness training.

"Mindfulness is a set of tools and techniques designed to enhance mental effectiveness," Coutts told HC Online. "It develops the skills to be more focused, aware in the moment and take better perspectives on things. Mindfulness training techniques skilfully applied to the workplace have been demonstrated to enhance focus, clarity, creativity, communication, teamwork and sense of well-being."

As far as how HR professionals can embrace mindfulness for their organisation, a couple of approaches are available, says Coutts. The first is the "light touch that can reach everyone" through introductory sessions run face to face or through webinars, and an app for those who want to continue with the mind training practice. "This is typically taken up by organisations keen to introduce mindfulness as one of a menu of options as part of a personal wellbeing strategy," says Coutts.

A second strategy, that Coutts calls the "facilitated change program", is another option for HR. This approach "engages groups both in the personal practice and the application to the workplace, reviewing together workplace norms and policies to maximise focus and awareness potential around meeting etiquette, emails, planning and so on. This is typically taken up by organisations looking to transform culture and workplace conditions."

The modern workplace presents a number of significant obstacles to cultivating a climate where mindfulness is able to flourish among employees. Coutts points to open-plan offices and integrated meeting and working spaces that set the brain up for constant change and distraction, with "no place to call home" for the individual in the workplace.

"Technology advancements designed to make us more productive can backfire when they create an 'always on' expectation," adds Coutts. "They can blur the boundaries between work and non-work, reduce employees' capacity to rest and restore, and undermine the most able brain. Having good email and communication policies that recognise the need for periods of focus and rest make a big difference.

"Similarly, addressing meeting culture and etiquette can make a big difference. It would generally be considered rude to suddenly leave a meeting, unannounced, to deal with an email issue, and yet we do that mentally if we check our emails in a meeting.

"Agreeing on a 'be here now' policy that requires that people focus and set aside technology for all but the most dire emergencies, can halve the amount of time spent in meetings."

Statistics from The Potential Project show that 47 percent of the time we are off-task, a startling figure, suggesting that at least some level of mindfulness training (yes, some might call it meditation) could make a meaningful difference to the productivity of businesses big and small.