While some employers have sought to ban office romances, friendships have not been treated in the same way.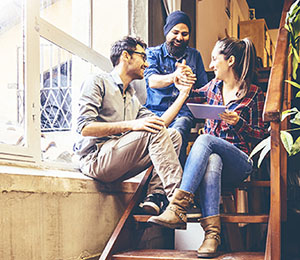 Friendships made in the workplace can undoubtedly be beautiful things. Not only can they make for greater harmony and indeed productivity within an organisation, the friendships forged at work can last a lifetime.
However, like any relationship in the workplace that crosses over into the personal domain, there is scope for friendships to interfere with workplace procedure and become a problematic conflict of interest.
Patricia Ryan, Principal with The Workplace employment lawyers, cites a number of circumstances where this might occur. Such situations include but are not limited to the following, as identified by Ryan:
When a manager is responsible for a friend's performance review and salary review
When a manager may beneficially give projects to a friend on the team
When discounted goods and services (or freebies) are provided to a friend in the company
When promotion decisions are based (or seen to be based) on friendship
When flexibility is given around hours of work, attendance, breaks etc that are not provided to others
Favourable disciplinary outcomes
Though all these scenarios are cause for concern within an organisation, the fact is, for Ryan, that workplace friendships are inevitable and that heavy-handed rules and regulations against them are perhaps not the most effective course.
"While some companies have sought to ban office romances, as far as I am aware, office friendships have not been treated in the same way," Ryan told HC Online. "As we spend so much time at work, the reality is that office friendships are common, and generally make for enjoyable workplaces."
An organisation's approach to the potential problems that might arise from office friendships should not be reactive. Clear established guidelines are a beneficial means of cultivating a work environment in which conflicts of interest from office friendships do not frequently arise.
"A policy on personal relationships can be helpful in setting out the company's expectations and requirements," says Ryan. "It would cover such matters as disclosing an actual or perceived conflict of interest based on a personal friendship or personal relationship.
Ryan adds, however, that should conflicts of interest still arise as a result of friendships, companies should not be complacent and must ensure that fairness is prioritised.
"Where there is evidence that an office friendship has led to a conflict of interest, this will need to be treated as a disciplinary matter according to the company's policies. This may result in movement of staff to other teams, and directions for going forward."