An employment tribunal has heard that a flight attendant has been sacked after eating a sandwich given to her by her manager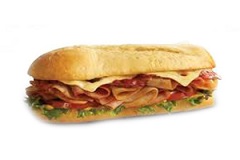 A 22-year-old flight attendant was fired after eating a bacon sandwich that was given to her by her manager, a British court has heard.
The Easyjet employee has a nut allergy and was offered the sandwich after failing to find appropriate food to eat on her first flight overseas.
Shannon Gleeson was fired for "gross misconduct" after she neglected to ask her manager if the £4.50 ($A7.20) sandwich was paid for and did not have a receipt for the food.
However, the panel heard she may have been wrongly dismissed because EasyJet's policy placed no obligation on the consumer to see a receipt if food was given to them.
The incident has since been settled out of court for an undisclosed sum.
A spokeswoman for EasyJet said: "EasyJet has settled this matter with Ms Gleeson and so cannot comment in any further detail other than to say that we have clear and well-understood policies and the honesty of our employees is really important."
The incident occurred when a fellow crew member told the company she had seen Gleeson and the cabin manager eating a bacon baguette and croque monsieur, meant for customers, in the galley.
Gleeson, who had been employed by the company for three years, was later called in to a meeting about the investigation.
She apologised for the incident and offered to pay the £4.50 ($A7.20) fee but was sacked alongside the cabin manager for theft and gross misconduct.
There was no dispute that Gleeson had eaten the food from her manager and not paid for it herself.
The Employment Judge Michael Ord said that: "The actual incident is not in dispute.
"Gleeson ate a bacon baguette and she had not paid for it. That is the extent of the mistake.
"If I rang my insurance company and told them my Rolls-Royce Silver Shadow had been stolen they would want to see proof that I owned it.
"You have actually got to show some loss for there to be a theft. I see no evidence that anything was paid for or not paid for."
The company had no way of recording missing stock from a flight and that there was no "black and white" policy in place for food given to staff, the court heard.
Ross Fraser, the manager who dismissed Shannon, said: "It doesn't say it in black and white, but the expectation is there. There is regular communication to all of the cabin crew."
Judge Ord asked Fraser if they worked together and he "brought back a cup of tea for everybody would you ask me for a receipt?"
"I would have refused it," Fraser said.
Related stories:
Women more likely than men to be bullied at work: Report
What you need to know about the Fair Work Act
Employing visa holders: Do you know the legal risks?
This story originally ran on January 17, 2017