Big-name companies have been voicing their concerns around the Productivity Commission's impending workplace relations framework report.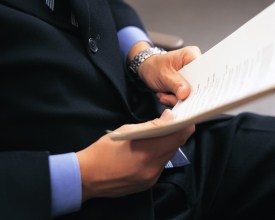 Some of the biggest companies in Australia are pushing for the Productivity Commission to rethink aspects of its
workplace relations framework
.
Companies including
Qantas
, Toll and major meat processor Teys Australia have written to the commission in anticipation of its final report to Parliament in November,
The Australian
reported
.
Last month, the commission published a draft report in which it was suggested that the current system needed tweaking as opposed to replacing.
According to its issues papers, the Productivity Commission is considering the following changes to industrial action legislation:
Any appropriate changes to what constitutes protected industrial action under the Fair Work Act
Arrangements that might practically avoid industrial disputes
The scope and desirability of creating more graduated options for industrial action beyond lock-outs for employers. Would options like this assist negotiation or increase disputation?
Whether there are any problems in determining whether tactics in bargaining really amount to industrial action or not
Any need to change the protected action ballot process
The role of the FWC in relation to disputes, especially in relation to cooling off periods and the test that determines whether such a period is justified
The prevalence of 'aborted strikes' (the capacity to withdraw notice of industrial action) as a negotiating tool, and the degree to which there is any practical response to this apart from the good faith bargaining requirements of the FWA
The degree to which adversarial workplace cultures — rather than bargaining per se — contribute to industrial action and what could be done to address this
The adequacy of enforcement arrangements for disputes
The reasons for international variations in industrial action
Data about the nature of disputes, such as lock-outs and go-slows (as ABS data is limited in its categorisation of disputes)
The degree to which working days lost provide an accurate reflection of industrial action.
Toll
Toll reportedly claimed that the commission's figures around "low" levels of industrial action concealed the fact that the potential for action to take place is enough to compromise a company's negotiating position "beyond that which is otherwise reasonable".
"Reported industrial action is only at low levels because employers, especially in highly competitive and unionised service sector industries, have very few weapons in their armoury to defend against industrial action," the company's submission reportedly said.
"In reality, disruption of supply to customers is not something that those customers will tolerate and major contracts can and are lost as a result.
"As a result concessions may be made in the face of the threat (or ever-present risk) of industrial action, even if no industrial action is taken.
"In relation to Toll, a day's interruption to its transport supply chain could cost in excess of $10 million."
Qantas
Qantas, meanwhile, has voiced concerns that some of the Productivity Commission's proposals could aggravate industrial tensions.
The draft report suggested that secret ballots be simplified, proposing the removal of the requirement to specify which types of industrial action were being sought.
In a new submission, Qantas said that this was "likely to escalate rather than de-escalate the industrial tension", and had "the potential to complicate and prolong the bargaining process".
BCA
The Productivity Commission's recommendations have also received criticism from the Business Council of Australia (BCA), with the body arguing that the suggested changes to awards and industrial relations are "inadequate" to repair the system.
The BCA also claimed that awards were too broad, and covered more than the originally intended wages and conditions.
It has also reportedly handed the government's chief micro-economic advisor an analysis of 20 enterprise agreements, after examining them and finding that they extended "far beyond" the employment relationship and into areas such as technology use.