However, the Great Resignation continues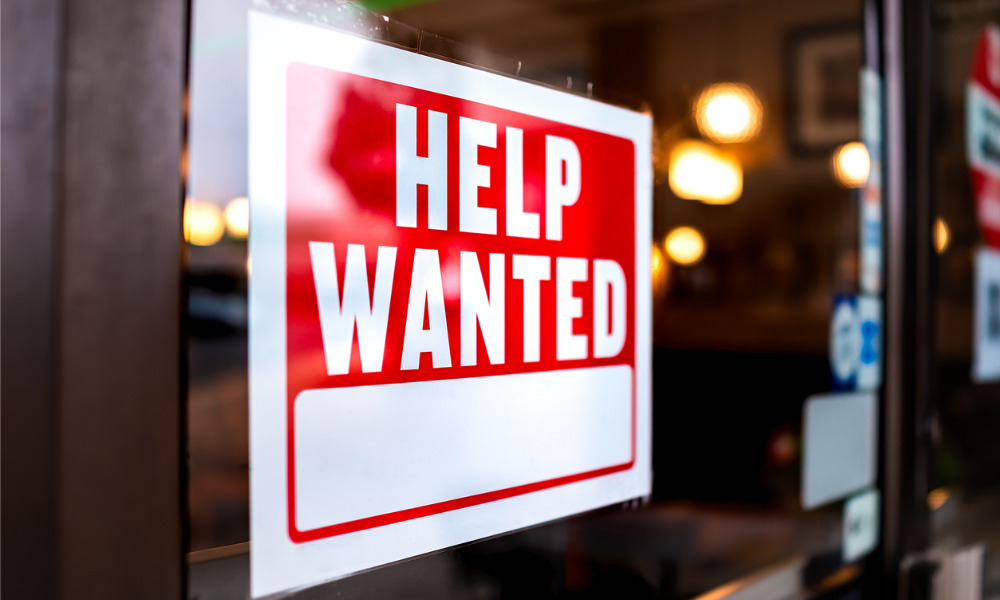 With a recession looming, the labor market may finally be cooling off, according to the U.S Labor Department.
In August, the number of job openings decreased to 10.1 million from 11.2 million in July, according to the latest Job Openings and Labor Turnover Survey (JOLTS), which was released on Tuesday.
It's the biggest decline in job vacancies since the height of the COVID-19 pandemic in April 2020. That now means there are roughly 1.7 jobs available for every unemployed person. Health care, social assistance and retail trade were the top industries to experience decreases in job openings.
Read more: Liberty Mutual SVP: 'There's a war for talent' despite layoffs
The data isn't surprising considering high-profile brands throughout the country, especially in California, have been announcing layoffs, job cuts, hiring freezes and slowdowns since the summer in preparation for an economic downturn. More than 650 startups and tech firms have laid off more than 110,000 people in 2022, according to Blind's tech layoffs tracker.
Despite the decline in employment opportunities, the Great Resignation still isn't slowing down. Roughly 4.2 million Americans quit their jobs in August, a slight increase of 100,000 from July, according to JOLTS. That means more than 81 million Americans have fled their employer since the beginning of 2021. Prompted by the COVID-19 pandemic to re-evaluate their priorities in life, employees have been leaving their positions for greener pastures, demanding higher salaries, better working conditions, improved work-life balance and more opportunities to advance their career.
The JOLTs US total job openings and quits rates from the BLS extended their drop through August. In particular, that drop in job openings doesn't bode well for the labor market outlook pic.twitter.com/niS3qvYOSA

— John Kicklighter (@JohnKicklighter) October 4, 2022
Meanwhile, 56% of American workers say they don't feel financially prepared for a recession or they don't know how they would prepare for a recession, according to a survey from Insight Global, a national staffing services company. More than half (54%) would be willing to take a pay cut, even with inflation at a 40-year high, to avoid being laid off if there were a recession.
"It's unfortunate we're already seeing some companies turn to mass layoffs because I believe layoffs should be the absolute last resort," said Bert Bean, CEO of Insight Global. "Instead, I encourage leaders to consider other solutions, such as building a plan that avoids layoffs and helps you grow through a recession. Get your employee base executing on that, because when you bounce back from a recession, you'll need your people more than ever."
Of course, HR leaders who experienced the global recession of 2008-2009 are better positioned to weather this potential storm. They've learned what works and business leaders will be turning to them to take the helm. As for HR professionals who are about to enter uncharted territory, this will be trial by fire.
Read more: Safeguard Global CTO: Tech talent remains highly sought after
"You never know how long these scenarios will last," Jaemi Taylor, managing director in the HR practice of Allegis Partners, told HRD. Before joining the New York City-based executive search firm, Taylor spent nearly 20 years recruiting HR leaders, having worked for Robert Half, Beacon Hill and ChapmanCG.
"I've worked with HR leaders during COVID who asked the CEO or the board for more time, whether that's a quarter or a month, before making drastic cuts," Taylor says. "You want to review critical hiring, determine critical business initiatives and most importantly, avoid knee-jerk reactions."
The JOLTS data precedes Friday's monthly jobs report, which is currently forecast to show U.S. employers added 265,000 to payrolls in September, Fortune reported.