Iconic gymnast opens up to HR professionals about 2020 Olympics, mental health and going to therapy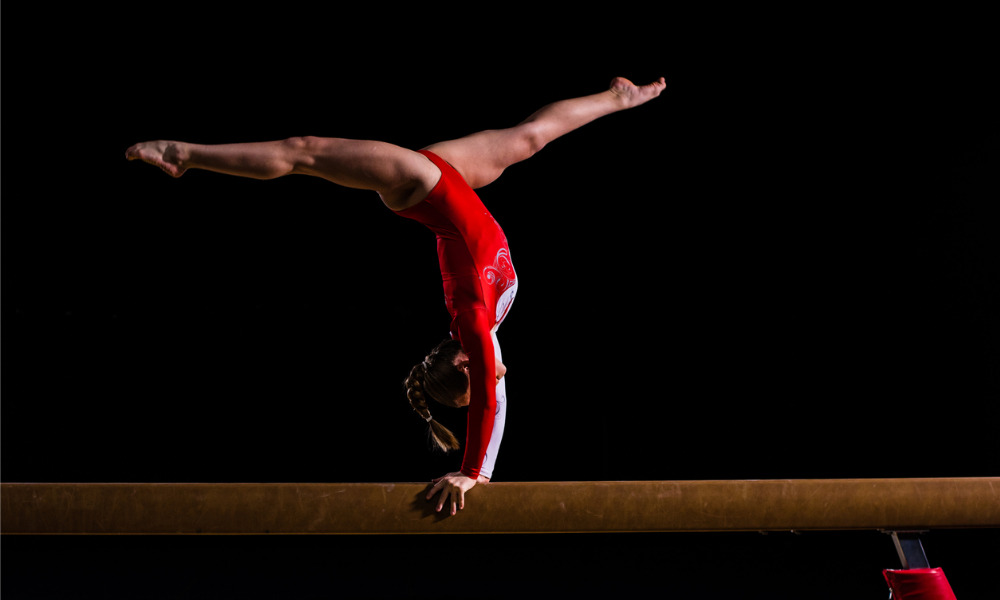 Simone Biles became the face of mental health last summer, when she withdrew from the women's team gymnastics final at the Tokyo 2020 Olympics.
At the Workhuman Live conference in Atlanta on Wednesday, across the street from Centennial Olympic Park, the most decorated gymnast in American history recounted the toughest decision in her life and the aftermath nearly one year later.
Because of the COVID-19 pandemic, Biles said the rules were frequently changed. At first, the athletes were told the Japanese federation was allowed to watch. That was nixed, so there'd be no audience. Then, each of the athletes had their own hotel room akin to a cubicle, forced into quarantine the entire time. Plus, they'd be tested for the coronavirus every morning.
"It was very unusual," Biles told a packed room of HR professionals inside the Georgia World Congress Center. "Going through that process messed with not only my mental, but a lot of people's mental. Once we got out there, I knew I wasn't in a good headspace. That's why I decided to withdraw from the rest of that competition. I knew it could harm me not only mentally, but also physically."
Read more: More than comfort food: How Nestle supports employees' mental health
As soon as Biles made her decision, the media went wild with speculation and hot takes. After all, an athlete had never put their mental health front and center like this, especially on such a grand stage. The media's immediate reaction was her only regret, the superstar revealed.
"It didn't matter what I said, the media had already created their own narrative for me," Biles said. "But I was surprised by the outpouring of love and support I received throughout the entire process. In that moment, that was the most vulnerable and courageous I've ever been. I knew I had to be safe and protect myself, but another part of me was a little bit embarrassed and ashamed. I had only a split second to make that decision and I wouldn't change it for the world."
Based on daily evaluations, doctors didn't release Biles to compete at the other competitions. However, she had already made an impact on her peers, the event and the entire sports world. She said that fellow athletes thanked her for opening up the dialogue and inspiring them to confide in their coaches about their own mental health struggles. Various outlets and medical professionals reached out, hoping to seize on the opportunity and have Biles act as an advocate as she has been for other causes, such as foster care and survivors of sexual assault.
But she refused to be put on a pedestal.
"I have no problem advocating if the way we're going to talk about it is we're going through this together," Biles said. "Everybody's journey is unique. if I can walk this journey with everybody else, I can relate and make it seem a little bit easier."
Biles stressed that she didn't want to be a spokesperson for how to manage mental health. She refused to allow people to present her as "this is what works for Simone and this will work for you." After all, there's no one-size-fits-all approach when it comes to dealing with stress, anxiety, burnout, depression and other mental health issues.
"It's invisible so you have to respect that and be mindful, especially during the pandemic," Biles said. "With everybody working remote, they probably got to be with themselves more than they wanted so they uncovered a lot of invisible issues."
"All I've ever wanted to do was have an impact, give back, and leave a legacy" @Simone_Biles #WHLive2022 pic.twitter.com/pzmgA2Ey94

— SarahMorgan, LightlyMelanated-ExcessivelyBlack (@TheBuzzOnHR) May 18, 2022
With injuries in sports, Biles was used to hearing estimated timetables for the recovery process. But mental health is a completely different animal. She confessed that after going to therapy for a couple years, she wondered if she was healed yet. In fact, she was reluctant to open up in the first place.
"I know it's really scary for a lot of people to talk to a stranger, but I've learned you have to trust and believe it's a safe space," Biles said. "I went to a sports psychologist before I started going to therapy. I didn't talk the entire time – I was there for an hour. He would ask me a question and I would just stare at him. I thought since the word 'psychology' or 'psychologist' was in there it meant I was crazy. I wasn't going to let him think I was crazy like whoever else thought that. Absolutely not, I'm not crazy, I'm not psycho."
Her perception changed after he told her to take the word out of the description.
"He said, 'I'm just another outlet to help you and lift you because you can be telling your coaches something every day and they get it to a certain extent and then I can help you navigate this journey a little bit differently.' And then I couldn't shut up," Biles said. "I was like, okay, this is awesome, I love this place. You're not going to tell anybody?"
In addition to therapy, Biles is taking care of herself by investing more energy into her hobbies. Whether that's getting her nails and hair done, learning new recipes or just spending time by the pool with her dog and fiancé (Houston Texans safety Jonathan Owens), she's learned the importance of recharging.
"I was so focused on gym, even on my days off – once a week –I would just stay home," Biles said. "My friends would invite me out and I'd say no because I knew I'd be tired. I have to nap. Come Monday, I'd still be tired, so why didn't I just go out with my friends and have brunch? I've learned I have to fuel my tank outside the gym as I do inside the gym."