Employment-based green cards limit 'twice as high as usual this year'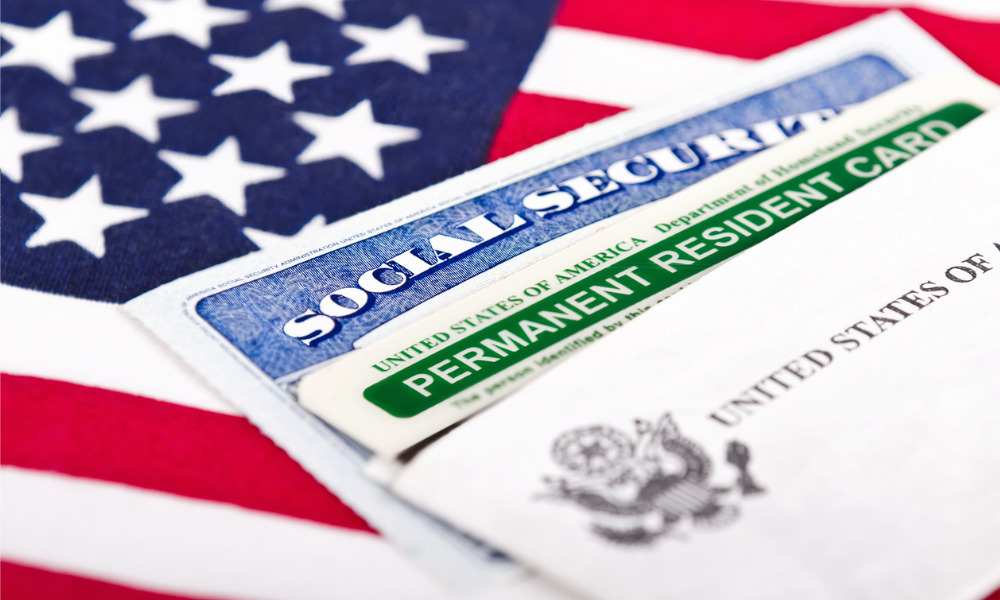 The U.S. Supreme Court has heard arguments related to the changes the Trump administration brought to the "public charge" rule.
Under Donald Trump's presidency, the rule was changed to widen the definition of which immigrants can be denied green cards. An Arizona-led group of Republic states asked the justices to allow them to defend the rule in federal court, "even though the Biden administration had abandoned it," according to a report from CNBC.
Previously, a lower appellate court also denied the states' efforts to intervene to defend the rule. The justices questioned Arizona Attorney General Mark Brnovich's argument that the Biden administration's maneuvers were "unprecedented."
"The new administration often changes its position in cases. So, what's different from this case, in which the administration declines to appeal an adverse ruling?" asked Justice Clarence Thomas, a conservative. "There's kind of a mismatch here between what you're saying went wrong and what you're saying you want," Justice Elena Kagan, a liberal, said.
Previous guidance from two decades earlier before the change defined a public charge as someone "primarily dependent on the government for subsistence." In 2019, however, President Trump's Department of Homeland Security interpreted when a non-U.S. citizen is likely to become a public charge and therefore ineligible for permanent residency, expanding the definition to include non-cash benefits, such as food stamps and Medicaid, in making the determination.
Read more: 'I get the best talent from wherever it is,' says Zoom's HR guru
The change potentially makes it harder for poor immigrants to gain residency, and civil rights groups have said that the policy is a "racist wealth test on the immigration system. It had been blocked in lower courts. Before the Supreme Court hearing, the US Citizenship and Immigration Services (USCIS) noted that the U.S. government is bound to process more employment-based green cards this year than usual.
"The overall employment-based annual limit for fiscal year 2022 is approximately twice as high as usual, because that limit includes all unused family-sponsored visa numbers from fiscal year 2021, which was approximately 140,000," USCIS said in a statement. Because of this, eligible employment-based green card applicants could also move to a higher preference category for the ongoing fiscal year ending September 30.
Eligible applicants can file to adjust their status to the EB1 (priority workers) or second (non-citizens in professions with advanced degrees or exceptional ability), reported The Economic Times.
This comes as the U.S. continues to struggle with labor shortage. More than 47 million Americans quit their job in 2021, according to the U.S. Bureau of Labor Statistics.
In December, President Joe Biden allowed an additional 20,000 seasonal, guest-worker visas available for winter, according to the Department of Homeland Security (DHS). Earlier, the Biden administration vowed to fill 600,000 vacant cybersecurity positions to intensify the protection of digital infrastructure in the public and private sectors.
In January, Zoom's chief people officer Lynne Oldham addressed the talent shortage, partly blaming Trump's restrictions on guest worker visa programs, including the H-1B program favored by tech firms. "There was a crimp in pipeline supply with the last administration around visas, which is working its way out," Oldham told HRD.
At the time, Google, a top 10 H-1B visa sponsor, condemned the White House's restrictions as a ploy to target immigrants. "Immigrants have not only fueled technological breakthroughs and created new businesses and jobs, but have also enriched American life," Google spokesperson Jose Castaneda said. "America's continued success depends on companies having access to the best talent from around the world. Particularly now, we need that talent to help contribute to America's economic recovery."