Plaintiff claims she was demoted for complaining about a deputy beating an inmate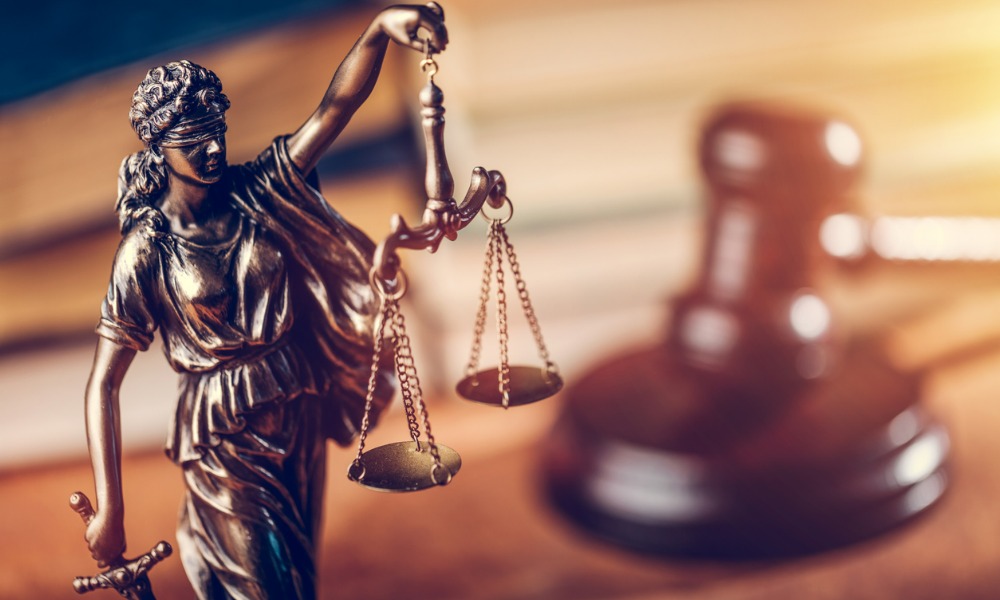 A former assistant sheriff has sued the County of Los Angeles and Sheriff Alex Villanueva over a retaliation claim.
Robin Limon alleges she was demoted after complaining about Deputy Douglas Johnson's alleged use of excessive force against inmate Enzo Escalante in March 2021, the Los Angeles Times reported.
"Unfortunately, for about three minutes after Escalante was restrained and passive, Johnson held his knee onto Escalante's neck and restricted his breathing in a fashion like (former Minneapolis police Officer) Derek Chauvin did to George Floyd," the lawsuit states.
Read more: DNA analyst sues Los Angeles for whistleblower retaliation
Johnson made headlines the year before for having taken photos of Kobe Byant after the NBA superstar and his 13-year-old daughter Gianna died in a January 2020 helicopter accident. According to the lawsuit, Villanueva promised he wouldn't discipline Johnson as long as he destroyed the photos. The Los Angeles County Sheriff's Department (LASD) Internal Criminal Affairs Bureau later investigated Johnson for alleged involvement in a gambling and prostitution ring, but he wasn't fired, according to the suit.
After showing Villanueva the video of Johnson's alleged assault on Escalante, the sheriff allegedly said, "We do not need bad media at this time," the suit states. Villanueva allegedly then blocked a criminal investigation into the incident, lied about it and later claimed he didn't watch the video until last November in order to "fit a fake timeline," according to the lawsuit.
On March 29, Villanueva allegedly told Limon to retire within an hour or be demoted, the lawsuit states.
Filing in Los Angeles Superior Court, Limon's lawsuit also alleges intentional infliction of emotional distress, defamation and violations of the Public Safety Officer's Bill of Rights. She's seeking at least $3 million in damages.
The LASD has responded to the lawsuit: "The facts and evidence do not support the plaintiff's claims and this case will be vigorously defended in court," the LASD told the Los Angeles Times.
HR managers aren't exempt from the federal law banning retaliation against workers who report discrimination, the 11th U.S. Circuit Court of Appeals ruled in June.
Marie Patterson, former HR manager at Georgia Pacific, sued the Atlanta-based paper products company in 2018 for retaliation. She claims her supervisors fired her just days after learning that she had recently been deposed in a pregnancy discrimination lawsuit against a former employer, a Texas hospital operator.
Title VII of the Civil Rights Act of 1964 prohibits retaliation against workers who have either "opposed any practice" barred by the law or participated in a discrimination investigation or lawsuit. However, Georgia Pacific argues that Patterson was fired for poor performance and excessive absences.
In 2020, U.S. District Judge Jeffrey Beaverstock in Mobile, AL dismissed Patterson's lawsuit, ruling that because she had testified against her former employer, she couldn't hold Georgia Pacific liable for retaliation. The judge also said that HR managers aren't protected when they oppose discrimination in the course of their job duties, only if they file personal complaints.
The U.S. appeals court rejected Beaverstock's claims and has revived the lawsuit for further proceedings, Reuters reported. A three-judge panel argued that the exception didn't exist in the text of Title VII, which broadly protects workers who oppose any unlawful practice, "not only those allegedly committed by their current employers."
"Opposition is opposition, whether the opposer is drawing a manager's salary or not," wrote Circuit Judge Ed Carnes.