Worldwide, Muslims will begin a month of fasting. How can leaders help staff stay healthy and engaged at work?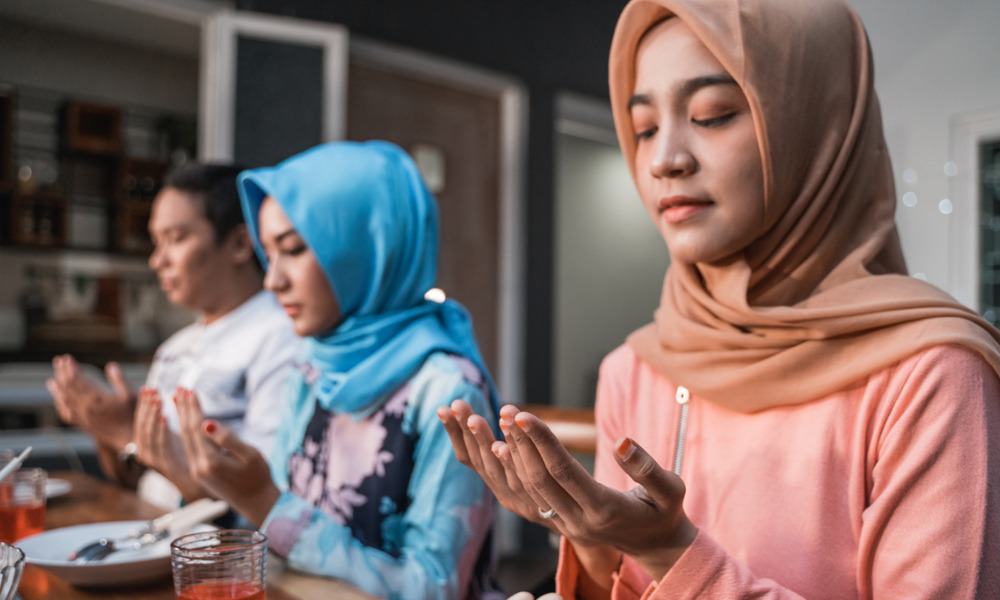 Worldwide, Muslims will today (April 13) begin observing the first day of the 'fasting month' or Ramadan. The annual observance involves abstaining from things like food and drink from dawn to dusk and participating in additional religious gatherings or prayer sessions at night.
Families will typically be up around 4am or earlier, depending on what time the sun rises in the region, to prepare and eat the pre-dawn 'breakfast' – a meal that will last them all the way till dinner time. This means that many will see their sleep disrupted for the month, which could affect their attention and focus at work during the day.
Considering the sudden changes in diet and sleep schedules, what can leaders do to support employees observing Ramadan and help them keep up their health? HRD speaks to a medical expert to find out some tips.
READ MORE: Ramadan at work: How can HR support staff?
Build a supportive and inclusive workplace
"During this Ramadan season, it is important that leaders build a supportive and inclusive environment for employees who are observing the month," said Dr Low Kiang Wei, medical director at International SOS.
While the practice is an annual affair for many professionals who have observed the fasting month throughout their lives, even through long days at school or work, there may be colleagues or managers who aren't aware or don't fully understand about the religious event. Dr Low advised that employers raise awareness around the topic on behalf of Muslim staffers to help team members understand their co-workers better.
Communicate with employees
"Raise awareness amongst colleagues about Ramadan and what fasting entails," he told HRD. "Individuals should be mindful that Muslims will be fasting during this period, so they should avoid arranging meetings during break-fast timings or eating at their desks, and refrain from offering Muslim colleagues drinks.
"By being aware that individuals are fasting, colleagues are more likely to be mindful of their own behaviour and understanding of how this might affect others' working practices."
Additionally, open and transparent communications with both managers and employees on workplace practices will allow Muslim employees to feel engaged and informed throughout the season. Leaders can also set up feedback channels to allow bilateral communications between employees and HR or management.
READ MORE: How to promote unity in the workplace
Remain flexible with work arrangements
If the nature of the employee's work allows it, Dr Low suggested that leaders introduce or continue to offer flexible working practices like shorter working hours at the office or remote work throughout the month. "It may be useful for employees who are fasting," he said.
Also, it could be helpful to schedule any important meetings or events earlier in the day, as employees will likely have more energy then, as compared to later in the day. It's normal for employees who are fasting to find it more difficult to keep up productivity levels particularly towards the second half of the day, said the experienced medical practitioner. Staff will thus be better able to perform on the job if the team shifted more difficult tasks that require greater concentration or physical effort for a slot in the A.M.
Remind managers to be understanding
Whether you're ramping up communications or extending flexibility at work, managers will play one of the most important roles in ensuring that fasting employees feel supported and team members remain understanding. It may also be challenging to manage expectations of employees through the month, but it's necessary to build an inclusive environment and sustain long-term engagement.
"Managers should approach these challenges with understanding and empathy and check in with these employees to offer assistance when needed," he said. "This provides assurance and support for affected employees, while ensuring the overall efficiency and productivity of the company is maintained."
READ MORE: How to be a more compassionate leader
5 top tips for a healthy Ramadan
Besides working to develop a culture of empathy and flexibility at the organisation, Dr Low together with International SOS said it's critical to continue to prioritise the safety and well-being of employees. They shared essential health tips for professionals observing Ramadan in the coming days.
Do not skimp on rest or sleep
Ramadan is a time of increased prayer. Though it may be tempting to stay up late for the pre-dawn meal and only sleep after, you should still aim to get at least eight hours of sleep during every 24-hour period, even if this is accumulated over several separate periods of rest. A well-rested body and mind will make it easier for you to concentrate at work and have more energy throughout the day.
Stagger your hydration
Thirst can be one of the most challenging parts of fasting, leading us to chug plenty of water and liquids as soon as we break our fast. However, rehydration should be a cumulative process. The best way to rehydrate fasting bodies and maintain this hydration for longer is to pace your liquid intake by consuming at least 2 litres of water – one or two glasses at a time – between dinner and breakfast. It also helps to cut down on caffeinated drinks at night, and to top up your liquid intake with soups, fruits and vegetables rich in water, such as cucumbers and watermelon.
Eat healthy and nutritious meals
Fasting will cause a change of habit in eating and your food intake frequency. It is vital to fulfil your vitamin and mineral needs to maintain a strong immune system. Be mindful of your salt and sugar intake.
After a full day of fasting, avoid satisfying cravings with soda and energy drinks which are high in sugar. Instead, opt for unprocessed food such as fruits, and consume complex carbohydrates such as rice, bread and wholegrains alongside vegetables, which will keep you fuller for longer.
As for salt intake, it is worth keeping in mind that having moderately savoury foods with water can help you retain some hydration for longer. However, consuming too much salt will have an adverse effect and contribute to thirst and dehydration during the day. Too much salt can affect blood pressure, so go easy on salty snacks such as popcorn and salted nuts at night.
READ MORE: Employers called to embrace flexible hours during Ramadan
Do more in the morning
Where possible, schedule more difficult tasks requiring greater concentration or physical effort in the morning, when you will have more energy and will be better able to retain new information.
Don't stop exercising
Although you may feel more tired and understandably less active while fasting, skipping regular exercise for a full month is unhealthy, particularly as most of your food intake will be consumed at night. Moderate exercise is advisable and will also help you feel less sluggish. Just remember to wait a couple of hours after breaking your fast before doing an activity.