Former employees respond with class action lawsuit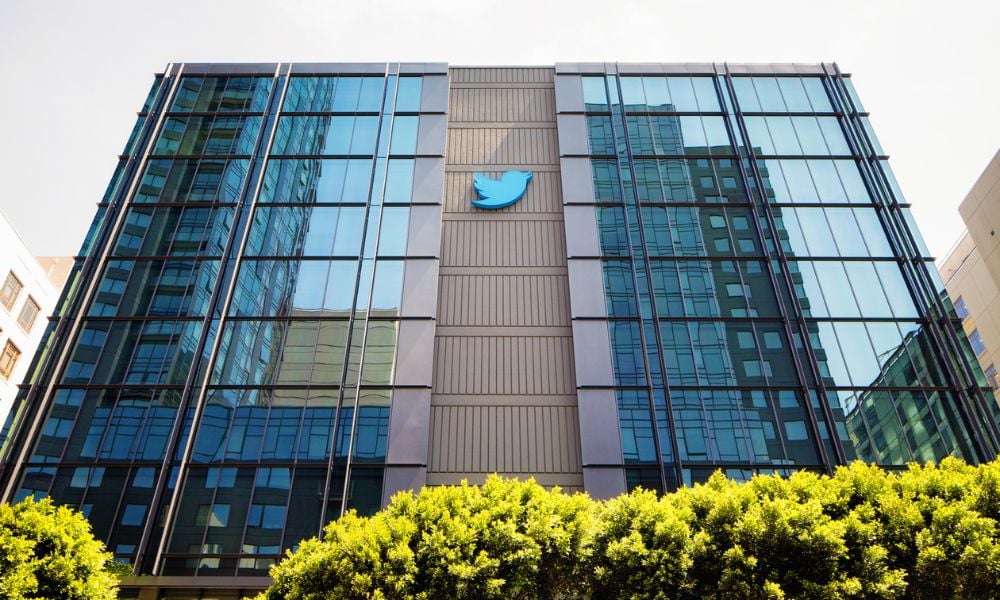 As speculated for months, Elon Musk is looking to shrink Twitter's workforce, and the layoffs have begun.
Approximately, 3,700 employees will be laid off, Bloomberg reported, and impacted workers could be given 60 days of severance pay. Last month, the Tesla and SpaceX CEO told prospective investors in his Twitter purchase that he plans to cut nearly 75% of the San Francisco-based company's employee base of 7,500 workers, The Washington Post reported.
However, Twitter is now facing a class action lawsuit from former employees who claim they weren't given sufficient notice under federal law, Bloomberg reported. In a company-wide memo, staff were informed on Thursday that they would receive an email to their personal email accounts if they were being fired. Before those emails arrived, many employees began tweeting that they had been let go, only after discovering they were no longer able to access their work email accounts or log into their company-issued laptops.
Hey Twitter employees getting laid off tomorrow! IMPORTANT INFO from a CA employment attorney (me):

CA's "WARN" law requires Twitter to give you 60 days notice of a massive layoff.

A layoff of 50+ employees within a 30 day period qualifies.

I know you didn't get that notice.

— Lisa Bloom (@LisaBloom) November 4, 2022
Musk, who officially took over the social media giant on Oct. 27, addressed employee speculation regarding potential layoffs in June. "It depends. The company does need to get healthy. Right now, the costs exceed the revenue," Musk said, according to CNBC. He also argued there needs to be rationalization of headcount or else the company won't be able to grow. "Anyone who is a signification contributor has nothing to worry about," Musk said.
Read more: Elon Musk denies reports he's firing Twitter employees by Nov. 1
In another effort to reduce headcount, Musk is planning to end Twitter's policy that allowed employees to work from home "forever," Bloomberg reported. Workers who were hired remotely during the COVID-19 pandemic will have only a short time to decide whether they will relocate to be near a Twitter office, Axios reported. Musk's stance against remote work has been crystal clear since forcing Tesla employees to return to the office five days a week.
In July, the company began sending emails to employees who don't show up 16 days minimum in the month, according to verified Tesla employees on Blind. Apparently, the electric car maker tracks compliance with its return-to-office policy by monitoring ID badge swipes. The automated email directs employees to email their boss with an explanation and copy the absence tracking group.
Musk has already cleaned house of previous leadership, firing CEO Parag Agrawal, CFO Ned Segal and Vijaya Gadde, chief of legal affairs and policy, reported Reuters. Musk, who now refers to himself as the "Chief Twit," accused the three of misleading him and Twitter investors over the number of fake accounts on the platform.
Meanwhile, Twitter has been losing hundreds of employees over the past couple of months. In the past 90 days, about 530 workers have left Twitter, reported Insider. About 60% more had left Twitter during the previous quarter, according to the report. Nearly 50 more left the company in October. Since Musk began acquiring stock in the company in January, over 1,100 people have left the company. Nearly 30% of the workers that have left Twitter in the past three months have gone to Google or Meta, reported Insider, citing data from Punks & Pinstripes.
Read more: Return-to-office push: How does U.S. compare with rest of the world?
In March, before Musk's courtship of Twitter began, Blind reported that 71% of employees on the platform were considering leaving the company in the next three months. Nearly 70% had communicated with a recruiter, 47% had applied for another job and 45% had already gone on an interview.