Cynt Marshall opens up about health scare, navigating pandemic, DEI efforts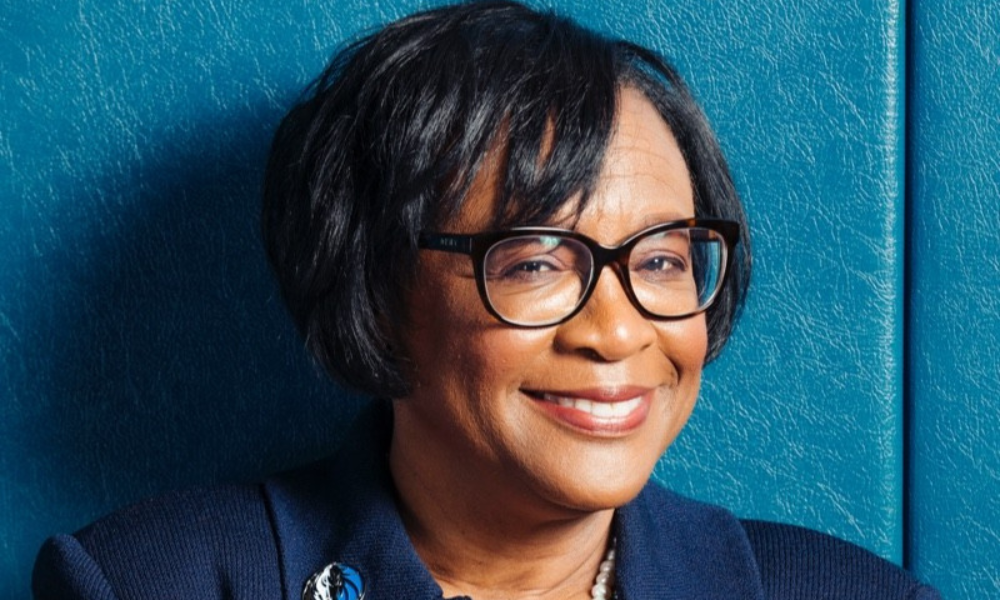 Cynt Marshall, CEO of the Dallas Mavericks, had the audience roaring as she encouraged HR leaders at a recent conference in Las Vegas to "embrace PMS."
Physical, mental and spiritual health, of course.
Who better to preach about wellness than "Cynt the Sprint," a nickname bestowed upon her by her high school track teammates. She was also the first Black cheerleader at the University of California, Berkeley in the 1970s. And even though it's been decades since she's been a competitive athlete, the former senior vice president of HR and chief diversity officer at AT&T remains in tip top shape, especially after her "out-of-body experience."
At the end of 2010, one day before her 51st birthday, she finally went for the colonoscopy that she had delayed for months. Expecting good news due to half a century of healthy living, she was shocked with the result: a diagnosis of Stage 3 colon cancer.
However, Marshall has been a survivor all her life, dating back to her abusive upbringing in which her father once broke her nose. Whether it was escaping the projects of Richmond, CA or overcoming racial barriers in both school and the corporate world, she refused to let anything, even the dreaded disease, slow her down. So, she underwent a dozen rounds of chemotherapy and, thanks to the support of her husband, family, friends, peers and medical team, emerged victorious.
"Every single time something has happened, people told me there's no mountain high enough to keep them from getting to me," Marshall said. "No man is an island; no man stands alone. We need each other."
LIVE from #CeridianINSIGHTS in Las Vegas!

Last night, @dallasmavs CEO @cyntmarshall got HR pros movin & groovin with the Cupid Shuffle!@MavsPR @Ceridian @mcuban pic.twitter.com/ntOOjFjvEO

— HRD America (@HRDAmerica) November 9, 2022
In 2018, Marshall made history as the NBA's first Black woman CEO. Her hiring came on the heels of consecutive scathing articles by Sports Illustrated and Deadspin, featuring former and current employees alleging a culture of sexual harassment and misogyny throughout the Mavericks organization. Marshall hit the ground running, instituting a 100-day plan to fix the company culture by focusing on zero tolerance, gender pay equity and women mentorship, among other pillars.
She achieved that goal, and two years later, had to oversee yet another cosmic shift in the organization: the COVID-19 pandemic. In fact, the Mavericks played the last game before the league suspended the season on March 11, 2020, and the rest of the world shut down. Since then, she, along with every other business leader, has been tasked with developing a game plan for a post-COVID world.
"People have changed. The way we work has changed. But we get to decide how we respond to this out-of-body experience," Marshall said. "Take time to understand who we're serving now. People want different things, they want more flexibility and have multigenerational needs."
Undoubtedly a champion of diversity, equity and inclusion (DEI), Marshall urged HR leaders to remain steadfast in their DEI commitments. She also explained the difference between diversity and inclusion, suggesting that "diversity is about counting numbers and inclusion is making the numbers count." She also quoted Netflix's inclusion guru Verna Myers: "Diversity is being invited to the party, inclusion is being asked to dance."
Marshall wasn't done the education. She also broke down the difference between equality and equity. "Equality is about sameness, equity is about fairness," Marshall said. "People have unique abilities. Everybody gets to be themselves."
Marshall called on HR leaders to unlock the power of their total workforce, a common refrain during this year-long, highly competitive labor market. Companies spanning nearly every industry are sourcing from untapped talent pools, such as the formerly incarcerated, people with disabilities and the neurodiverse.
Neurodiversity describes the idea that people experience and interact with the world around them in many ways, according to Harvard Medical School. Although neurodiversity refers to the diversity of all people, it's most commonly used in the context of autism, as well as other neurological or developmental conditions such as ADHD, dyspraxia, dyslexia, dyscalculia and/or Tourette Syndrome.
The University of Connecticut reports a 30%-40% unemployment rate for neurodivergent adults – three times the rate for people with a disability, and eight times the rate for people without a disability. In April, the Neurodiversity @ Work Employer Roundtable, a group of nearly 50 companies with neurodiversity hiring programs and support systems in place for new employees, joined forces with global nonprofit Disability:IN to launch the Neurodiversity Career Connector (NDCC), a career portal dedicated to neurodivergent job seekers.
"Remove the barriers," Marshall said. "We've all gone through something different in the past few years. We welcome and accept all perspectives."