Company also announces it will add a $50 monthly surcharge to unvaccinated workers enrolled in its health plan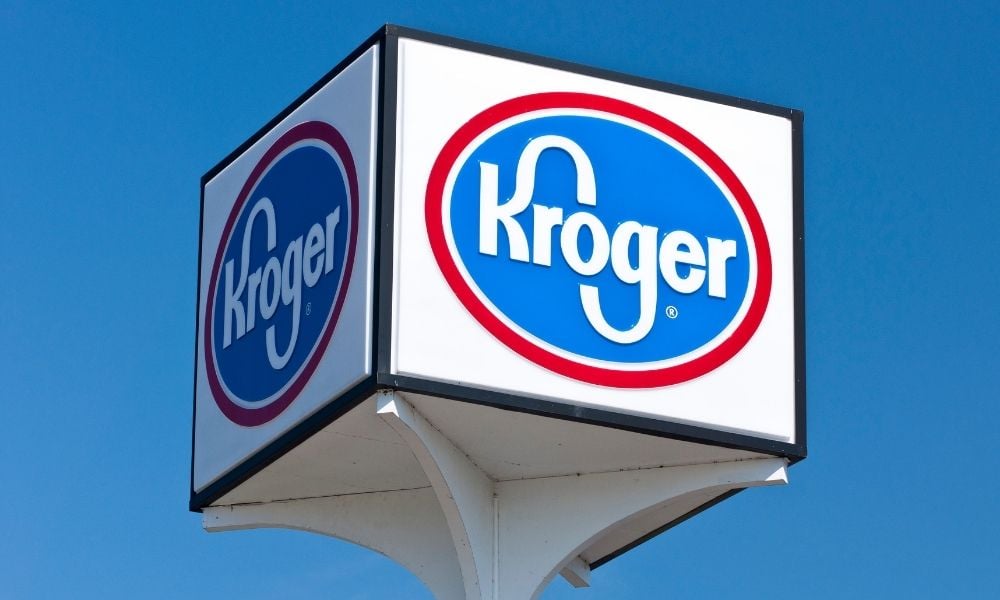 Kroger is taking a hard stance against employees who refuse to get vaccinated.
The largest traditional grocery chain in the United States has announced that it will withdraw COVID-19 benefits for unvaccinated employees, effective Jan. 1, 2022. Kroger will no longer offer two weeks of paid leave for unvaccinated workers who contract the coronavirus, The Wall Street Journal reported. Instead, they'll be allowed to take their earned paid-time-off or apply for unpaid leave. Meanwhile, vaccinated employees that contract the virus can still receive two weeks of paid leave without using their regular time-off benefits.
Additionally, the Cincinnati-based company will apply a $50 monthly health insurance surcharge to salaried non-union workers who are unvaccinated and enrolled in a company healthcare plan.
"The administration of the vaccine to our associates has been an integral part of our efforts (to combat the pandemic) and continues to be a focus," said Kroger spokeswoman Kristal Howard. "We have been navigating the COVID-19 pandemic for almost two years and, in line with our values, the safety of our associates and customers has remained our top priority."
Although Kroger has yet to implement a vaccine mandate, these efforts are designed to motivate its workforce to get immunized as COVID-19 cases rise due to the Omicron variant. The company is still offering a one-time bonus of $100 to workers that get fully vaccinated, USA Today reported. Those who can't get vaccinated for either medical or religious reasons can opt for a course on educational health and safety to receive the payment.
Read more: Judge blocks Biden vaccine mandate for federal contractors
As of Jan. 31, Kroger had a recorded 465,000 workers, making it one of the biggest employers in the US. The grocer also operates several regional supermarket chains in 35 states, including Fred Meyer, Harris Teeter, Ralphs, Mariano's, Fry's, Smith's, King Soopers, QFC and more.
Several other retailers are providing incentives to convince more employees to get vaccinated. Dollar General offered a four-day pay, while Instacart proposed a $25 payout to vaccinated shift leads, in-store shoppers and full-service shoppers, The Wall Street Journal reported. Other companies have also tightened rules around vaccinations or added penalties for employees who refuse to get them. In November, Delta Air Lines stipulated that unvaccinated employees must pay a $200 monthly surcharge for health insurance, CNBC reported.
While private employers are legally permitted to require employees be vaccinated, all aspects of President Joe Biden's nationwide vaccine mandate have been challenged by the courts. In September, Biden announced that workers at companies with 100 or more employees were to be fully vaccinated against COVID-19 by Jan. 4, 2022, or submit to weekly coronavirus tests to confirm they don't have the virus.
In November, the New Orleans-based U.S. Court of Appeals for the Fifth Circuit said it was delaying the federal requirement because of potential "grave statutory and constitutional issues" raised by the plaintiffs, CNBC reported. The three-judge panel said that the lawsuits seeking to overturn the mandates "are likely to succeed on the merits" and further criticized the requirements as "a one-size-fits-all sledgehammer that makes hardly any attempt to account for differences in workplaces (and workers)."
As a result, The Occupational Health and Safety Administration (OSHA) announced it was suspending implementation and enforcement of the mandate pending future developments in the litigation.