This Xoxoday review offers a view on the range the strengths and uses of the employee rewards software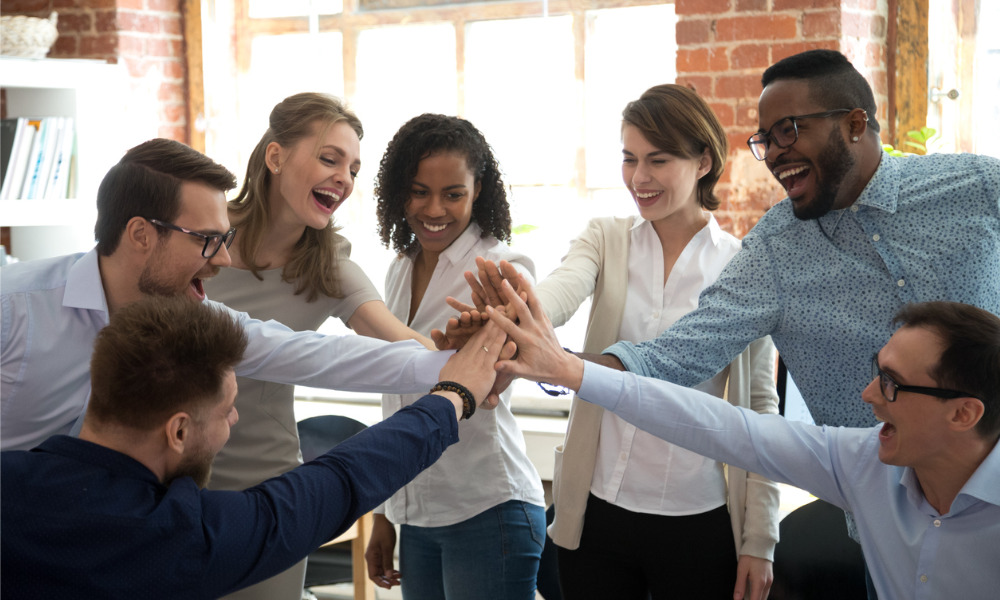 Workplace incentive programs yield many benefits for employees and employers alike. An effective rewards program has been proven to boost morale and job satisfaction and improve engagement and performance among staff, resulting in increased productivity and lower production costs. These are the main reasons why employer rewards software – like what Xoxoday offers – are rising in popularity.
This Xoxoday review looks at the rewards, incentives, benefits, and payout infrastructure offered by this HR software. We will take a closer look at the different platforms this HR software specialist offers, how these tools work, and the different features businesses can access. If you're searching for an employee rewards program that suits your operations, this article can serve as a useful guide.
Xoxoday is a Bangalore, India-headquartered HR software company that provides businesses with a range of software-as-a-service (SaaS) platforms that allow them to reward employees and keep them engaged.
The firm's portfolio consists of three products, all focused on using "human motivation" to drive business growth. These products are:
Plum: A horizontal platform that helps companies automate rewards, incentives, and payout programs at scale from the flow of work.
Empuls: A vertical platform that enables businesses to boost employee engagement.
Compass: A platform that automates and gamifies incentives and commissions for sales teams.
We will discuss these platforms in detail in the succeeding sections.
Xoxoday Plum serves as an employee rewards program that businesses can easily integrate with their existing software, allowing for seamless implementation.
Companies can use the platform to:
Give out performance, milestone, and onboarding rewards as part of their structured incentives
Gather employee feedback regarding their rewards programs through anonymous surveys
Offer loyal customers a range of rewards
Make quick refunds and rebates to clients
Incentivize channel partners with payouts and gift vouchers
Businesses have a variety of options when sending rewards, including email, SMS, and WhatsApp. It also allows them to create a brand experience with custom designs and messaging. Business and HR leaders can likewise get reports about how their rewards programs are doing delivered through their emails or through the Xoxoday Plum dashboard.
Employees, meanwhile, can redeem a range of products, gift cards, activities, and experiences from more than 1,000 international brands in over 20 categories at the Xoxoday marketplace using their reward points, with multi-currency and denomination options.
The table below details the technical specifications of the Xoxoday Plum employee rewards platform.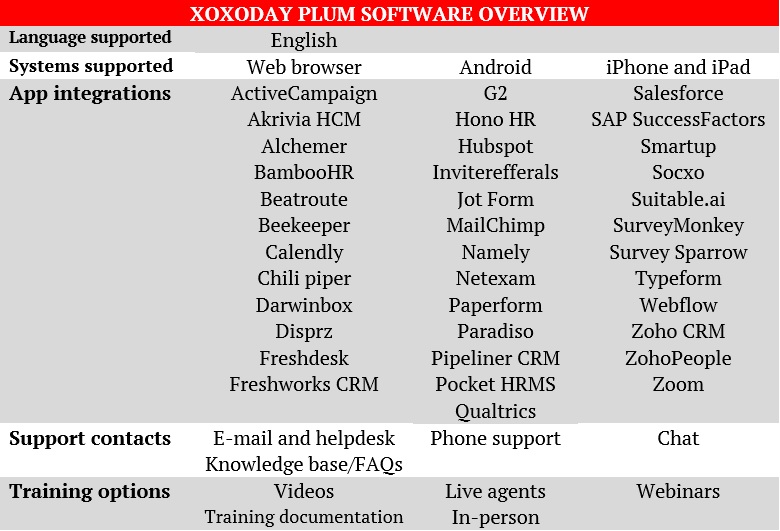 Empuls is Xoxoday's employee engagement platform. It uses an AI-powered employee engagement bot, called Em, which interacts with employees by using timely nudges to encourage proactive participation in the following events, among others.
Welcoming new employees
Sending birthday wishes
Congratulating peers who receive awards
Redeeming reward points
Utilizing the reward budget to appreciate others
Completing surveys on time
Empuls also enables business and HR professionals to assign engagement scores for every action taken by staff on the platform and create healthy competition by displaying each employee's cumulative scores and rankings on a leaderboard.
Empuls is ISO 27001:2013-certified, meets SOC 2 requirements, and is GDPR CPRA-compliant. This means that the platform adheres to the highest standards of data security.
These are the technical specifications of the Xoxoday's employee engagement platform Empuls.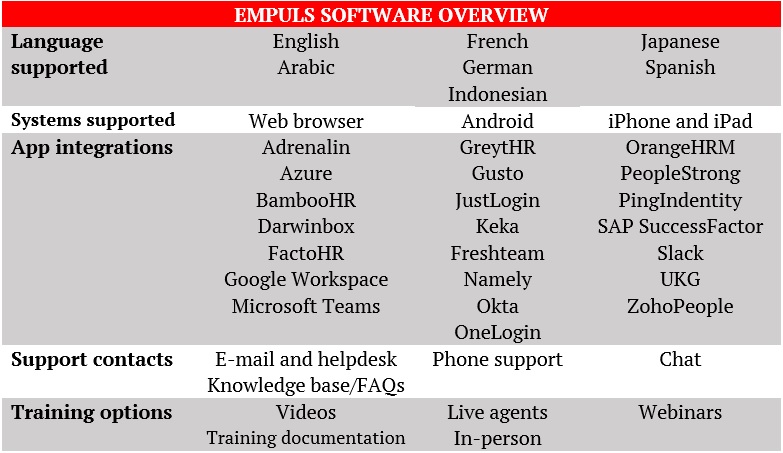 Compass is a commission management platform from Xoxoday that enables businesses to automate commission processing, so they can compensate their sales teams with accurate and on-time payouts.
One distinct feature of Compass is its gamification functionality, which encourages healthy competition among sales personnel through:
Live scorecards: Includes achievement feeds, opportunity highlighter, and earning tracker
Groups & communities: Includes activity feeds, document repository, and focused groups
Nudges & notifications: Customized nudges with insights, announcements, and program updates
Multi-game templates: Consists of target- and competition-based, special schemes, and cascading programs
Companies can use the platform to access deals data reports on a macro and micro level to help teams track performance metrics in real-time. Businesses can also filter the data by role and download advanced charts and reports from a single dashboard.
In addition, Xoxoday Compass allows multi-level access, allowing different teams to tackle and address issues on a single platform. These teams include:
Sales/revenue operations: To streamline time-consuming and error-prone processes, minimizing manual work-related bottlenecks.
Sales leaders: To automate the day-to-day management.
Finance & accounting: To ensure credits and quotas align with company goals using data-driven insights.
Information technology (IT): To manage complex data structures securely.
Here are the technical specifications of Compass, the commission management platform from Xoxoday.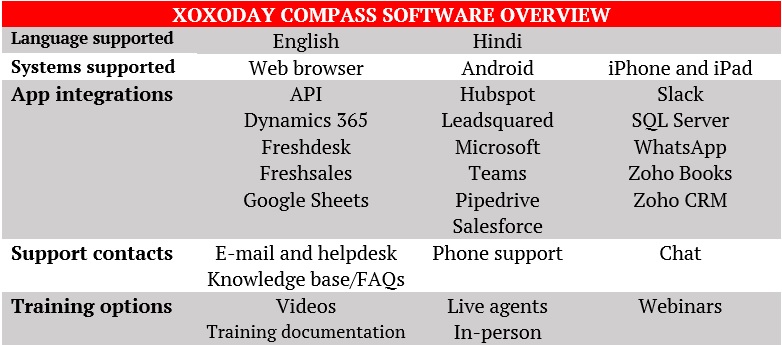 Because Xoxoday's platforms have different features and functions, their list of competitors also varies.
If you are looking for an alternative to rewards and incentives platform Xoxoday Plum, you can consider the following tools:
Xoxoday was established in 2012 by Sumit Khandelwal, Kushal Agrawal, Manoj Agarwal, Abhishek Kumar, and Abhimanyu Choudhary who are now all part of the HR software firm's executive team. The company is a part of Nreach Online Services Pvt. Ltd.
In 2022, a Singapore-based loyalty program marketplace acquired a majority stake in the company, allowing Xoxoday to further expand operations. Today, the firm serves more than 2,000 clients across 10-plus countries, attracting over 2.5 million users to its platforms.
Here's an overview of the company.
Headquarters address: 2nd Floor, 17 Bhagyalaxmi Square, Sector 3, HSR Layout, Bangalore, Karnataka 560102, India
Year established: 2012
Size (number of employees): 290+
Global locations: San Francisco, Dublin, Singapore, New Delhi
Businesses served: 2,000+
Number of users: More than 2.5 million
Key people: Sumit Khandelwal (co-founder & CEO), Manoj Agarwal (co-founder, product & marketing head), Abhishek Kumar (co-founder, head of technology), Kushal Agrawal (co-founder, head of strategy), Abhimanyu Choudhary (co-founder, head of sales)
Users commend Xoxoday Plum for its ease of use and having a large catalog, which includes products from retail giants Amazon, Flipkart, Paytm, Udemy, and Uber. Clients add that it achieves its goal of boosting employee morale and engagement. There were also very few complaints against the platform, most complaints were due to delays in gift card delivery and lack of vouchers for some categories – gaming platforms, for example.
Empuls and Compass also received mostly positive reviews from users. Clients like Empuls rewards and recognition features and the way it keeps data organized, while Compass users enjoy its gamification functionality. One minor hiccup for the Compass platform, according to a few users, was that some advanced functions were a bit complicated and required assistance from the support team.
Looking for effective ways to boost employee engagement? Here are eight strategies your organization can use.
Xoxoday is included in our list of best employee rewards programs.
Do you have experience in using Xoxoday's range of platforms? Are these tools something you would recommend to other users? Give us your thoughts in the comments section below.